Grilled Southwestern Shrimp Salad is a super quick, 15 minute salad that's perfect for a busy weeknight dinner!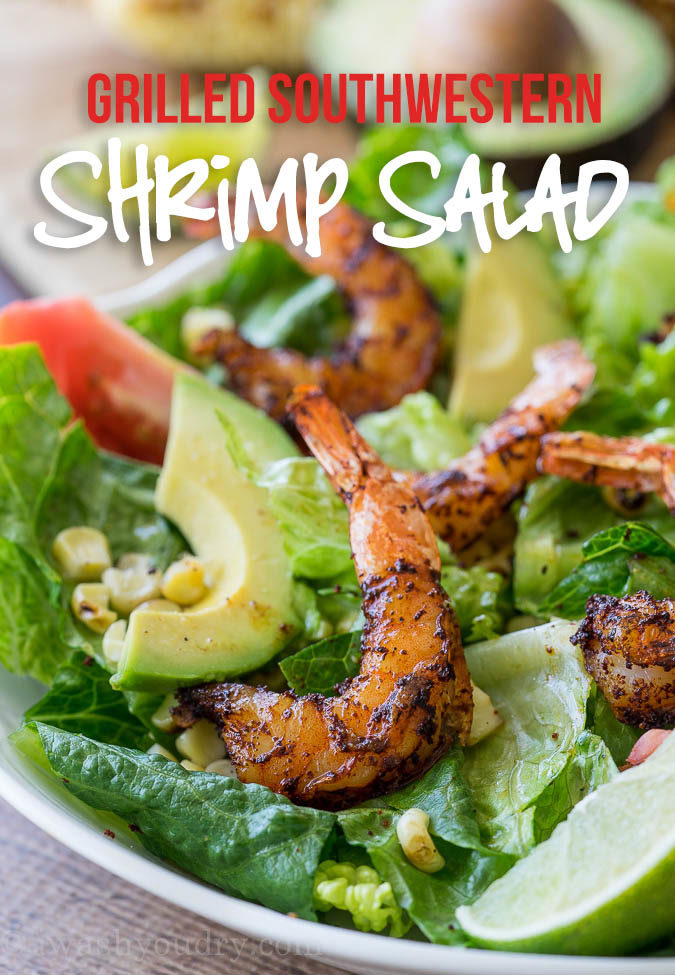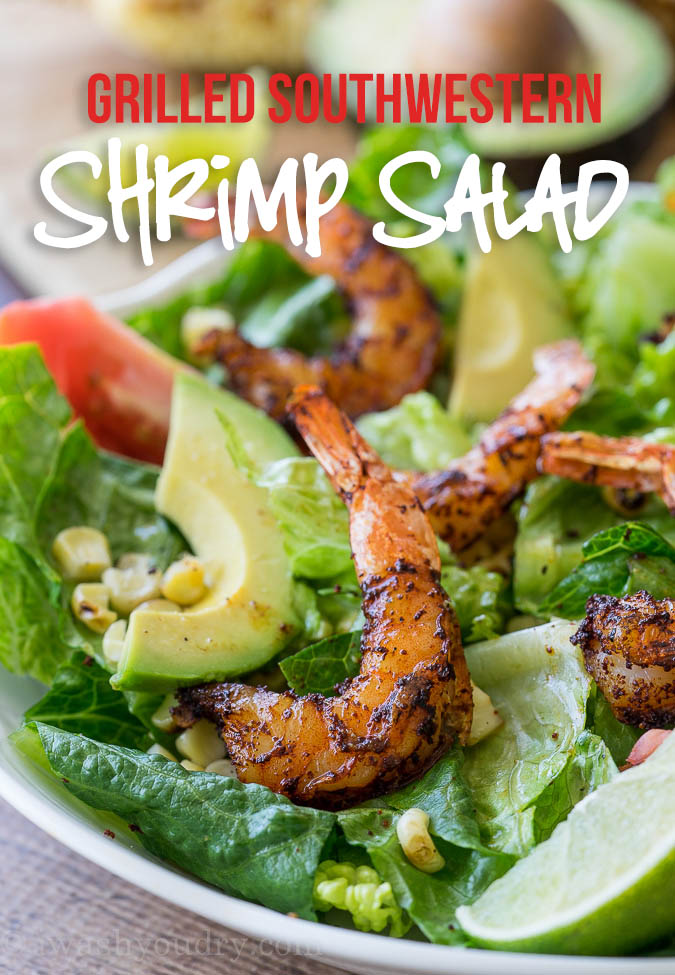 Grilled Southwestern Shrimp Salad is filled with tender, grilled shrimp, creamy avocado and roasted corn, all served over a bed of greens and drizzled with a lime-cumin dressing.
The weather is heating up here in the desert. We'll be in triple digits before you know it and the last thing I'll want to do is turn on the stove or oven.
That's the perfect time to take it outside and crank up the grill. Luckily the shrimp in this cool and refreshing salad only take a few minutes to cook up!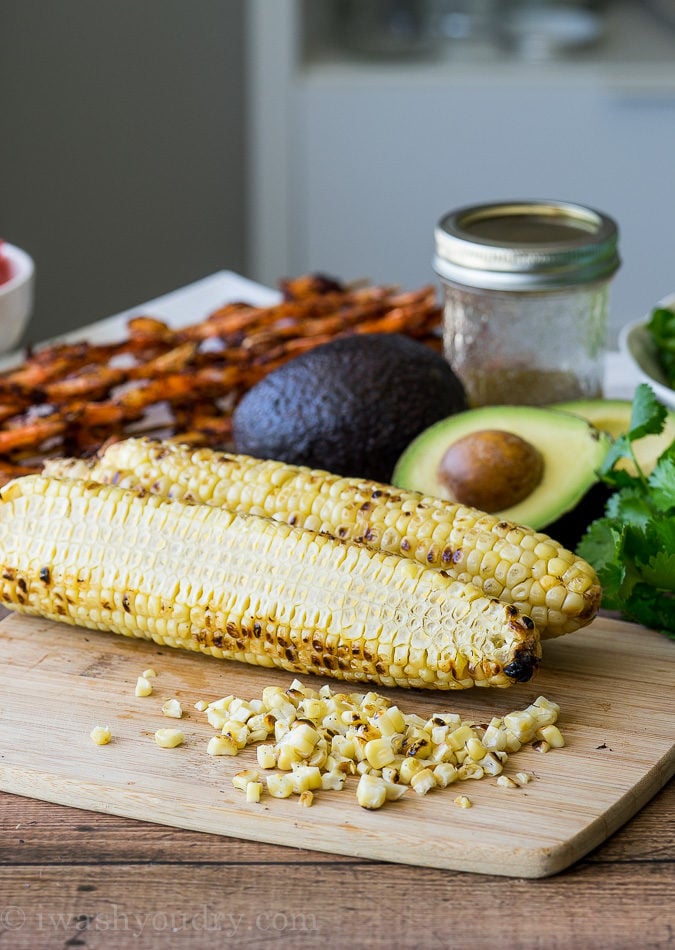 This salad also includes one of my favorite summer vegetables – corn!
Technically corn is not a vegetable, it's a grain. But last summer I grew corn in my garden, so that's close enough for me. Are you gardening this year too?
I haven't had time to plant my garden yet, but to my surprise I've got 3 volunteer zucchini plants that have popped up all on their own! Sweet!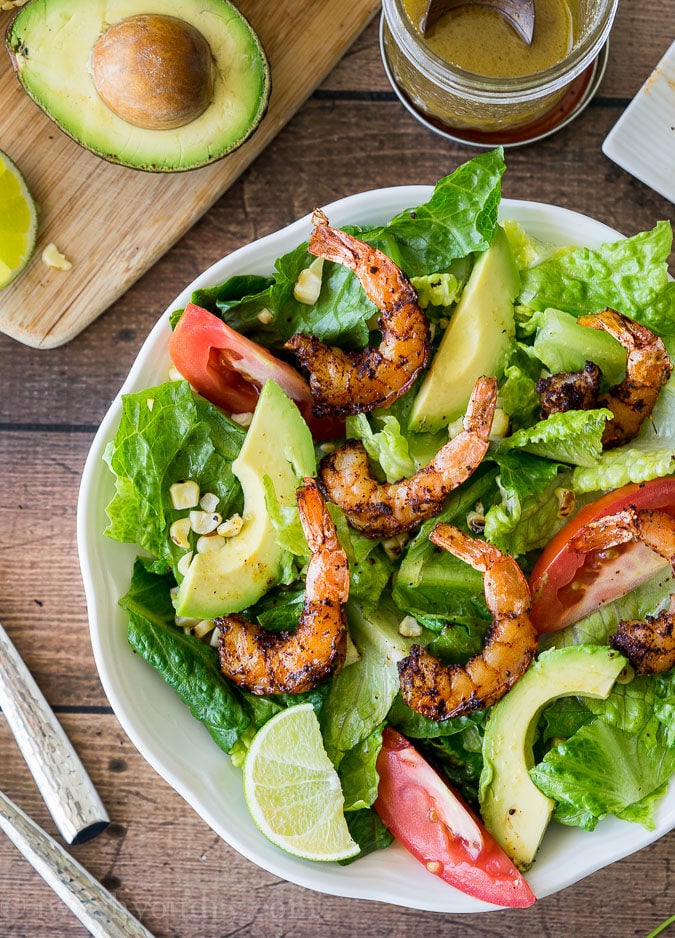 Be on the lookout for more zucchini recipes later this summer then!
But in the meanwhile, let's talk about this salad! Tender shrimp that's perfectly seasoned and grilled to perfection, creamy and cool avocado, grilled corn, juicy tomatoes, all on a bed of greens.
It's the perfect Summer salad!
Here are some tips for making your Southwestern Shrimp Salad:
Make sure to soak your wooden skewers in water for at least 20 minutes to avoid burning
Use two skewers to balance the shrimp and make it easy to turn on the grill
Wait until just ready to serve to toss in the dressing
If you can't find fresh corn, using canned corn will work as well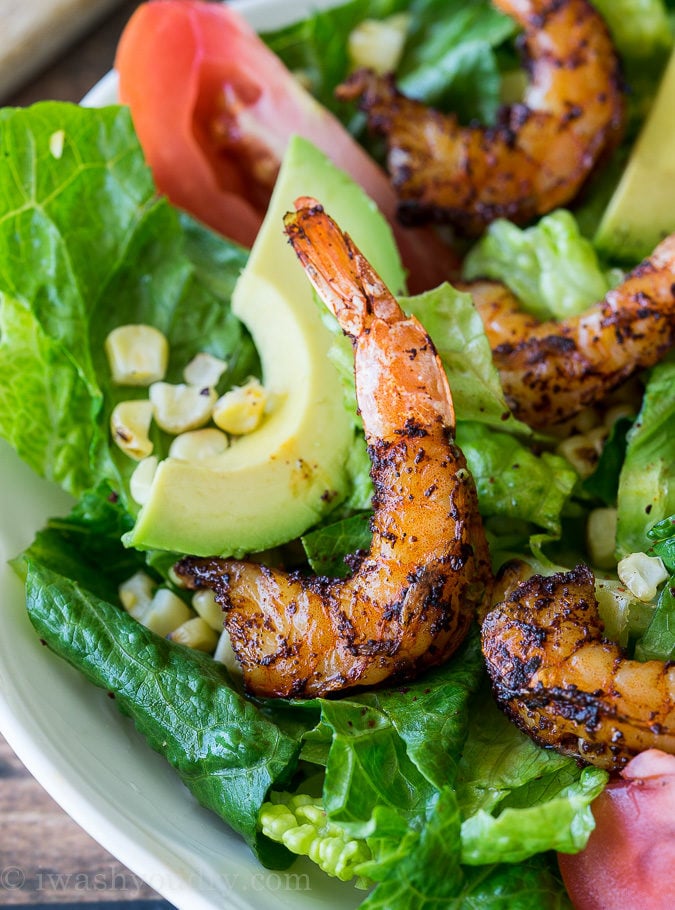 You're going to love this simple and easy salad for those warm summer days!
Make sure you don't miss a thing! Follow I Wash You Dry here:
FACEBOOK | PINTEREST | GOOGLE+ | TWITTER | INSTAGRAM | BLOGLOVIN
Print
Grilled Southwestern Shrimp Salad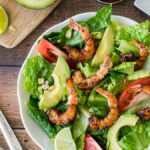 Ingredients
For the Dressing:
1/4 cup fresh lime juice
1 tbsp olive oil
1 tbsp honey
1/2 tsp salt
1/2 tsp ground cumin
1/8 tsp fresh ground pepper
For the Salad:
2 ears of corn, husks removed
3/4 lbs. Large raw shrimp, peeled and de-veined
1 tbsp Chili Powder
Salt and pepper to taste
2 Roma tomatoes; sliced into wedges
1 avocado sliced
6 cups chopped romaine lettuce
Instructions
Soak the wooden skewers in water for at least 20 minutes.
For the Dressing:
Combine all ingredients in a small bowl (or mason jar) and whisk together until combined.
For the Salad:
Preheat grill to medium-high heat and brush with oil.
Place corn on grill rack to roast for 12 minutes; turning occasionally, once charred slightly, remove the corn kernels and discard the cobs.
Sprinkle both sides of shrimp with chili powder, salt and pepper and thread onto the wooden skewers. Add the shrimp to the grill over medium heat and cook 3 minutes on each side, until cooked through.
In a large bowl add the Romaine lettuce, corn, tomato, and Lime-Cumin dressing, toss to coat. Divide salad into 4 bowls.
Top each bowl with the skewered shrimp and sliced avocado. Enjoy!
Originally published on 8/6/2010. Updated images on 5/30/2017.
PIN THIS IMAGE TO SAVE THE RECIPE!