This Eggnog Bread is moist, delicious and full of that classic flavor!
Is it too late to put this recipe out there?
Do you still have Eggnog in your fridge? Maybe just a little?
Way in the back….
Behind the sour cream??
You might wanna check the date first… I made this way back in December to give as gifts to my neighbors.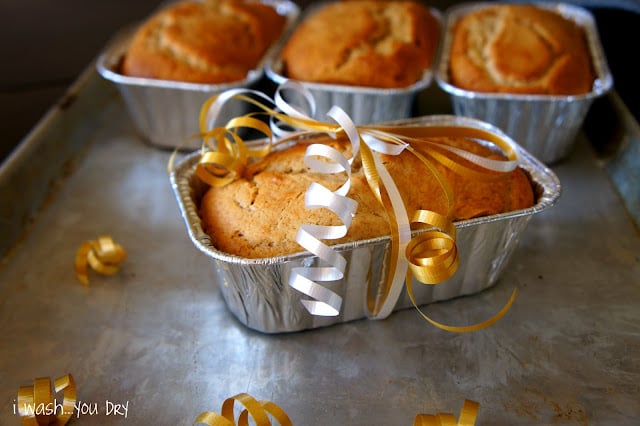 If you like Eggnog, you'll love this loaf of bread. If you don't like Eggnog, you'll still love this loaf of bread. It's super moist with just a hint of that classic Eggnog flavor. The cinnamon and all spice really stand out and compliment the Eggnog perfectly. I had some dipping chocolate left over from some candies I made and drizzled it over the top of the bread- PERFECT!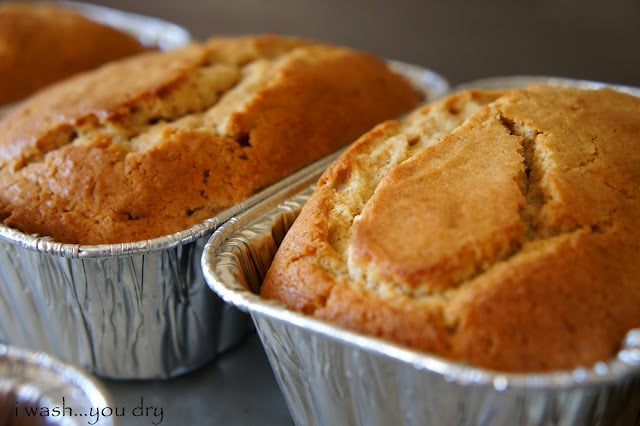 This recipe almost got lost in the abyss of my paperwork/mail/kids old homework pile and totally forgotten about. Good thing one of my other New Year's Resolutions is to actually "file" my papers instead of just pile them up on my dresser. Lucky for you! So if you have any more Eggnog left, I urge you to make this bread! It's divine.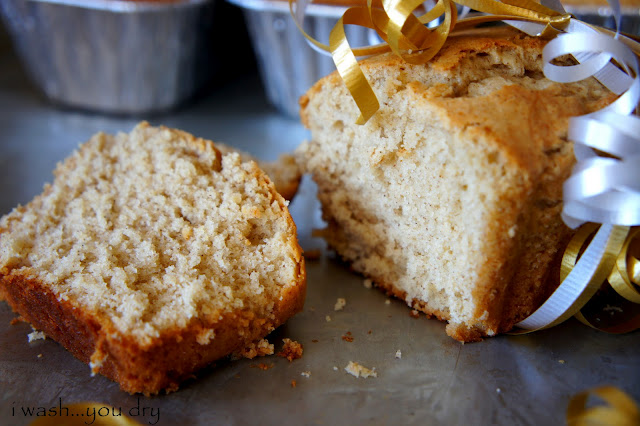 Eggnog Bread
This Eggnog Bread is moist, delicious and full of that classic flavor!
Instructions
Preheat oven to 350 degrees.

Cream together butter, sugar and brown sugar in a medium/large bowl until smooth. Add in eggs one at a time. Stir in eggnog and vanilla.

In a separate bowl whisk together flour, baking powder, salt, cinnamon, and allspice. Add dry ingredients to the wet ingredients 1/2 cup at a time, until it's all combined.

Spray 4- 5?x3? mini loaf pans or two larger loaf pans with non stick cooking spray. I prefer the Pam for Baking (with flour).

Divide batter evenly among pans and bake for 30-40 minutes or until toothpick comes out clean when tested from the center. Let cool on wire rack before removing from pan.

If desired, you can drizzle the tops with melted chocolate for a little added sweetness.
Nutrition
Calories:
393
kcal
|
Carbohydrates:
59
g
|
Protein:
7
g
|
Fat:
14
g
|
Saturated Fat:
9
g
|
Cholesterol:
90
mg
|
Sodium:
437
mg
|
Potassium:
128
mg
|
Fiber:
1
g
|
Sugar:
29
g
|
Vitamin A:
479
IU
|
Vitamin C:
1
mg
|
Calcium:
156
mg
|
Iron:
2
mg
Keywords:
egg nog, sweet bread