I remember fondly the mornings that my dad would wake us up to the smell of freshly made pancakes. I had almost forgotten about these pancakes until I went to visit my parents a few weekends ago.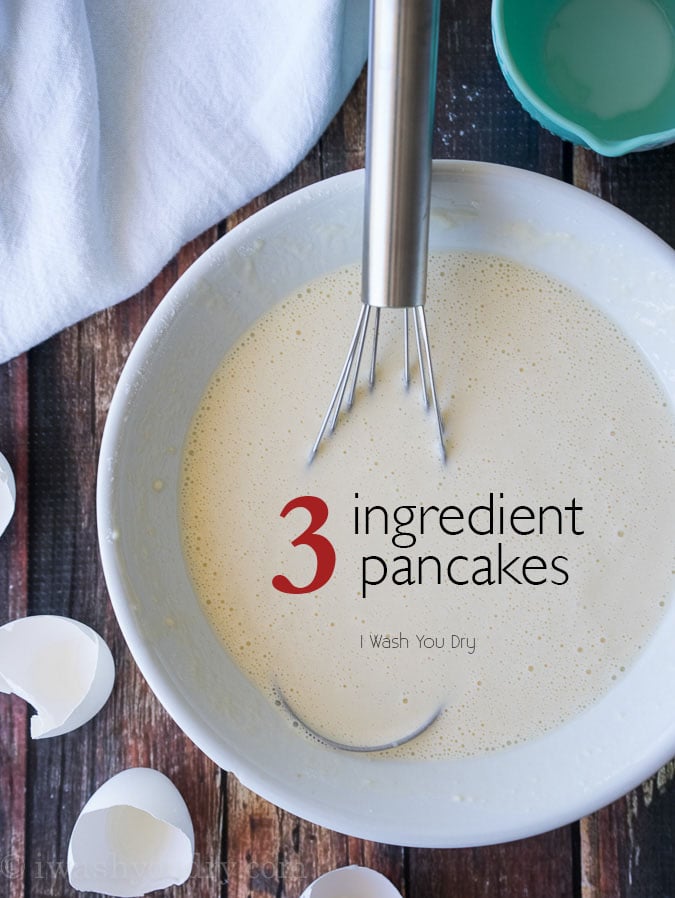 He asked my kids if they wanted pancakes in the morning, and my eyes got wide. Of course it was a no-brainer, my kids definitely wanted pancakes, but these weren't just any pancakes. These are my Dad's 3 Ingredient Pancakes.
And they 're not like any pancake you've ever tasted.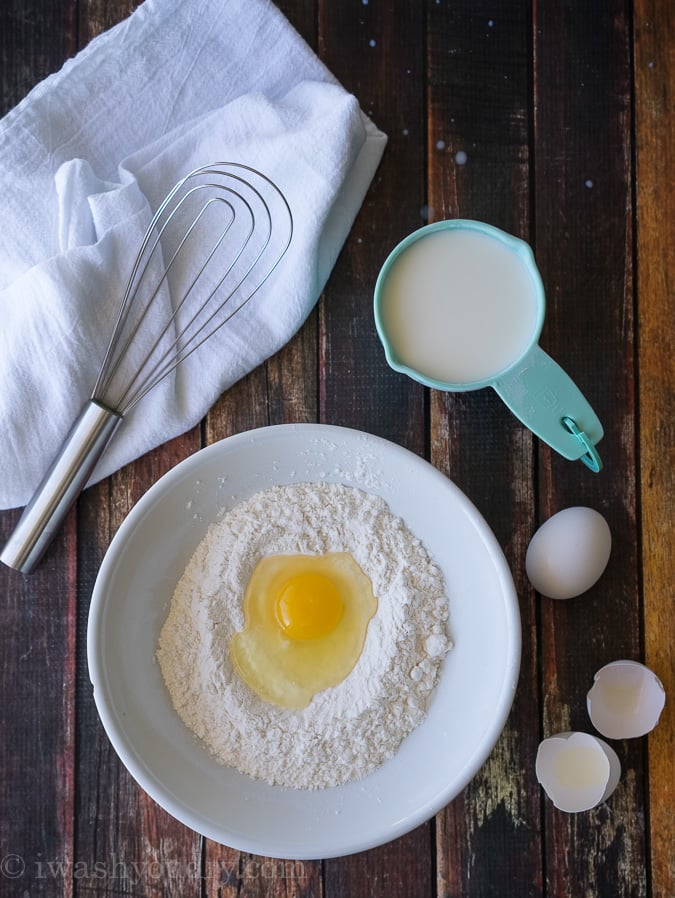 It starts out with just 3 simple ingredients… plus a few dashes of salt.
Flour, Eggs and Milk.
I asked my dad where he got this recipe. He pulled out an extremely old Betty Crocker cookbook/binder. The pages were tinted a slight yellow color, surly from the age of the book. He flipped right to the beef section.
Wait… what?!
Right after a recipe for a traditional roast beef was a recipe for Yorkshire Pudding.
I was a little confused, but he said that his mother's grandmother (that's my great great grandmother) used to make a recipe she called "Smorn," which contained the ingredients used to make a yorkshire pudding but cooked in a hot cast-iron pan, then cut up into crispy little pieces. It was then smothered with syrup or dipped into eggs. My great great grandmother gave birth to 20 children, 14 of which survived to live a long time. She was 108 years old before she passed away.
This recipe was a staple for her because it was cheap and fed a lot of people. It's been passed down generation to generation. Fond memories included.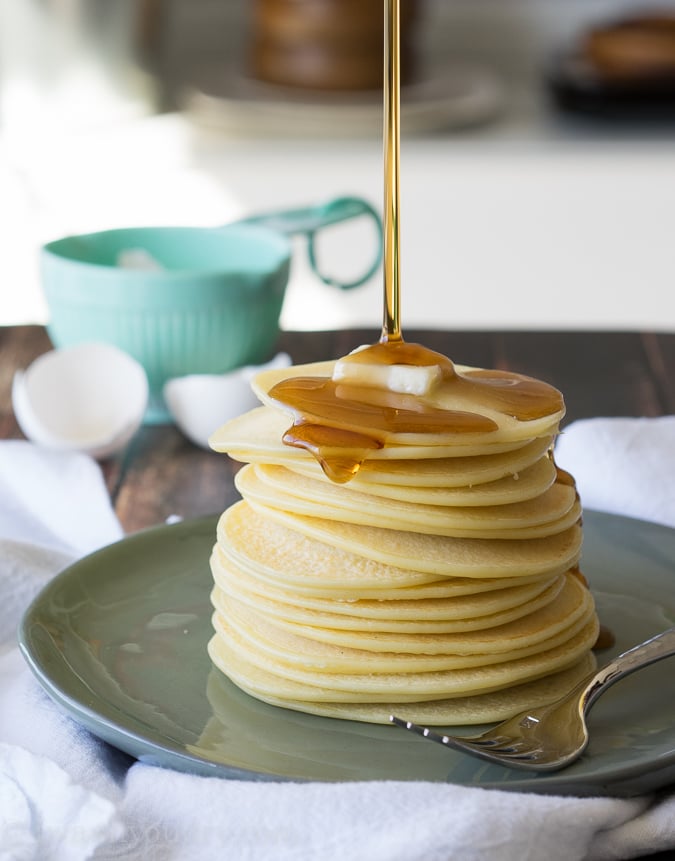 Growing up, my dad would make the Smorn into small round pancakes, and we would enjoy them with a nice helping of maple syrup.
The pancakes themselves aren't sweet. They aren't fluffy. In fact, growing up my siblings and I referred to them as "the rubber pancakes." But what they are, is super addictive. Top them with butter, smear on some fruit preserves, smother them with syrup, either way you're going to enjoy these mini flap jacks.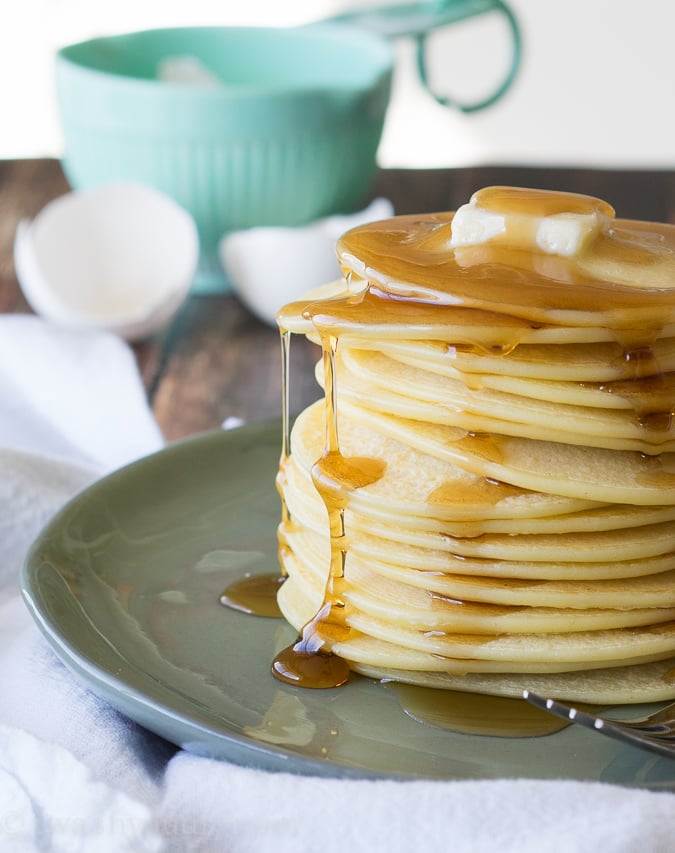 I have extremely fond memories of these pancakes, and I'm super excited to now be able to pass the tradition on to my own kids, and now share that with you.
You gotta love these vintage recipes! 🙂
Make sure you don't miss a thing! Follow I Wash You Dry here:
FACEBOOK | PINTEREST | GOOGLE+ | TWITTER | INSTAGRAM | BLOGLOVIN
Dad's 3 Ingredient Pancakes
For those mornings when you need breakfast fast try these Dad's 3 ingredient Pancakes!
Instructions
Combine the flour, eggs, milk and salt in a large bowl and whisk to combine. Whisk it until it's smooth and there are no lumps.

Pour the batter into small rounds onto a hot, lightly greased skillet and flip after about 20 to 30 seconds. Let cook for an additional 15 to 20 seconds.

Serve hot with maple syrup on top. Enjoy!
Notes
The recipe can easily be doubled to make more.
Nutrition
Calories:
49
kcal
|
Carbohydrates:
7.7
g
|
Protein:
2.4
g
|
Fat:
0.8
g
|
Cholesterol:
26.9
mg
|
Sodium:
59.2
mg
|
Sugar:
0.9
g
|
Vitamin A:
1
IU
Keywords:
3 ingredient, Breakfast, eggs, flour, milk, Pancakes