This light and fluffy Coconut Cheesecake is topped with fresh whipped cream and a pile of tropical mango and pineapple, which is sure to put a smile on anyone's face.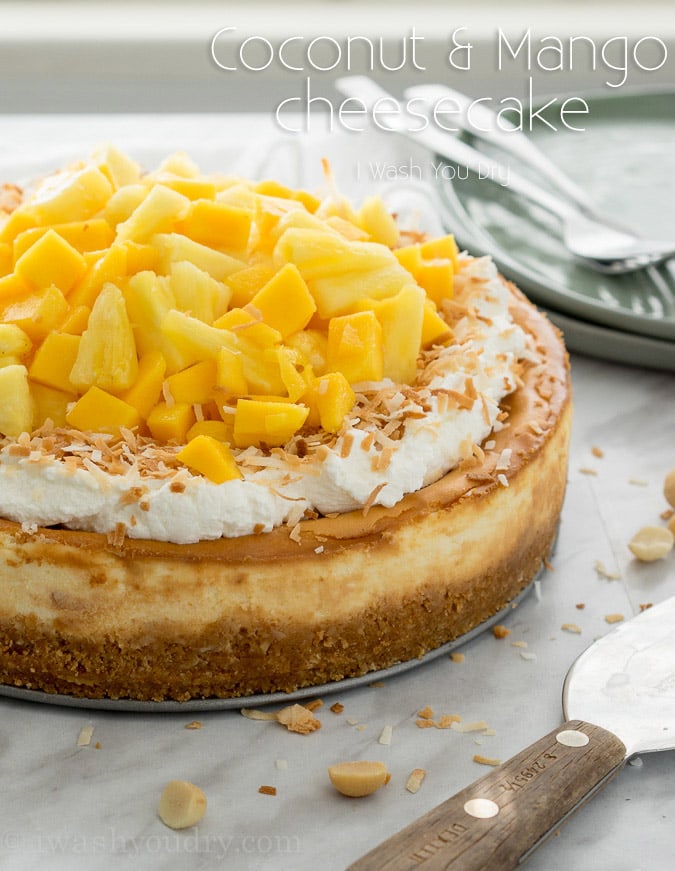 I may be a bit biased, but I'm pretty sure I make the BEST cheesecakes around. (example A, also see here, here and here)
Cheesecake is all about the texture.
It needs to be light and fluffy but still hold that dense, creamy texture that it's infamous for.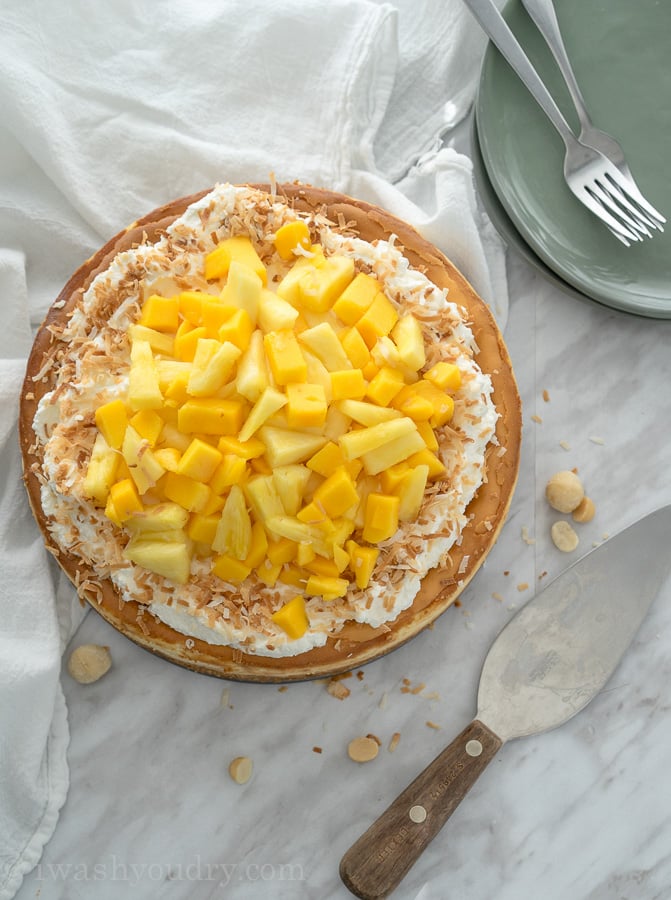 I nailed it with this one.
I infused it with coconut flavored Greek yogurt and a touch of coconut extract for the actual cheesecake, but what really puts this one over the top is the crust. I go back and forth between adding Greek yogurt or sour cream to my cheesecakes, either one works, but I love how I can add extra flavor with the Greek yogurt.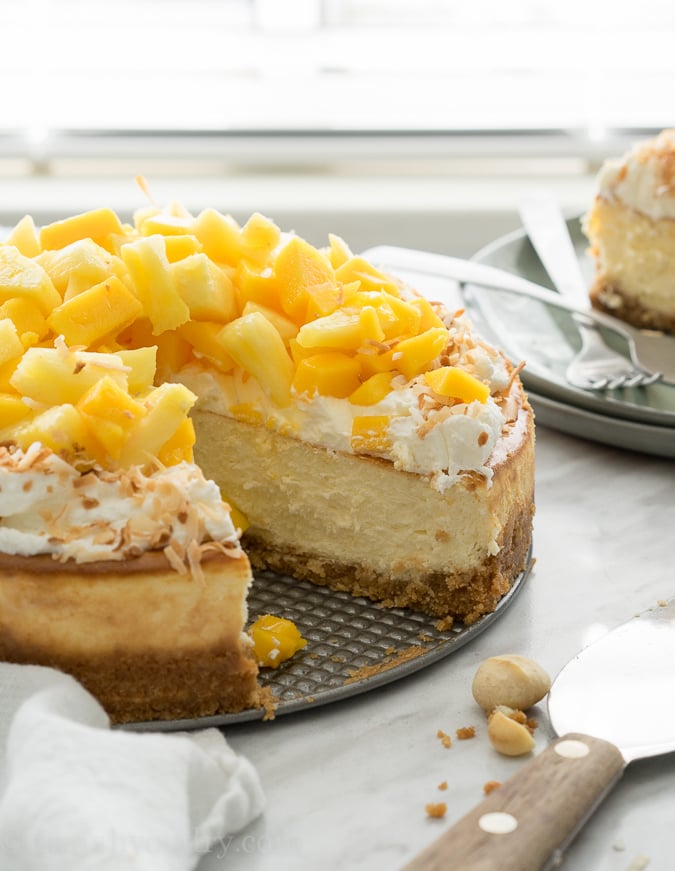 Oh and that crust?
Macadamia nuts, shredded sweetened coconut and graham crackers are combined to make a killer base that is packed to the brim with amazing texture and flavor.
You know what is also fun about this cheesecake? One of my friends was eating some coconut flavored Greek yogurt with fresh pineapples and mango and immediately messaged me, saying that she wanted me to create a cheesecake recipe that embodied those flavors.
I love my friends.
Best. Idea. Ever.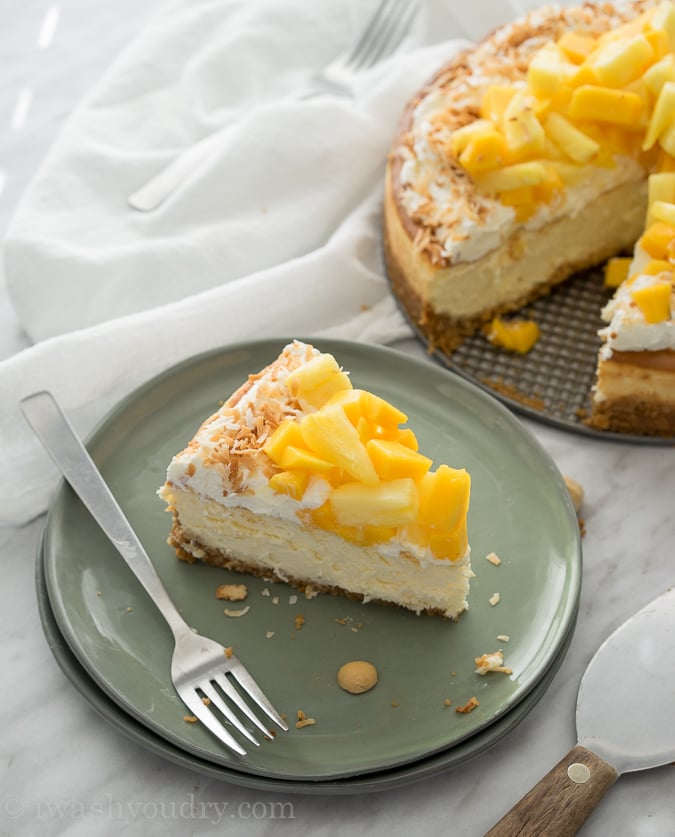 If you have some killer ideas for a flavor of cheesecake that you want me to create, send them my way. I'm always looking for a good reason to make more cheesecake!
Not that you need a good reason to make cheesecake, other than the fact that cheesecake is pure awesomeness.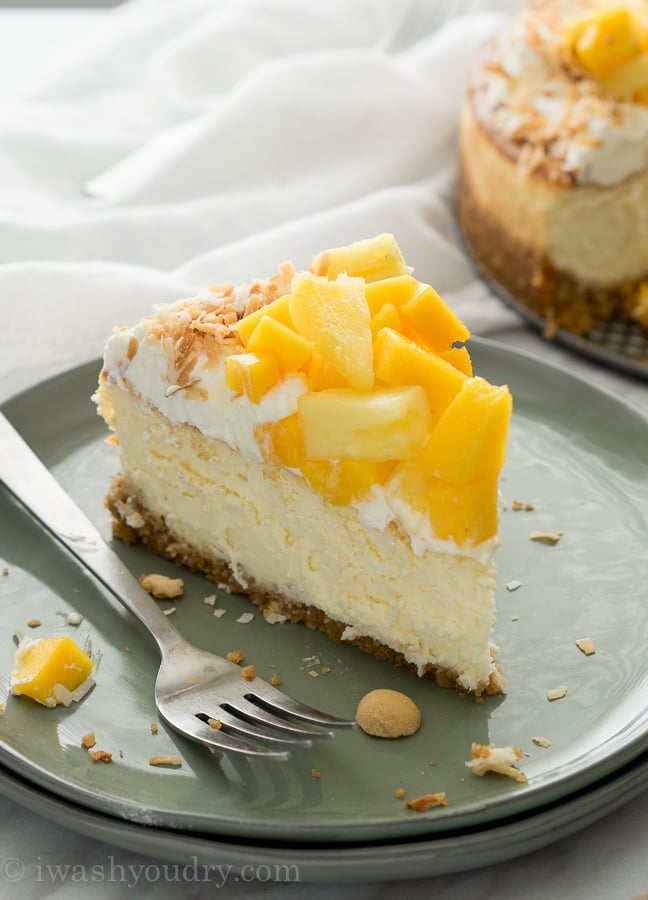 Now pass me another slice.
Make sure you don't miss a thing! Follow I Wash You Dry here:
FACEBOOK | PINTEREST | GOOGLE+ | TWITTER | INSTAGRAM | BLOGLOVIN
Coconut Cheesecake
This light and fluffy Coconut Cheesecake is topped with whipped cream and fresh fruit!
Ingredients
Instructions
Preheat oven to 350 degrees F. Place a 9"x13" pan on the bottom rack of your oven and fill half way with water. Position a rack just above the pan, in the middle of the oven.

Combine the graham cracker, macadamia nuts, 3/4 cup sweetened coconut flakes and 3 tbsp sugar in a food processor and pulse until it becomes a fine crumb. Drizzle in the melted butter and vanilla extract, then pulse until moistened. Press into the bottom and slightly up the sides of a 10" springform pan. Bake for 5 minutes, then set aside.

In the bowl of your stand mixer, fitted with the paddle attachment, beat the cream cheese until smooth. Add the greek yogurt, sugar, vanilla and coconut extract and beat until combined, scraping down the sides of bowl when necessary. Add the eggs one at a time, beating in between. Pour into the spring form pan. Bake for 1 hour, or until the center of the cheesecake is only slightly jiggly.

Turn the oven off, and crack the oven door open slightly, letting the cheesecake rest inside the oven for 1 to 2 hours. Let cool on counter top until room temperature, then refrigerate (covered) for 2 hours.

Meanwhile spread 1 cup of shredded coconut on a parchment lined baking sheet and bake at 350 degrees for 6 to 7 minutes, stirring halfway through, until it reaches a beautiful golden brown. Remove from oven and let cool.

Just before serving beat the heavy whipping cream until soft peaks form. Add the powdered sugar and beat till combined.

Run a knife along the edges of the cheesecake to loosen from the spring form pan. Gently unlock it and clean up any rough edges before topping with the whip cream, fresh fruit and toasted coconut. Enjoy!
Notes
I like to keep the spring form pan around the cheesecake whenever I'm not serving it, this will help protect it, and makes it easy to cover while in the fridge.
Nutrition
Calories:
448
kcal
|
Carbohydrates:
46
g
|
Protein:
17
g
|
Fat:
22
g
|
Saturated Fat:
12
g
|
Cholesterol:
102
mg
|
Sodium:
695
mg
|
Potassium:
388
mg
|
Fiber:
2
g
|
Sugar:
36
g
|
Vitamin A:
686
IU
|
Vitamin C:
12
mg
|
Calcium:
320
mg
|
Iron:
1
mg
Keywords:
Cheesecake, Coconut, Cream Cheese, graham cracker, greek yogurt, shredded coconut
 disclaimer: This post is sponsored by the Arizona Milk Producers, reminding you to get your 3 daily doses of dairy! All thoughts and opinions are 100% my own.