I have been dreaming about making this Nanaimo Cheesecake ever since I made these Nanaimo Bars a few months ago.
I basically took all the goodness of a Nanaimo Bar and married it with a cheesecake. And you better believe it's the most delicious cheesecake you'll ever consume.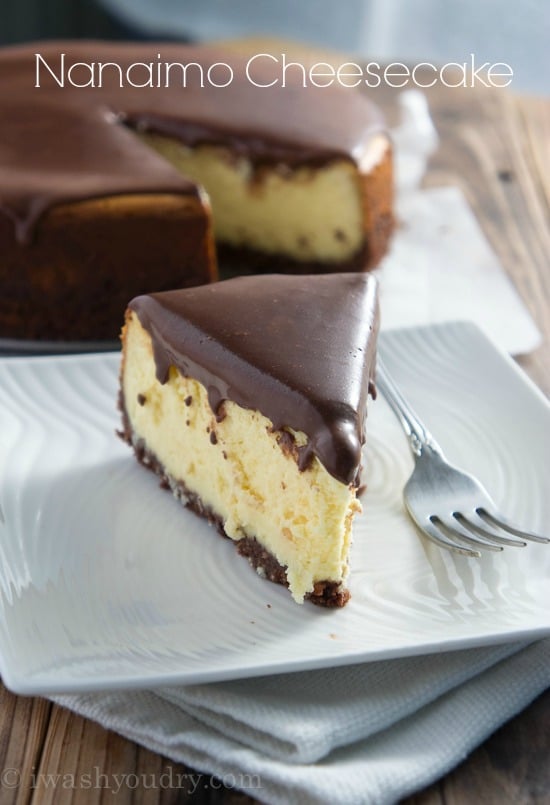 Nanaimo (pronounced Nuh-Nigh-Moe) is a city in British Columbia, Canada. That is where the Nanaimo Bar recipe was originated long ago.
The bottom layer of this cheesecake is a combination of cocoa, graham cracker crumbs, coconut, and walnuts. It's everything you would find in the bottom of the original bar, but made into a crisp and tasty cheesecake crust.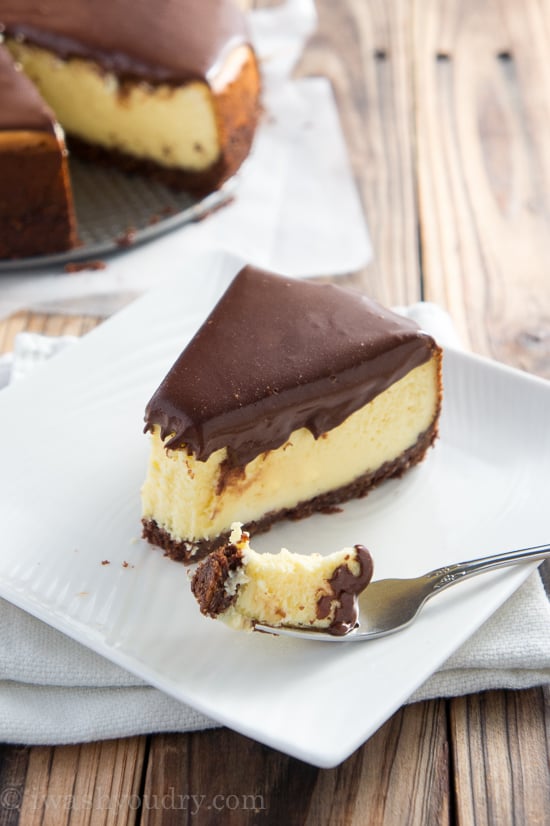 I made the actual cheesecake portion with a standard vanilla cheesecake base, but I added some vanilla custard powder to the mix. That is an essential part of making a Nanaimo Bar, so I made sure to include it in this cheesecake.
It gives the cheesecake a super creamy texture that just melts in your mouth.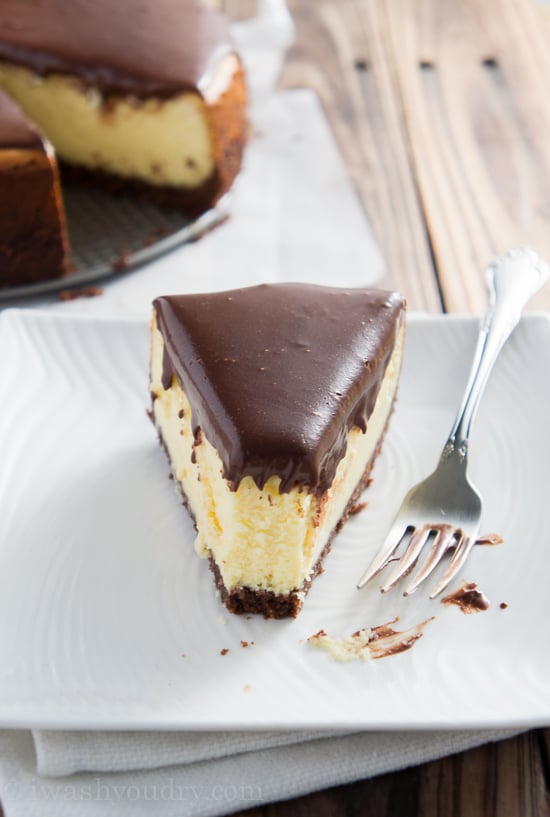 The chocolate ganache that finishes off the top is also an essential element in a Nanaimo Bar, so I couldn't leave it out of this Nanaimo Cheesecake. It adds a little bit… ok, a good amount… of sweetness to the top.
Overall, this Nanaimo Cheesecake is divine, delicious, decadent, and ultimately… perfect.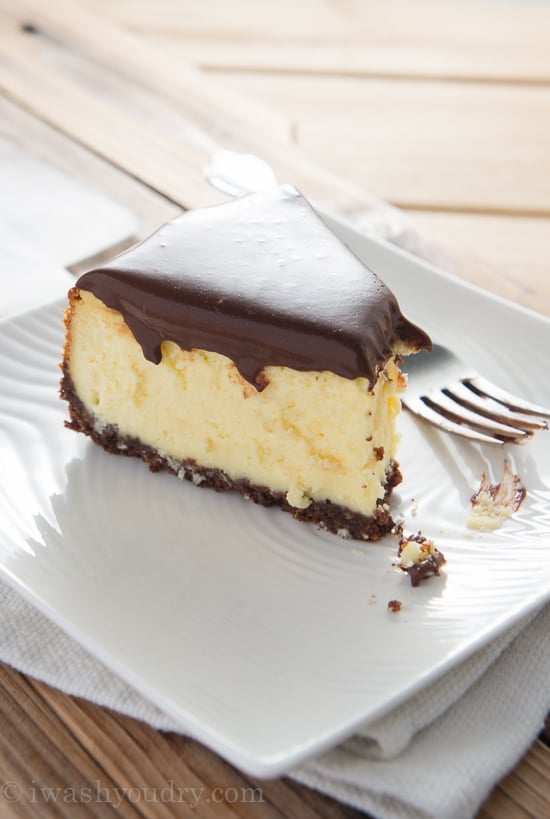 I'm going to share a secret with you. Because a lot of you had the issue of a cracked cheesecake when you made my Pumpkin Cheesecake. There is a way to make your cheesecake look flawless even after it's gotten a horrendous crack in it.
And yes- even this cheesecake had a rather large crack on top! But, it was easily fixed using this nifty trick!! Then I was able to pour the heavenly chocolate ganache over top without it seeping into the cheesecake. Watch –
Just make sure you have your cheesecake fully chilled before attempting to fix the crack. My crack was much larger than the one in the video and I was still able to fix it. 🙂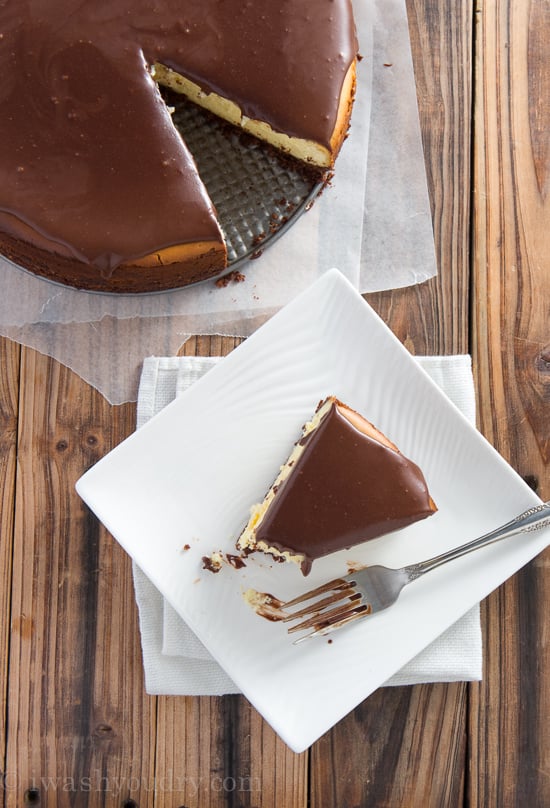 I made this Nanaimo Cheesecake this past weekend and I had some girlfriends over for a little girl's  night in, everyone just loved it.
I know you'll love it too!
Nanaimo Cheesecake
Nanaimo Cheesecake is everything you would find in the  original bar, but made into a crisp and tasty cheesecake crust.
Ingredients
For the Crust:
4

tbsp

butter

,

melted

5

tbsp

cocoa powder

3

tbsp

sugar

1

tsp

vanilla extract

1 1/2

cups

graham cracker

1/2

cup

walnuts

3/4

cup

coconut flakes
For the Chocolate Ganache
1

cup

semi sweet chocolate chips

1

cup

heavy cream
Instructions
Preheat oven to 350 degrees F.
For the Crust:
Combine the graham cracker crumbs, walnuts, coconut, cocoa powder, and sugar in a food processor and process until fine crumbs. Pulse in the vanilla and melted butter until moistened. Press into the bottom and a little up the sides of a 10 inch springform pan. Bake for 5 minutes. Remove from oven, but keep oven on.

Place a 9x13 baking dish on the bottom rack of your oven and fill with warm water.
For the Cheesecake:
In the bowl of your stand mixer, fitted with the paddle attachment, beat the cream cheese until light and fluffy. Add one egg at a time, beating in-between, and scrape down sides of bowl occasionally.

Add the sour cream, sugar, vanilla and vanilla custard powder. Mix until smooth. Pour onto the prepared crust. Bake on the rack above the pan filled with water for 1 hour.

Turn off the oven, crack it open slightly and leave in oven for 1-2 hours. Remove from oven and let come to room temperature completely. Cover with plastic wrap and place in fridge to chill for 2 hours. Fix any cracks, if necessary.
For the Ganache:
Place the chocolate chips in a bowl, set aside. Heat the cream in the microwave for 1 1/2 minutes, then pour on top of the chocolate chips. Let sit for 30 seconds, then whisk until smooth. Let cool slightly, then carefully pour on top of the cheesecake. Refrigerate again until set. Enjoy!
Nutrition
Calories:
469
kcal
|
Carbohydrates:
52
g
|
Protein:
6
g
|
Fat:
28
g
|
Saturated Fat:
15
g
|
Cholesterol:
106
mg
|
Sodium:
157
mg
|
Potassium:
254
mg
|
Fiber:
4
g
|
Sugar:
37
g
|
Vitamin A:
549
IU
|
Vitamin C:
1
mg
|
Calcium:
65
mg
|
Iron:
2
mg
Keywords:
Cheesecake, Nanaimo