This past summer a friend expressed to me that I needed to share more pie recipes on my blog.
I agreed, my pie selection at the time was quite small, and heck… I love a good slice of pie!
Well, ever since I created the famous Blueberry Crumble Cream Pie, I have been addicted to making variations of it… Raspberry, Peach, and now – Apple!
I'm so excited to share this Apple Pie Streusel Cake with you guys. It's probably my favorite variation thus far.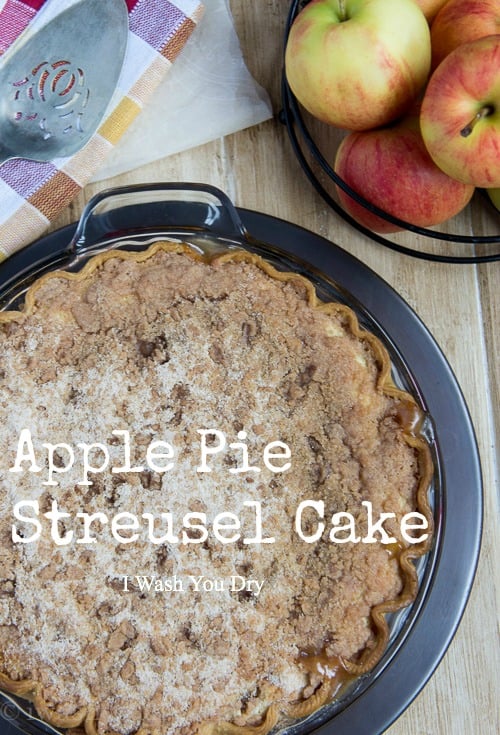 It's an Apple Pie that's been taken up several notches with a layer of moist cream cake, and then sent over the top with a layer of cinnamon streusel.
It's taking everything I've got to not go and scarf down a slice for breakfast right now… seriously.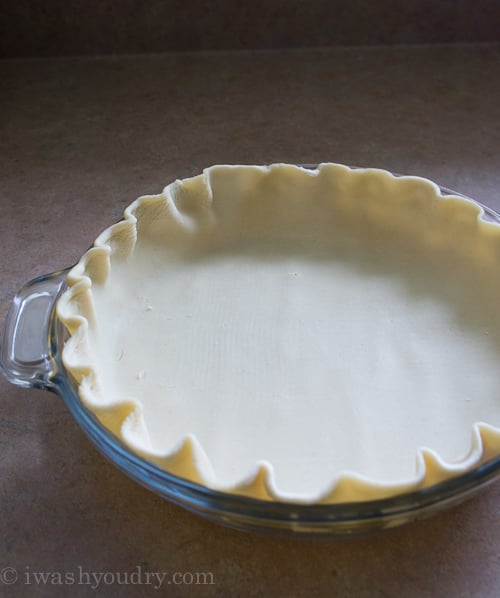 It starts off with a pie crust- I use the Pillsbury refrigerated pie crusts, because it's so simple.
If you're looking to spend more time making this delicious dessert, then by all means- make your own crust.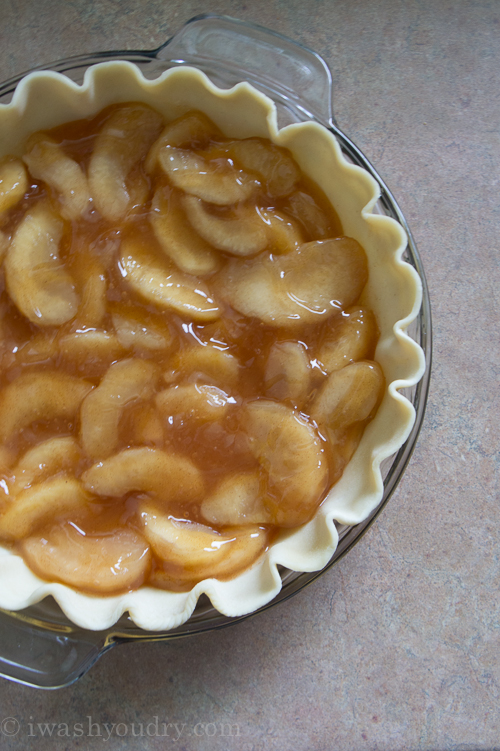 Fill said pie crust with a can of apple pie filling.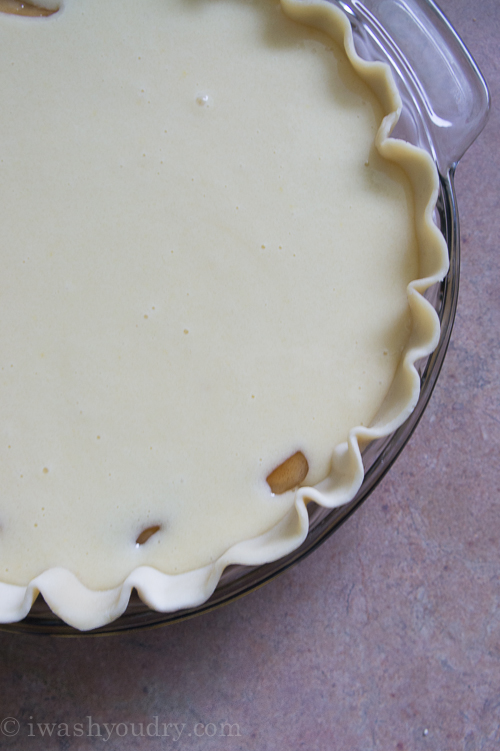 Whisk up the simple cream cake batter and pour it on top.
Bake it till it's nearly done, then remove it from the oven to add the buttery, cinnamon streusel topping.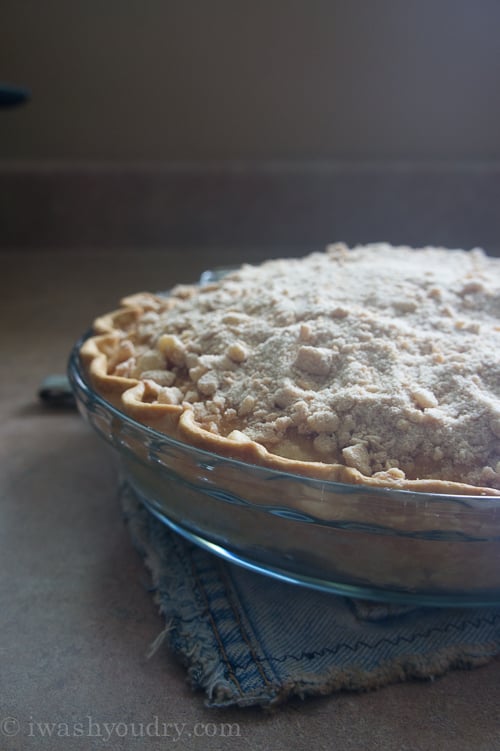 Pop it back in the oven, then stare at it through the little window on your oven until it's ready.
Ok, that last step probably isn't necessary, but who are we kidding… it happens.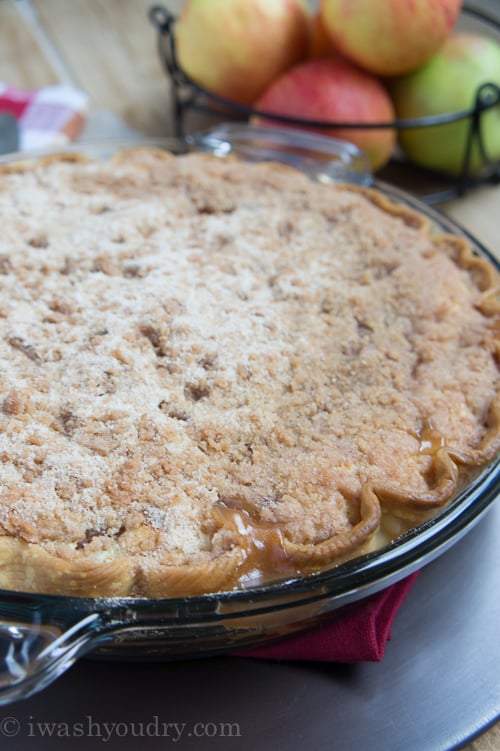 This Apple Pie Streusel Cake is definitely a family favorite.
I served this with some vanilla ice on the side. My kids (who are huge ice cream fans), gobbled up their piece of pie and ice cream then asked for another slice of pie, "just the pie, Mom. It's sooooo good."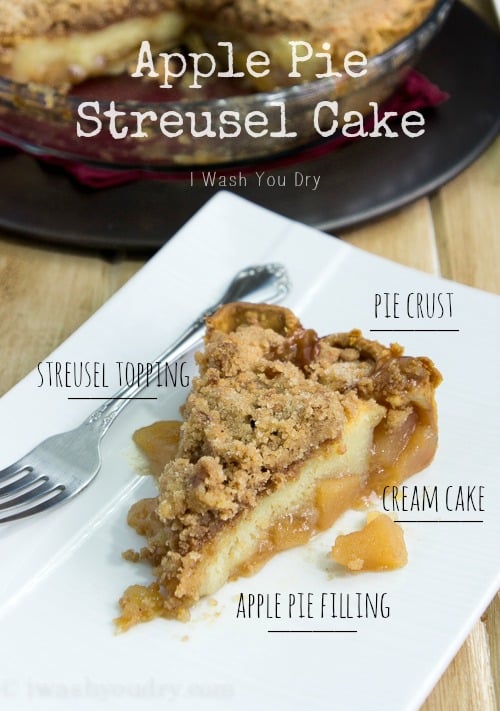 I have to agree with them. It's ridiculously good.
If you are looking for a new dessert for Thanksgiving – STOP.
This is it.
It really couldn't get any easier, or delicious, than this.
Apple Pie Streusel Cake
This is an Apple Pie that's been taken up several notches with a layer of moist cream cake, and then sent over the top with a layer of cinnamon streusel.
Ingredients
Instructions
Preheat oven to 350 degrees F.

Place pie crust in 9 inch pie pan (mine was a 9.5" pan, so that will work too). Spoon the apple pie filling into the pie crust and smooth into an even layer. Set aside.

In a medium bowl whisk together the sugar, flour, sour cream, eggs and vanilla until smooth. Pour over the apples.

Prepare the topping by adding the topping ingredients to a bowl and use a fork or pastry cutter to combine into a coarse crumble mixture. Place in the freezer until ready to use.

Bake pie for 55 minutes, remove from oven and increase temperature to 400 degrees.

Top the pie with all of the streusel mixture. Return pie to oven and continue baking for 10 minutes.

Remove from oven and let cool. Enjoy!
Nutrition
Calories:
447
kcal
|
Carbohydrates:
67
g
|
Protein:
5
g
|
Fat:
18
g
|
Saturated Fat:
9
g
|
Cholesterol:
71
mg
|
Sodium:
191
mg
|
Potassium:
76
mg
|
Fiber:
1
g
|
Sugar:
42
g
|
Vitamin A:
415
IU
|
Vitamin C:
1
mg
|
Calcium:
37
mg
|
Iron:
2
mg
Keywords:
Apple Pie, sour cream, streusel
Now Available!
The Everyday Cookbook
Top Favorite Recipes from I Wash You Dry now available in a hard-cover, spiral-bound book that's gorgeous and perfect for everyday use.
BUY IT NOW