Now that Thanksgiving is over it's safe to bring out Christmas flavors in full force right?
First of all, let's talk about all these specialized flavors that companies bring out for this time of year. Gingerbread, Peppermint, Eggnog… you can pretty much find any treat (marshmallows, M&M's, Oreos, etc.) in these types of flavors. Some are winners, some… not so much.
If you're a fan of Gingerbread and white chocolate, then you're going to L.O.V.E. this White Chocolate Gingerbread Popcorn.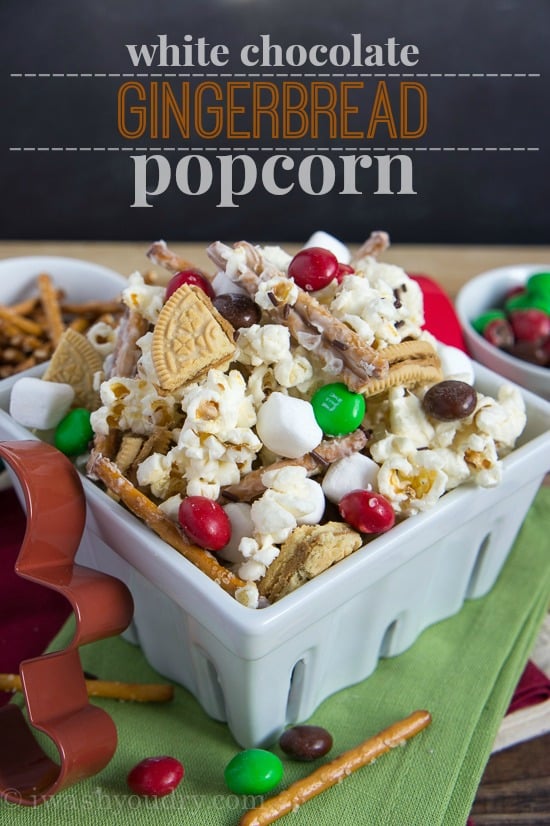 Funny story… Since being in Canada, I feel like I am getting ripped off when it comes to experiencing all these fun different flavored treats. Truth is, Canada just doesn't get the good stuff. At least, not where I'm living (read: I live in the middle of nowhere). So when my husband took a quick trip back to the US recently, I begged him to pick me up some of these Gingerbread M&M's.
I told him that it was for sure only carried by Target, so he HAD to go there. He called me while he was at Target and said that he could not find them, and that he was giving up. NO! I told him to ask an employee, which is like asking him to ask for directions, which he hates more than anything. He could tell I was desperate, so he asked. He asked 3 different employees, to which all of them said, "No, we do not have those. Never heard of them."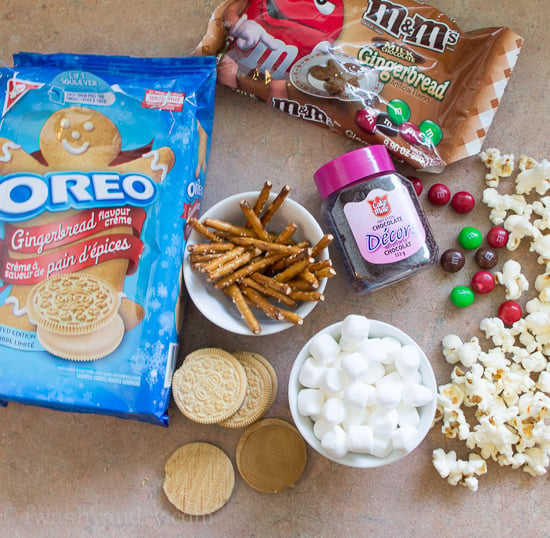 Then, I realized that it must be WalMart that carries the Gingerbread M&M's, so I sent him to Walmart in search of my candy.
After an exhaustive search, he finally found them and to be on the safe side, he grabbed me two bags. While he was at WalMart getting me said candy, I found out (on Facebook) that there are in fact Gingerbread Kisses… only sold at Target.
I begged him to go back to Target to get me the Kisses…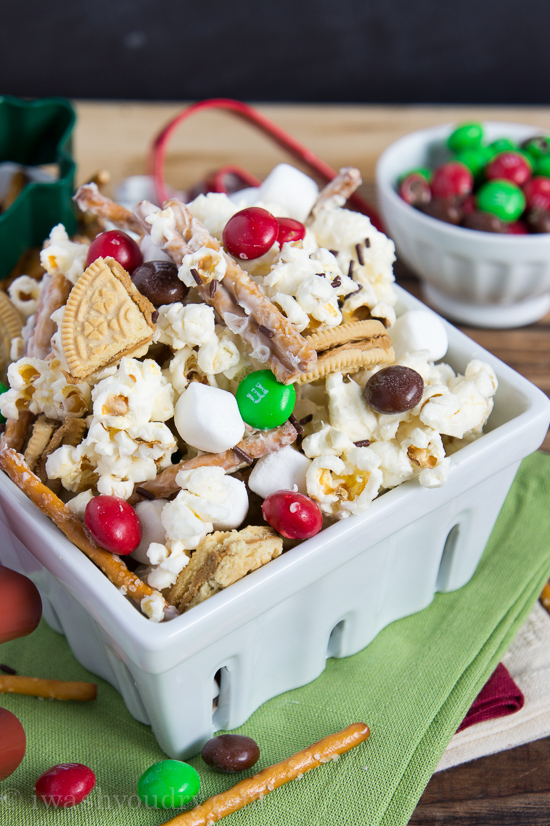 To which he replied, "No. Way."
snif snif… 
Ok, no Kisses for me, but at least I was going to get my M&M's. I was plenty impressed that he went to the trouble to go to two stores and actually talk to three employees to find my candy.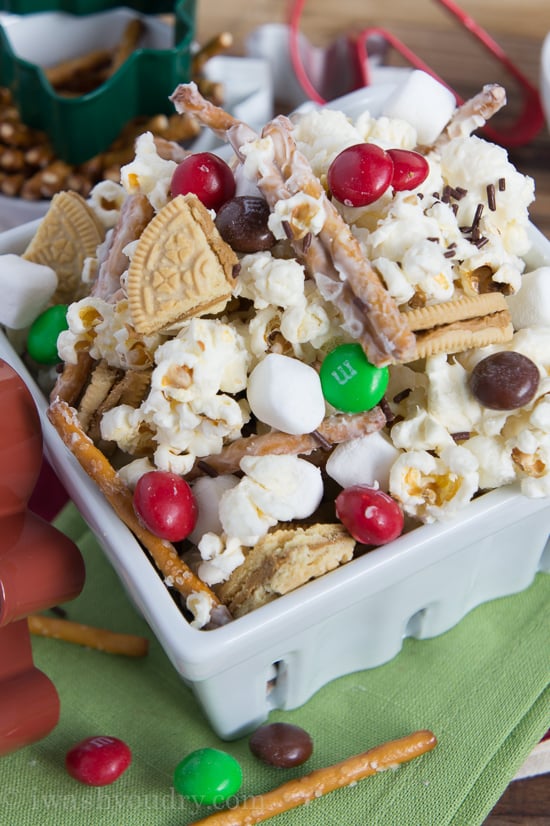 Then, I had a few minutes before I had to pick him up at the airport so I ran to WalMart.
Where I found Gingerbread M&M's…
Let's just keep that between you and me… mmmkay? 
I also found Gingerbread Oreos, which led me to make this delicious White Chocolate Gingerbread Popcorn. This mix was seriously so good, I made a big batch and it was gone within a couple hours. How cute would this be wrapped up with a bow and given out as a gift?
DO IT!!!
White Chocolate Gingerbread Popcorn
If you're a fan of Gingerbread and white chocolate, then you're going to L.O.V.E. this White Chocolate Gingerbread Popcorn.
Ingredients
1 1/2

cups

white chocolate candy melts

10

cups

popped popcorn

1

cup

miniature marshmallows

1

cup

stick pretzels

1

cup

Gingerbread M&M's

8

Gingerbread Oreos

,

cut into quarters

Chocolate Sprinkles
Instructions
Melt the white chocolate candy melts according to package instructions.

Put popcorn and pretzels in a large bowl and pour in the white chocolate. Gently stir to coat. Spread out on a wax paper lined baking sheet and sprinkle with chocolate sprinkles, mini marshmallows, gingerbread Oreos, and gingerbread M&M's.

Let cool, then gently break into pieces and enjoy!
Notes
Try stirring in a pinch of ground ginger and nutmeg to the melted white chocolate before pouring over the popcorn for an even bigger Gingerbread taste!
Nutrition
Calories:
351
kcal
|
Carbohydrates:
51.4
g
|
Protein:
4.3
g
|
Fat:
15
g
|
Cholesterol:
8.3
mg
|
Sodium:
147.7
mg
|
Sugar:
35
g
|
Vitamin A:
1
IU
|
Vitamin C:
1
mg
Keywords:
gingerbread Oreos, popcorn, white chocolate