I have a real passion for sushi.
In fact, my husband and I are huge fans. We used to go get sushi nearly every weekend when we went on our weekly date in Arizona. Yes, I still date my husband… it's important when you have 4 kids to stay connected. Plus I always say 'a babysitter is cheaper than a divorce.' Feel free to use that line. 😉
Back to the sushi, we love it. I often make a roll or two at home, and my kids love it too. This time I decided to switch things up a bit, and instead of using white sushi rice, I substituted it with quinoa. Works like a charm… a healthy little charm!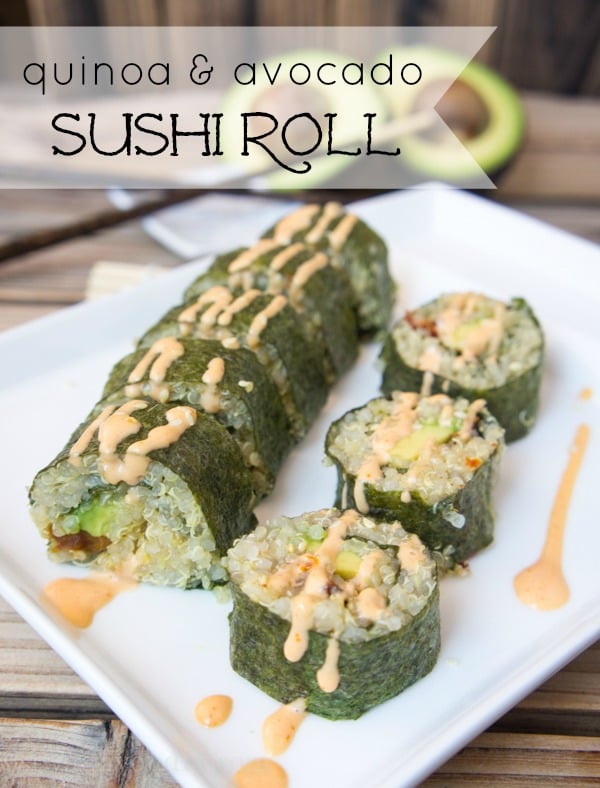 I know making your own sushi sounds like a difficult task, after all, those sushi chefs can make some pretty elaborate creations. But fear not, a simple sushi roll is a piece of cake to put together. Who knows, maybe after a few tries you'll be whipping up some creative rolls of your own!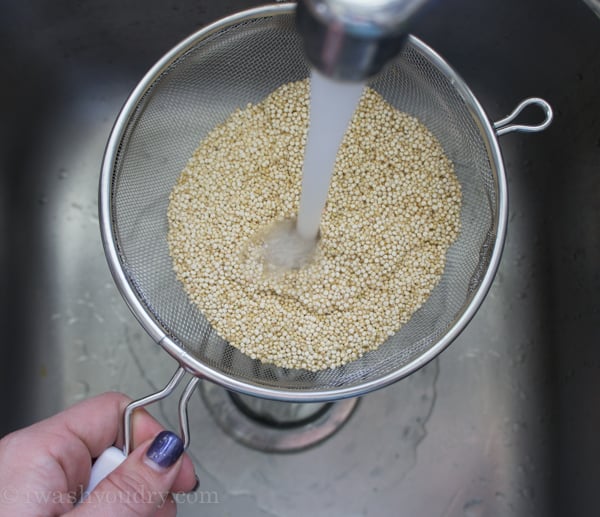 I prepared the quinoa in place of the white sushi rice, but prepared it in the exact same manner as I would have prepared the rice. So if you want to use the traditional rice you can just substitute it accordingly. I found that the quinoa was not quite as sticky as white sushi rice would be, but it still held together very well; and is much healthier.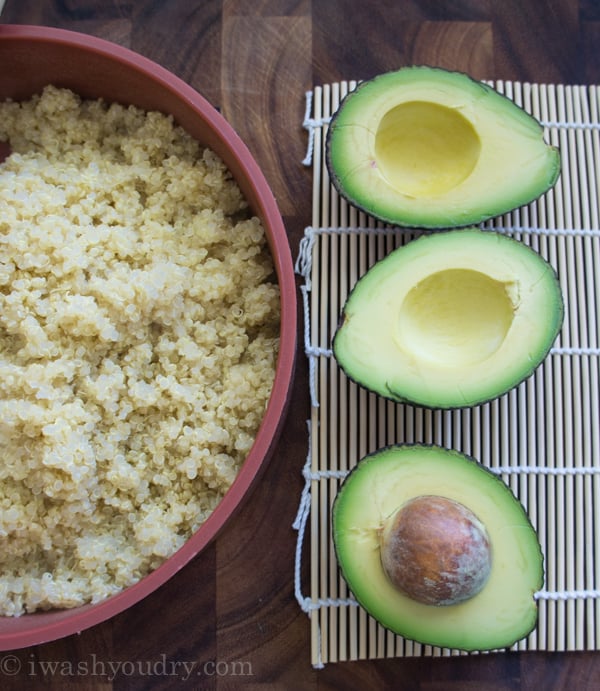 California Avocados are a common ingredient found in sushi rolls. It's creamy texture pairs perfectly with just about anything else you add to the roll. I love the combination of avocado and sun dried tomatoes (I made these Avocado Egg Rolls and this tasty Crostini Topper with the two ingredients), so why not add a little bacon to the mix and stuff it inside a quinoa sushi roll?
Sounds like a plan to me! Let me show you how simple it really is…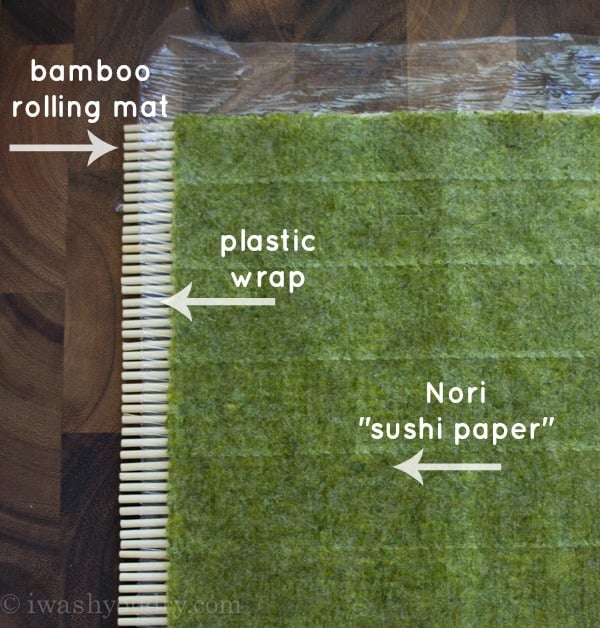 You should be able to find all your ingredients (like a bamboo rolling mat, nori, and japanese mayo) in the Asian isle of your local supermarket.
First thing you'll want to do is prepare your quinoa, and have it cooled and ready to go. Lay out your bamboo rolling mat on a flat surface, lay a piece of plastic wrap on top, then a sheet of Nori (seaweed/ sushi paper). Use the back of a wooden spoon to gently press the quinoa (or sushi rice) onto the Nori, about 1/4″ thick. Leave a 1/4″ of the paper uncovered at one end. Then lay your filling ingredients across the other end.

Once your filling is down, you will carefully roll the end closest to you up and over the filling by picking up the bamboo mat. Go slow at first, making sure to use the mat to press the roll together tightly.


Carefully remove the roll from the plastic wrap and bamboo rolling mat, and find a really sharp knife to make some cuts.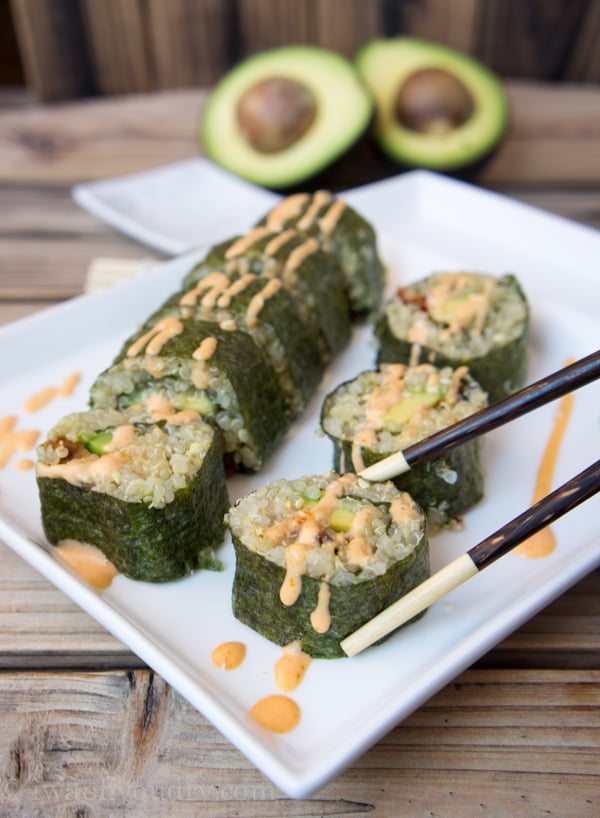 I whipped up some spicy Japanese mayo to drizzle over the top for some added flair. Totally reminds me of all the Japanese restaurants we used to visit. So good.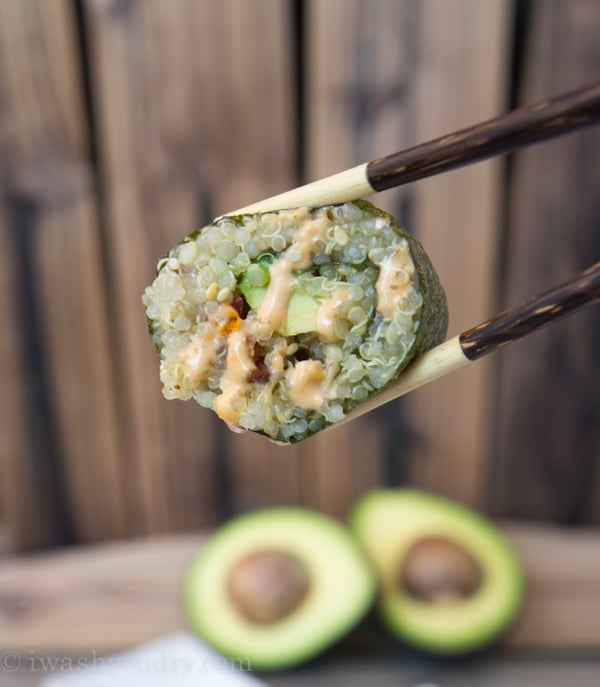 This Quinoa Avocado Sushi Roll would make a fantastic appetizer for a date night at home, or a delicious lightened-up lunch. You can even impress your friends with your newly learned sushi rolling skills. Whatever you put into your sushi creation, just don't forget to add some tasty California Avocados!
Make sure you don't miss a thing! Follow I Wash You Dry here:
FACEBOOK | PINTEREST | GOOGLE+ | TWITTER | INSTAGRAM | BLOGLOVIN
Quinoa and Avocado Sushi Rolls
This Quinoa Avocado Sushi Roll would make a fantastic appetizer for a date night at home, or a delicious lightened-up lunch. You can even impress your friends with your newly learned sushi rolling skills.
Ingredients
For the Roll:
For the Spicy Mayo:
2

tbsp

Japanese Mayo

2

tsp

Sriracha Hot Sauce

dash

Sesame Oil
Instructions
For the Quinoa:
Wash the quinoa in cool water to remove any soapy residue. Place quinoa and water in a small sauce pan. Set to high heat, stirring occasionally until it reaches a boil. Reduce heat to low, cover and let cook for 12-15 minutes.

Meanwhile in a small saucepan combine the vinegar, sugar and salt over low heat. Stir constantly until the sugar and salt are dissolved, then remove from heat and cool. Once the quinoa is cooked use a wooden spoon to scoop it into a plastic or wooden bowl. (do not use a metal bowl, it does not react well to the vinegar). Pour the vinegar mixture over the quinoa gently fold it in. Let the quinoa cool to room temperature.
For the Sushi Roll
Place the bamboo mat on a flat surface, lay a sheet of plastic wrap on top, then a sheet of Nori on top of that.

Use the back of the wooden spoon to carefully spread the cooled quinoa evenly over the Nori (about a 1/4" thick). Leave about 1/4" of the Nori uncovered at the end furthest from you.

Place two to three pieces of California Avocado on top of the quinoa (the side closest to you), followed by a few pieces of sun dried tomato, then top with the crispy bacon.

Lift the end of the mat, and gently roll it over the ingredients, pressing gently. Roll it forward to make a complete roll. Repeat with remaining ingredients.

Use a sharp and wet knife to cut into 1" pieces.
For the Spicy Mayo:
Combine the Japanese Mayo, Sriracha, and sesame oil in a small bowl. Whisk until combined, then drizzle over prepared sushi rolls, or serve on the side as a dip.
Nutrition
Calories:
251
kcal
|
Carbohydrates:
28
g
|
Protein:
7.5
g
|
Fat:
12.4
g
|
Cholesterol:
5.7
mg
|
Sodium:
1059.4
mg
|
Sugar:
4.5
g
|
Vitamin A:
1
IU
|
Vitamin C:
22
mg
Keywords:
avocado, Bacon, quinoa, sushi
If you want more delicious Avocado recipes then be sure to check out my fellow California Avocado Ambassadors and what California Avocado inspired recipes they cooked up this month….
Dara @ Cookin' Canuck – Shrimp, Avocado & Rice Noodle Spring Rolls
Kristen @ Dine & Dish – Cobb Salad Stuffed Pita Pockets
Rachel @ A Southern Fairytale – Salmon Patties with Avocado & Spicy Chipotle Aioli
Disclosure: This recipe was created and inspired by my partnership with the California Avocado Commission. I'm honored to be a compensated 2013 brand ambassador for CAC. All opinions expressed are my own. For more great recipes visit the California Avocado Commission website and follow them on Facebook and Twitter.