A few weeks ago I had the opportunity to travel to the Deer Valley Ski Resort in Park City, Utah.
It wasn't a very far trip, seeing as I am located in Southern Utah and Park City is in Northern Utah, but man oh man, is it ever so different!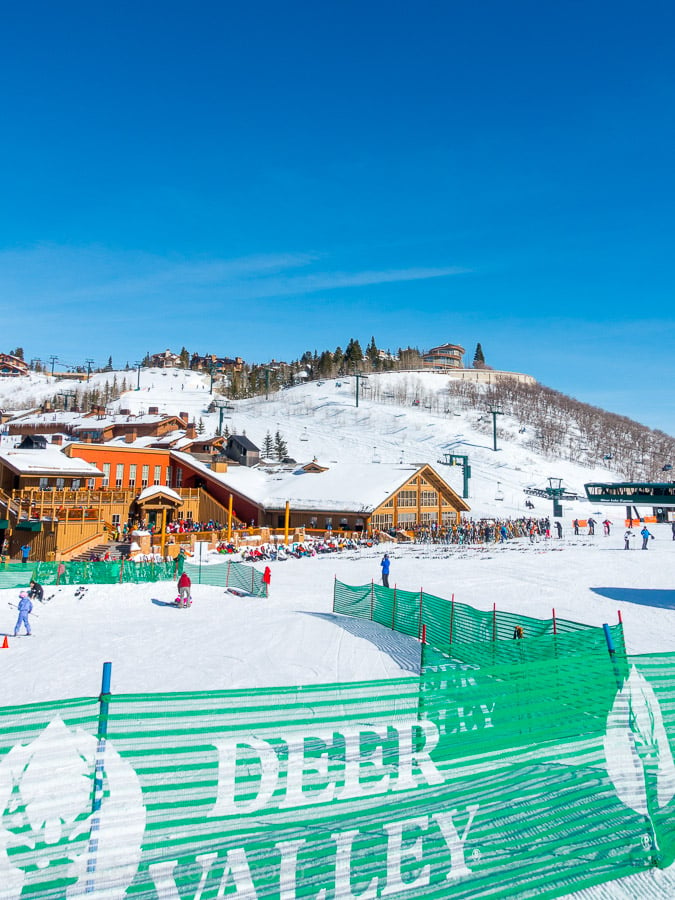 I should preface this post with saying that I have NEVER skied before.
I've taken a snowboard down the mountains a few times, but I'm not very graceful at it. So skiing was definitely something I was interested in trying. Lucky for me the wonderful people at Deer Valley Resort set me up with a full day private lesson for my first day.
The conditions were remarkable. Blue skies, lots of snow and once you started working those hills you could unzip your jacket and enjoy a nice cool breeze.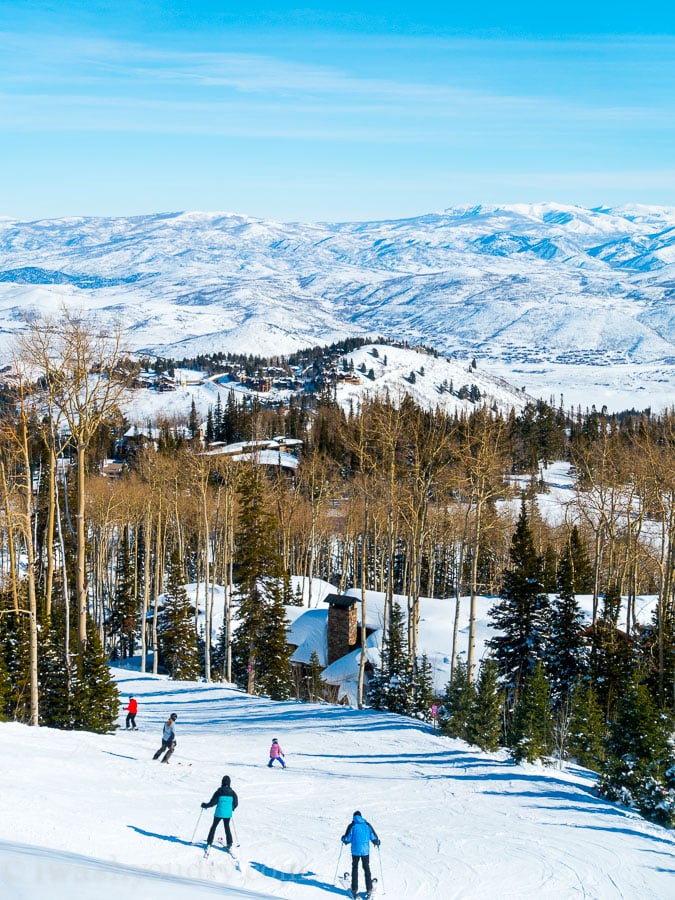 It took me all of the first day to work my way up the green carpet run, to the yellow carpet and eventually the blue carpet. There were so many wonderful instructors helping kids from as small as 2 years old up to, well, my age and probably older than that.
Once I mastered the gradual bunny hills I worked my way up to skiing down a blue hill.
I'm getting ahead of myself here. Let me go back to the beginning…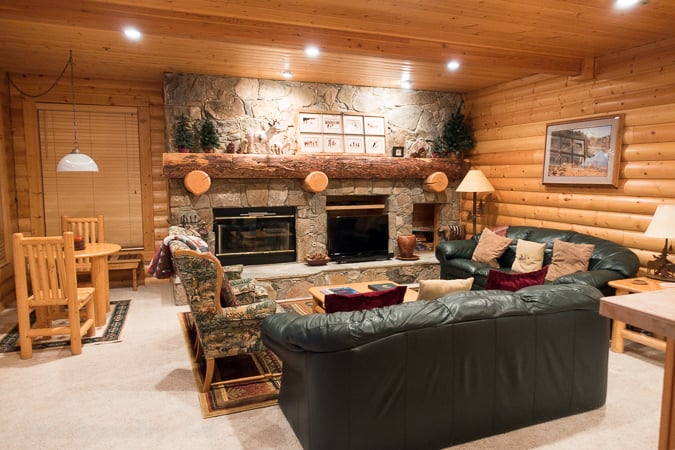 Amanda (from Kevin&Amanda) and I checked in to this adorable Bristlecone, 3 bedroom condo when we arrived at Deer Valley.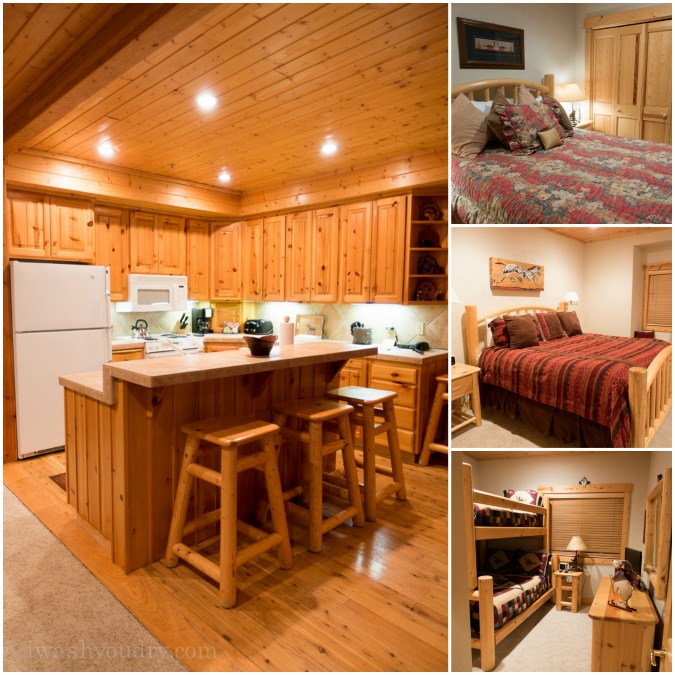 Not only was the condo super cute and comfy, but it also had a luxurious spa right on the back deck. We used that spa. It was luxurious.
Once we got all of our things unpacked and situated we headed over to the Fireside Dining at Deer Valley.
I've never seen anything like this place. Quite literally, everything is cooked by the fireside.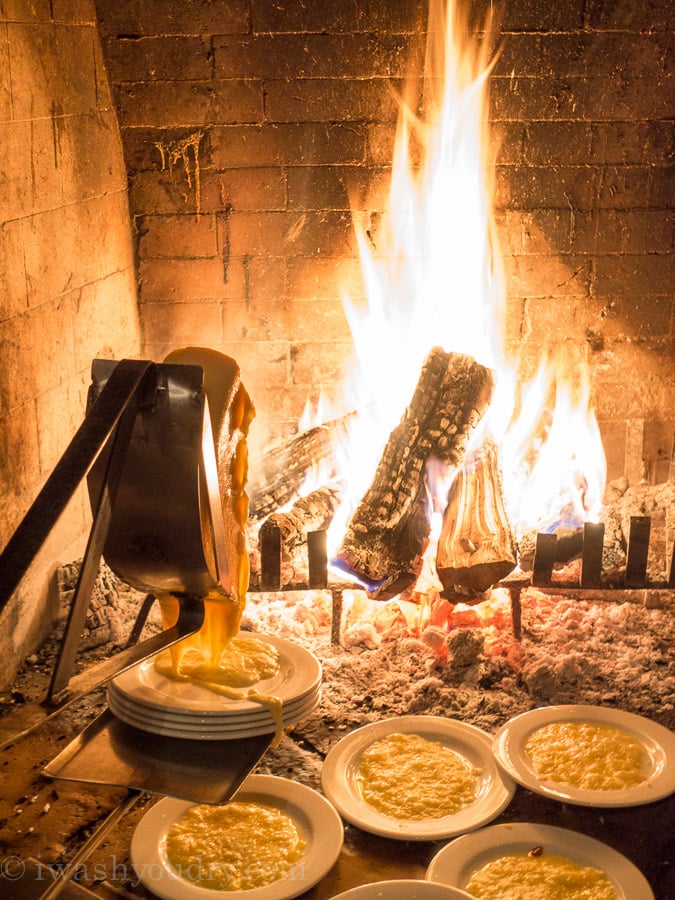 Big wheels of cheese are dripping molten cheddar onto small plates right in front of your face. Once you pick up your plate of gooey cheese you head over to a buffet of cubed breads, meats, veggies and fruits.
Each fireplace boasts a different entree. There were racks of lamb leg spinning in front of a crackling fire in one room, while pots of chocolate and caramel sauce bubbled away near the fire in another.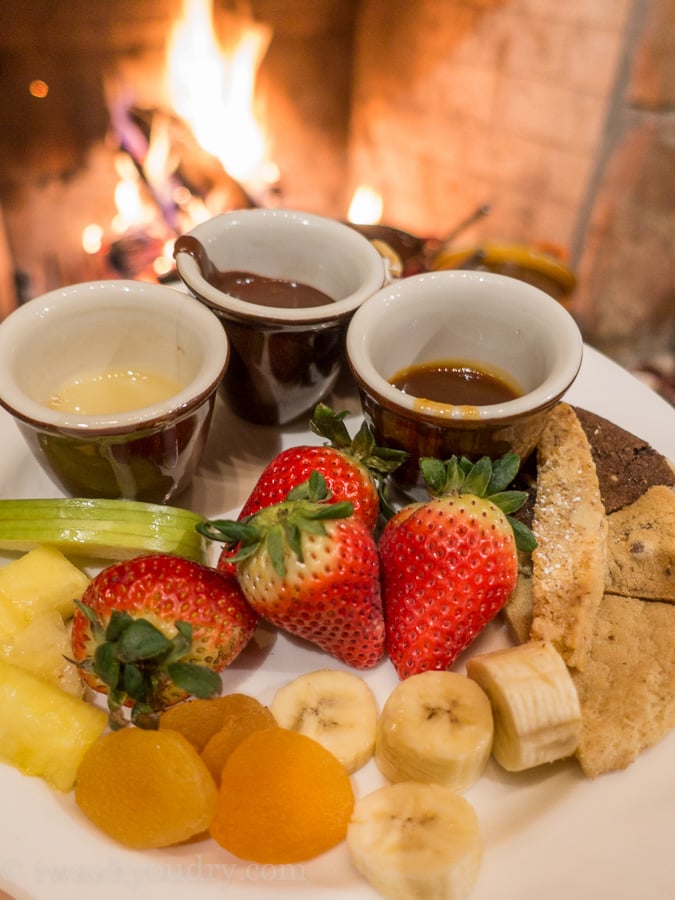 What really stole the show was the horse-drawn carriage ride that we took right after dinner.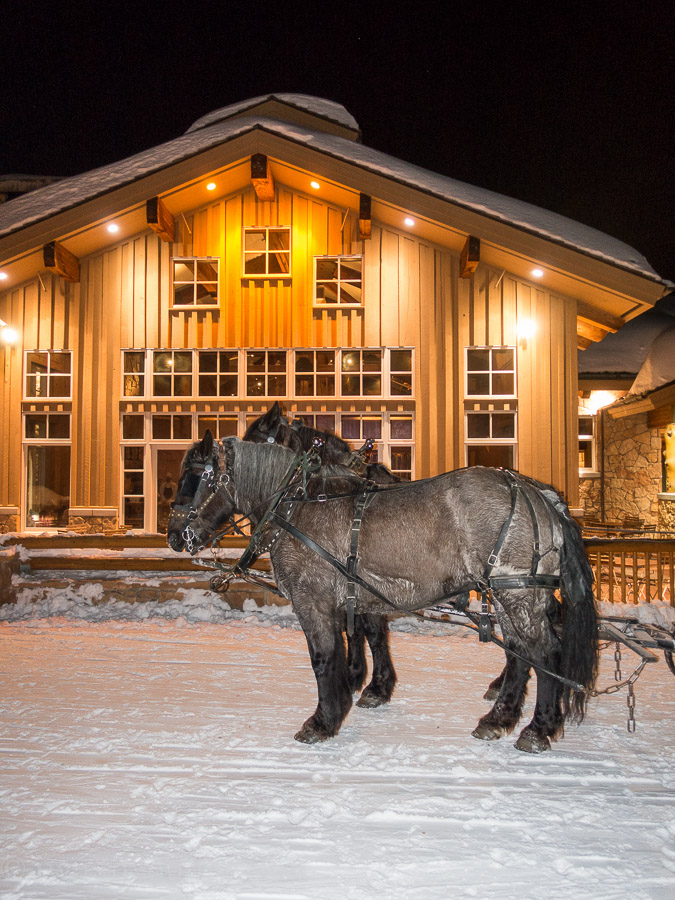 We sipped on hot chocolate as we sled around the snow and enjoyed each other's company. It was a truly unforgettable experience.
Once we were stuffed to the brim we headed back to the condo to prepare ourselves for our first day of skiing in the morning.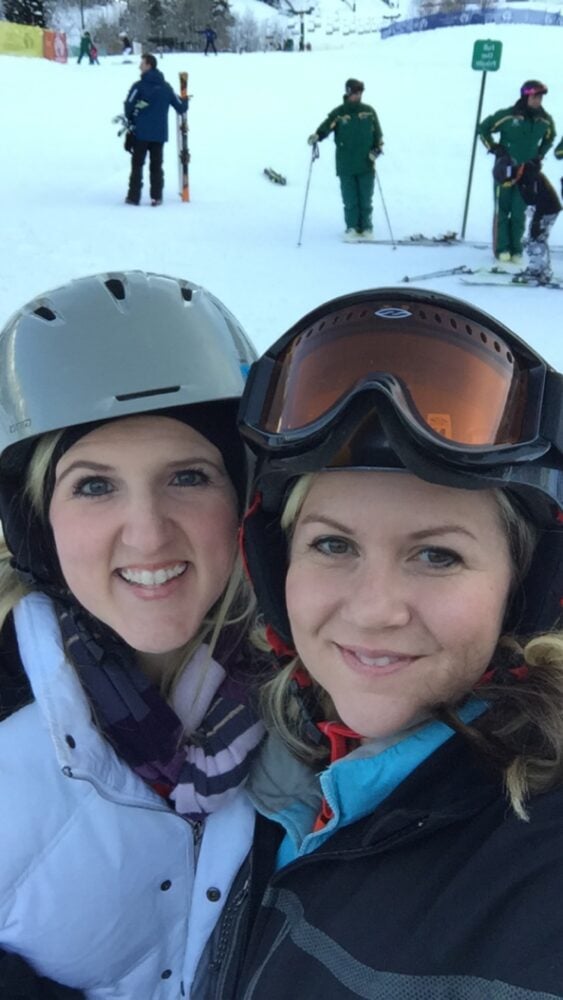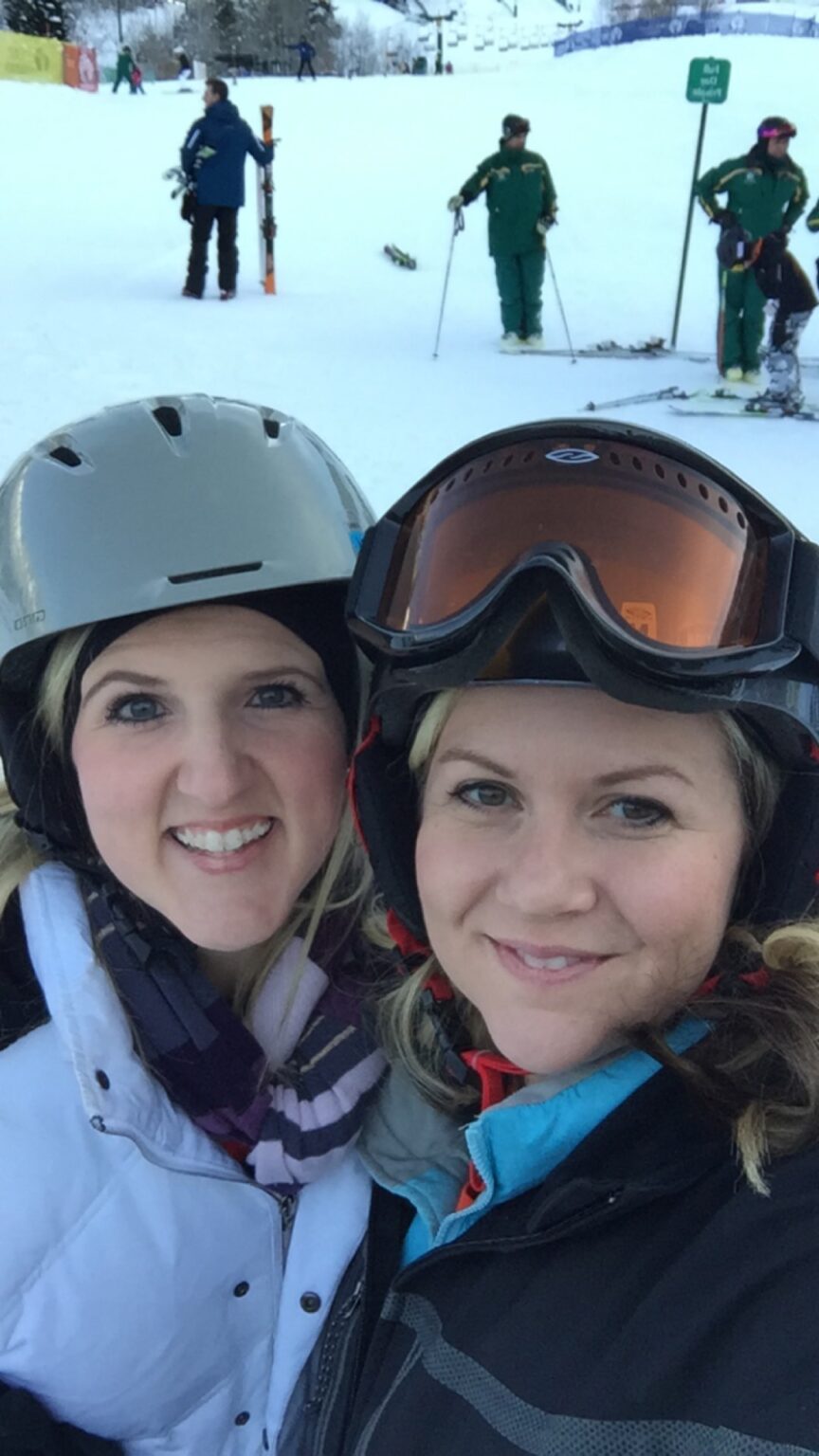 Amanda had been skiing practically all her life, so on our first day she took off to tackle the mountain, while I began my first attempts at skiing.
I was paired with Dawn, my trainer, who had been working as a ski instructor at Deer Valley for over 21 years. He was so patient and informative, but mostly importantly… patient. I felt like Bambi when he first tried to walk on ice. It took some time but eventually I got my ski legs.
Is that a thing? Ski legs?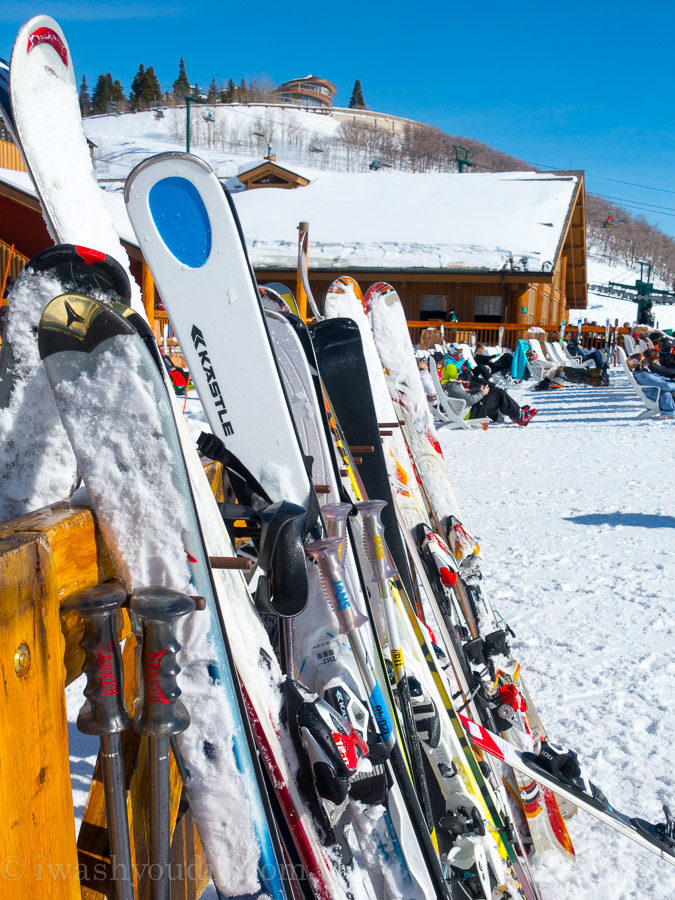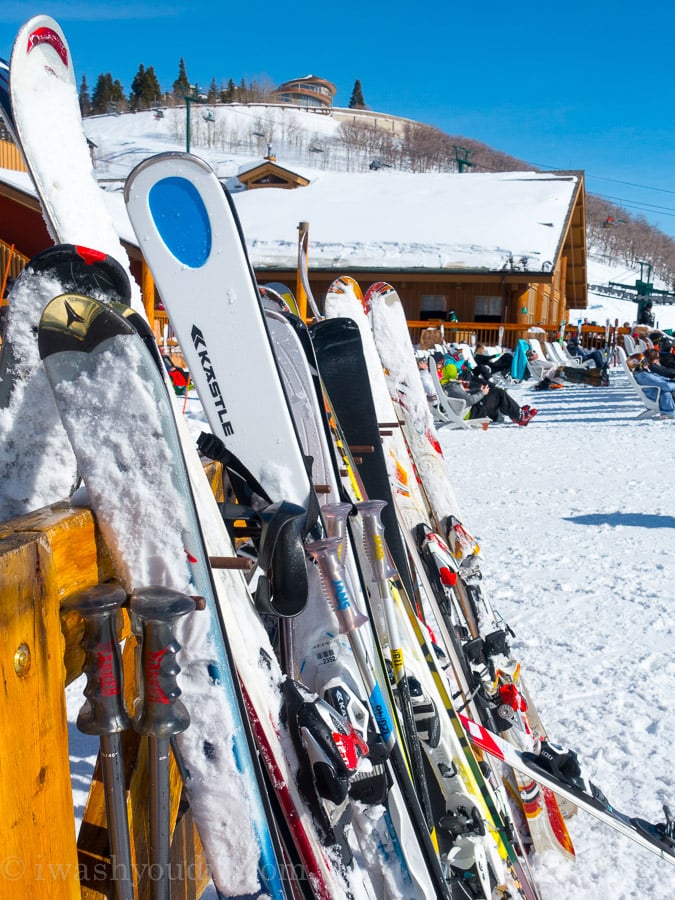 I spent the morning on the baby bunny hills, like I mentioned earlier. It was great. I think the key to learning how to ski as an adult is confidence.
Dawn took me up and down these little bunny slopes until I felt super confident and was not only physically ready to move on, but also mentally.
But first we took a much needed break for lunch. Amanda and I met back up at the Silver Lake Restaurant which is nestled right on the middle of the mountain. I grabbed a trio of amazing tacos at their Taquiera, which was paired with a delicious quinoa and kale salad. It was a bubbly atmosphere; people coming and going with big smiles on their faces. You could tell everyone was having as much fun as I was.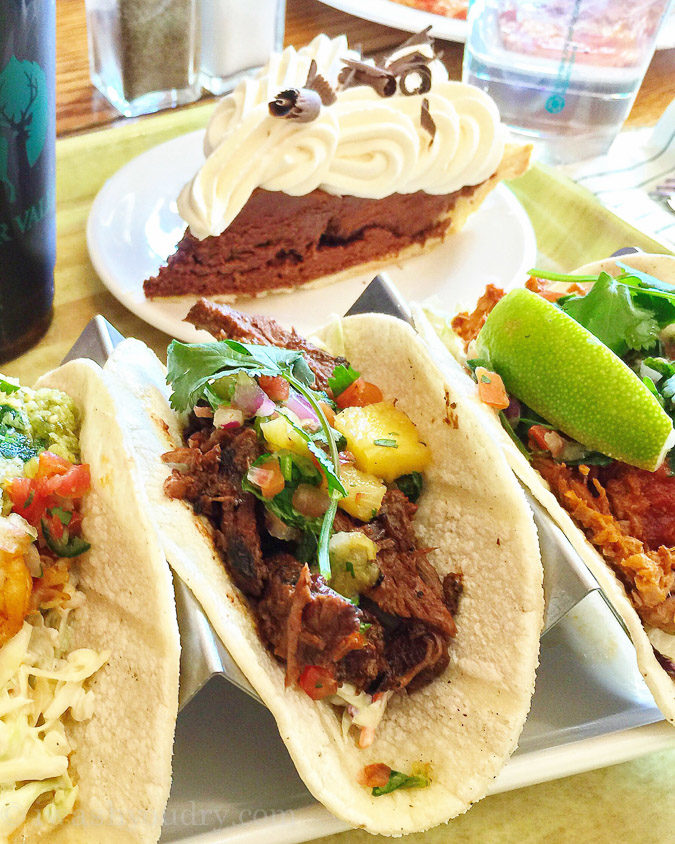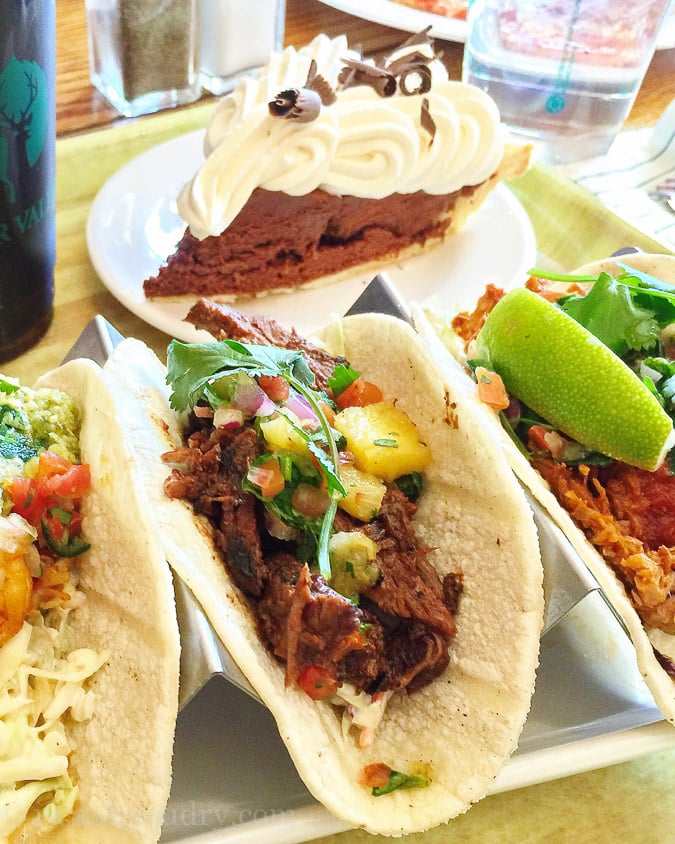 After our lunch break we hit the slopes again. I worked my way up to the mini chair lift/still a bunny hill and was learning how to pick up some serious speed, but still stay in control.
Once the slopes closed Amanda and I headed back home to get ready for the World Cup Dual Mogul Event.
Yeah, no. We weren't participating in it, we were just there to watch.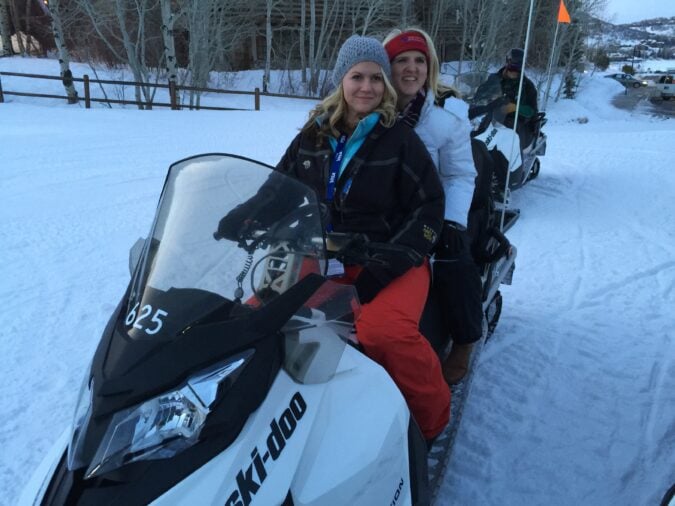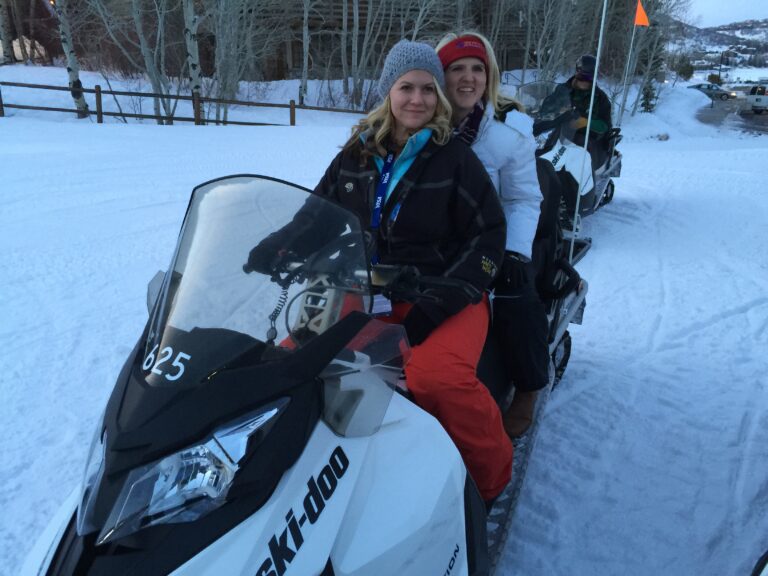 We took a snow mobile ride up the mountain where we were greeted by a massive crowd who's eyes were focused uphill.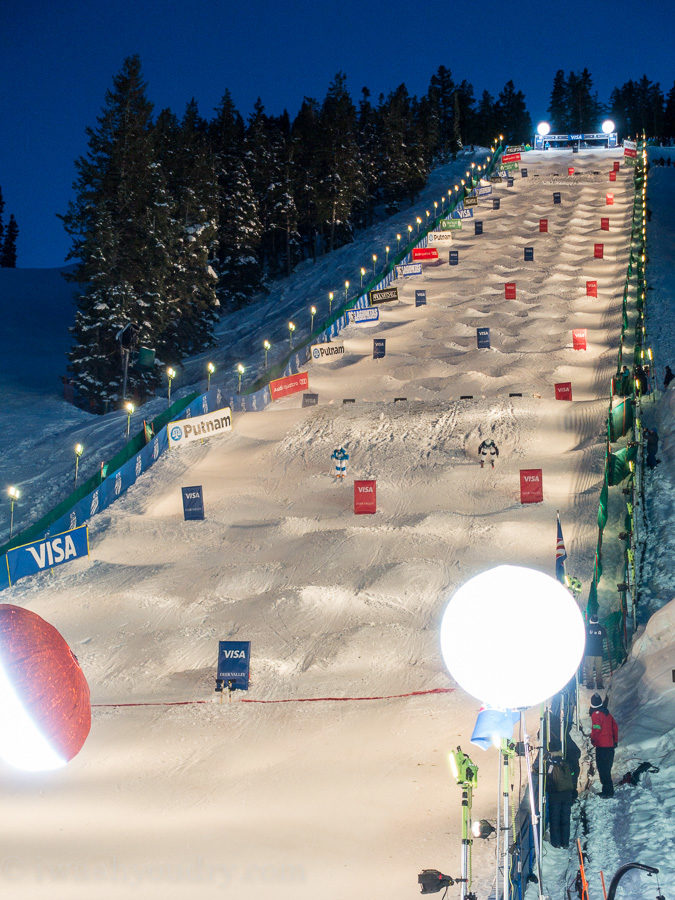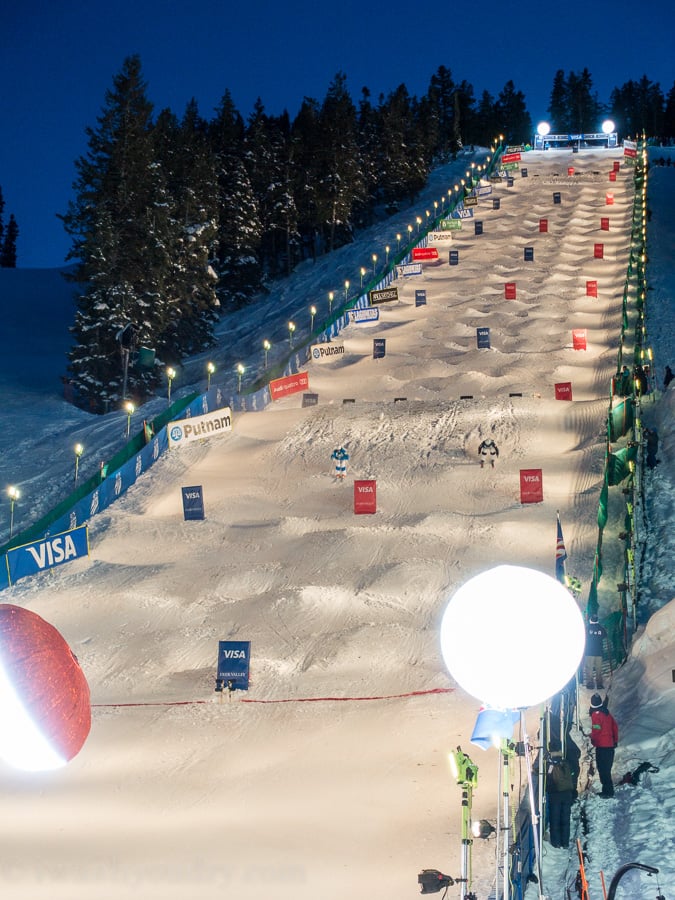 I watched, slack-jaw, as two competitors came blazing down the steep mountainside, navigating little hills and hurling themselves into the air to perform backflips and twists.
It made me rethink all my progress on the bunny hill earlier that day.
Nevertheless, I was determined to hit the slopes running again the next day and make it off the bunny hill.
The next morning we woke up and headed to the Snow Park Lodge for a filling breakfast of omelettes, waffles, french toast, and pastries.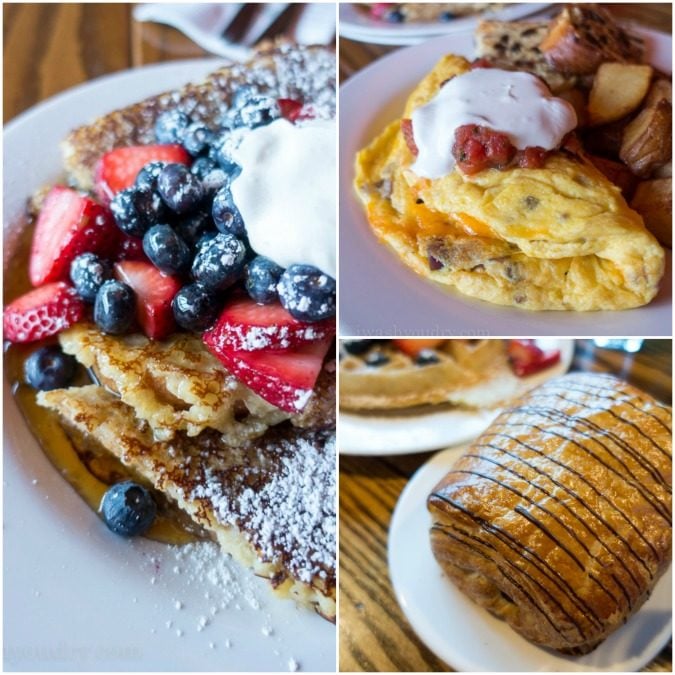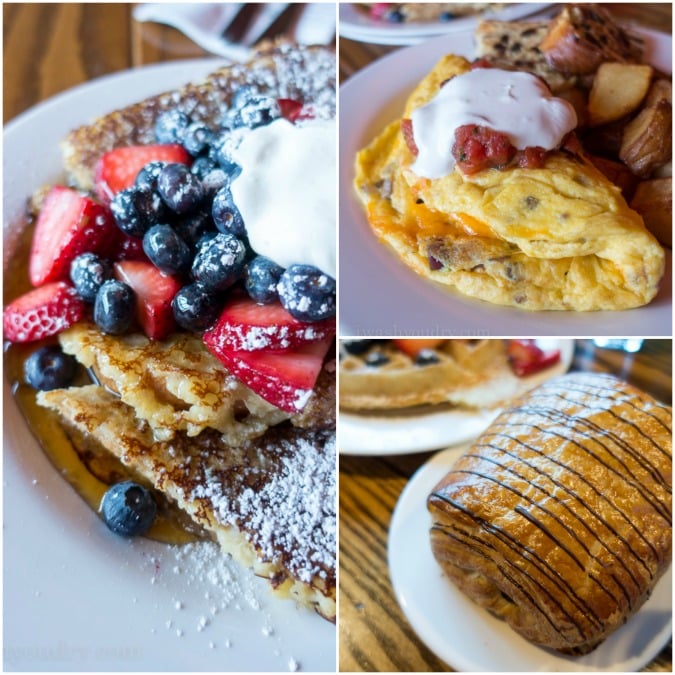 They also have a killer Huevos Rancheros that I highly recommend ordering too. Oh and their breakfast potatoes? A MUST!
Once we were absolutely stuffed we headed back out for another gorgeous day at Deer Valley.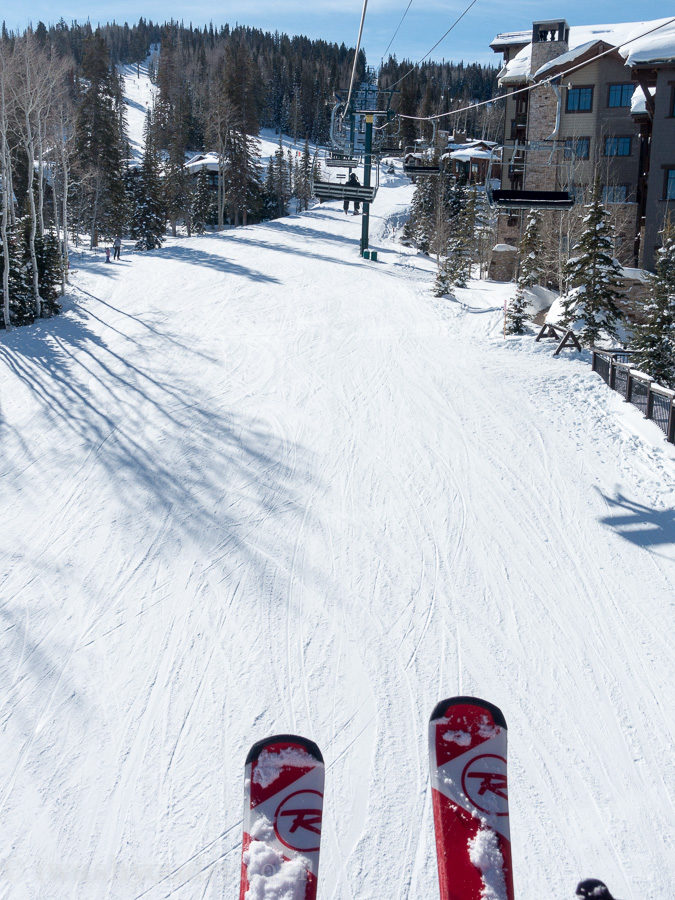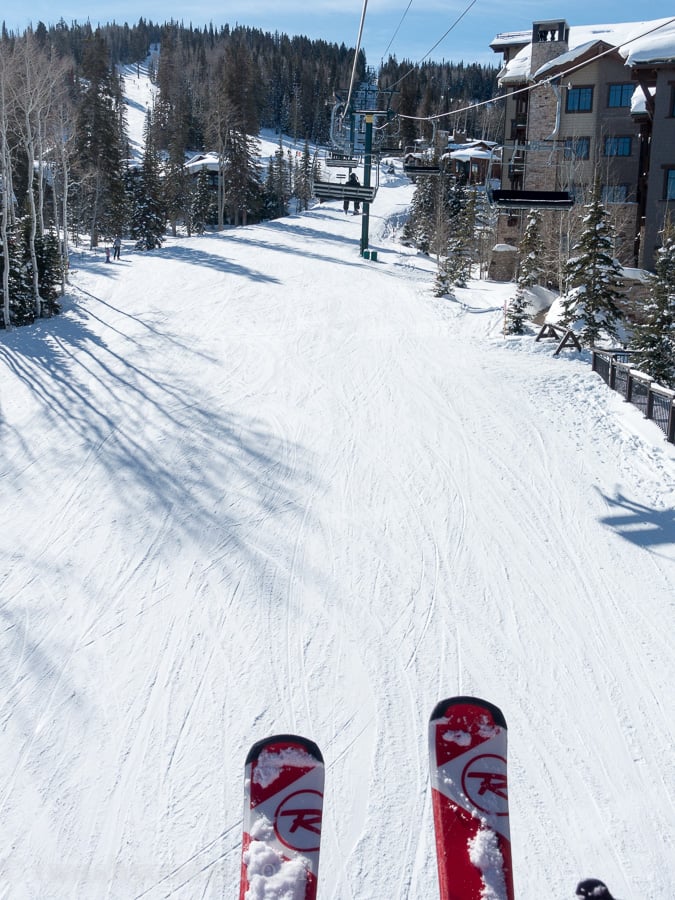 Determined to make it up the mountain this time, I was once again paired with a private instructor, this time it was Mark.
Ok, so I wasn't actually supposed to have an instructor on my second day, but I totally lucked out because Amanda's father (who was also skiing with us) let me have his personal instructor. Mark had been working at Deer Valley for 26 years as an instructor. They don't mess around there!
I was feeling super confident so we took to the ski lift and headed up the mountain.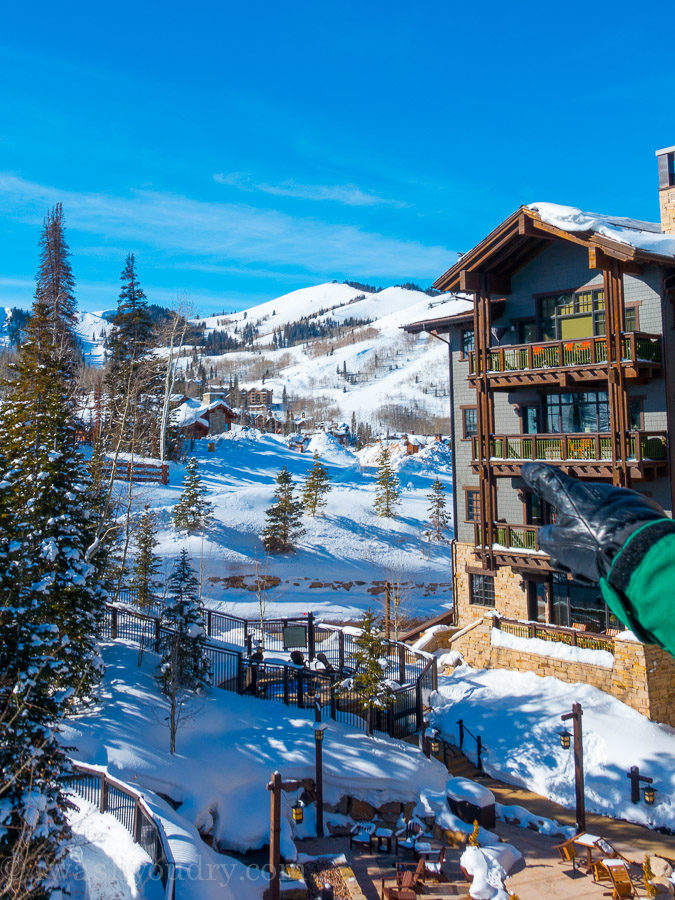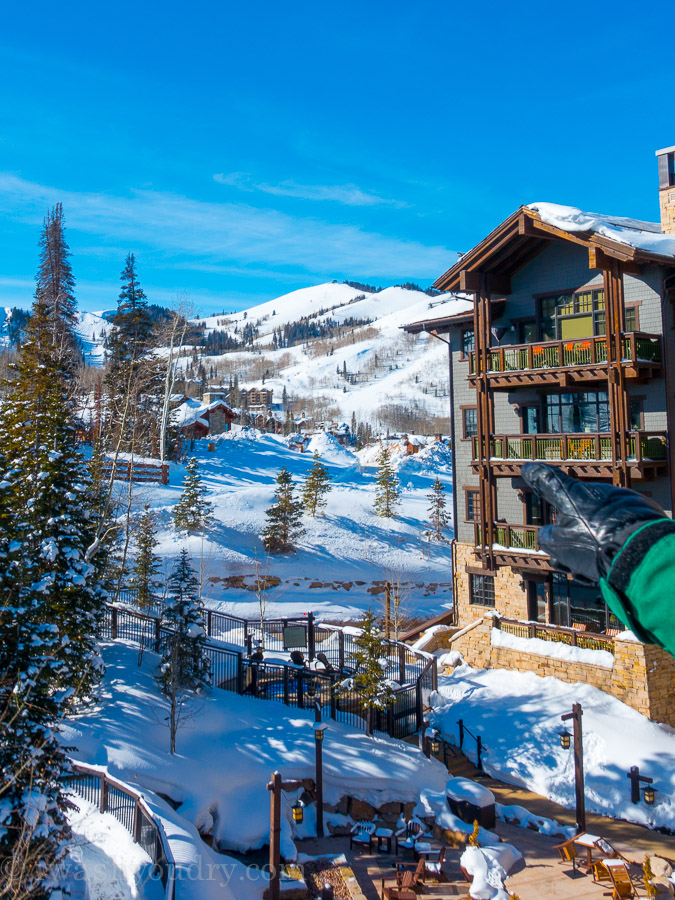 On the way up Mark pointed out all the different mountains surrounding us. He named them, I'm sure. But I was too busy mentally preparing for my descent down the mountain to pay any attention to that part.
Once again I was surrounded by gorgeous views in every direction.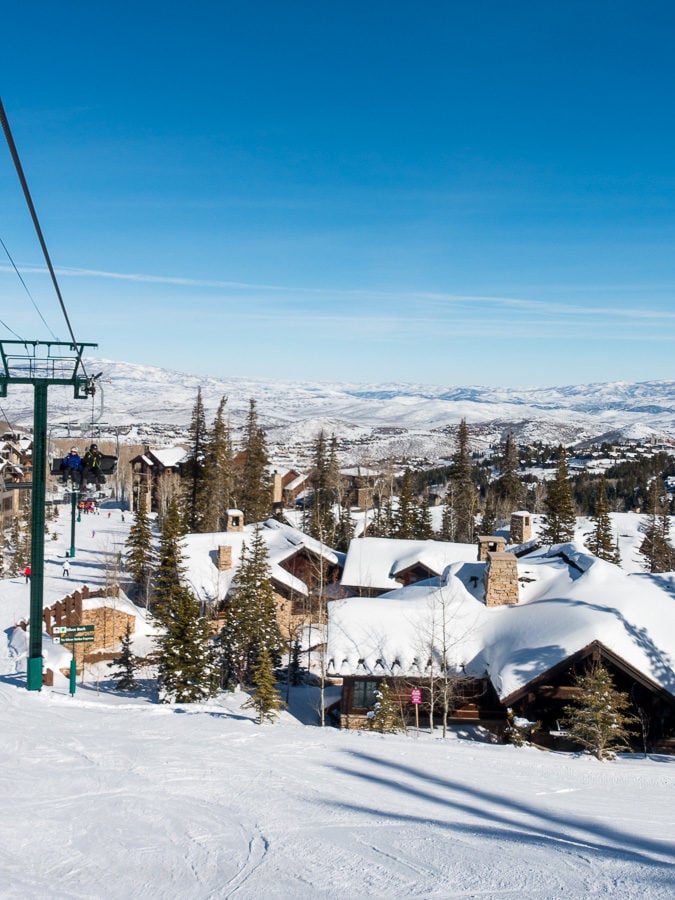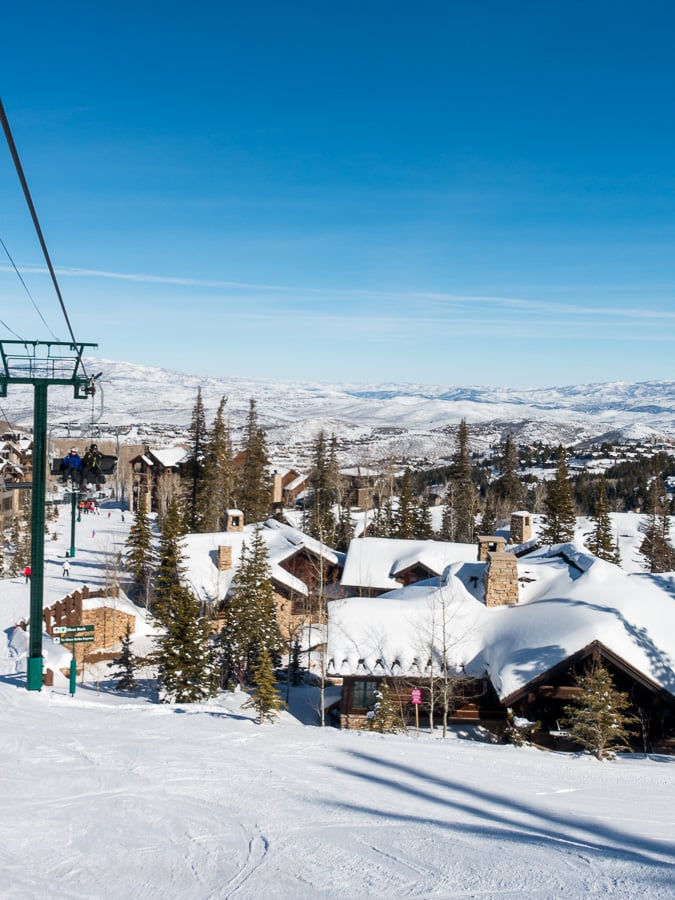 Once we made it to the top I couldn't believe all the gorgeousness.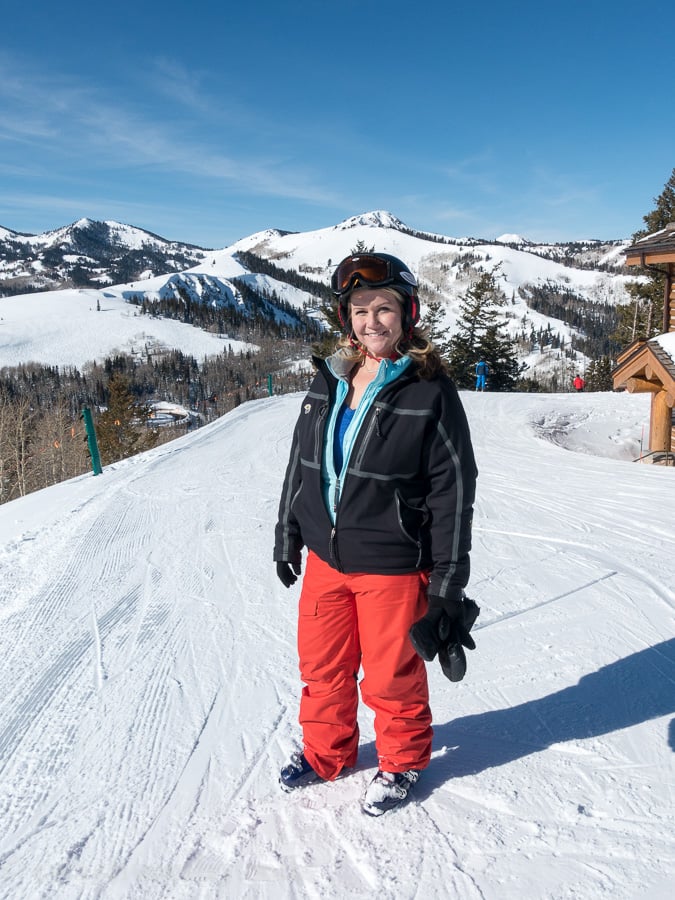 It really is something you need to see for yourself.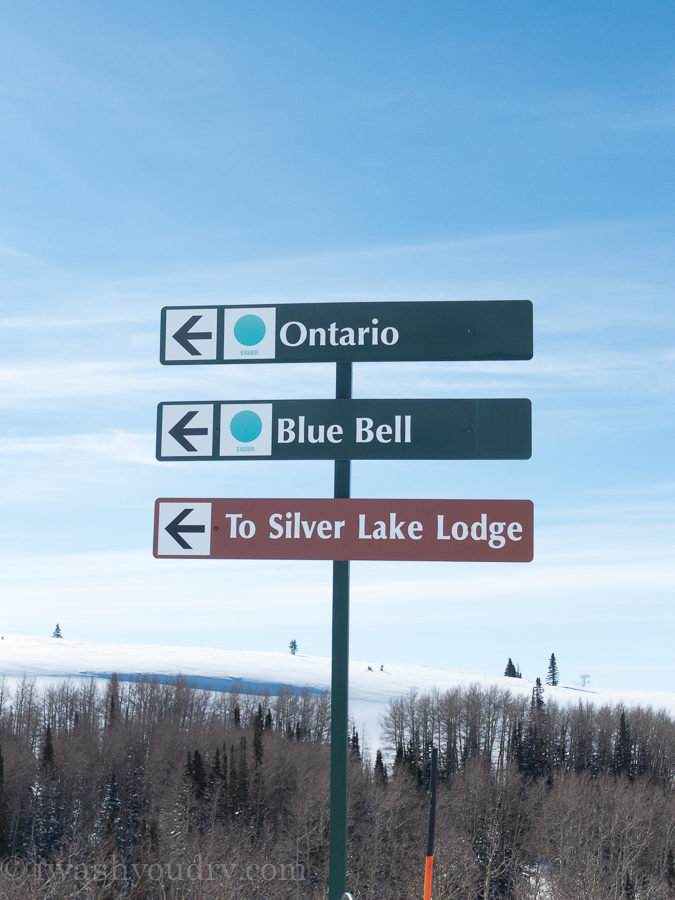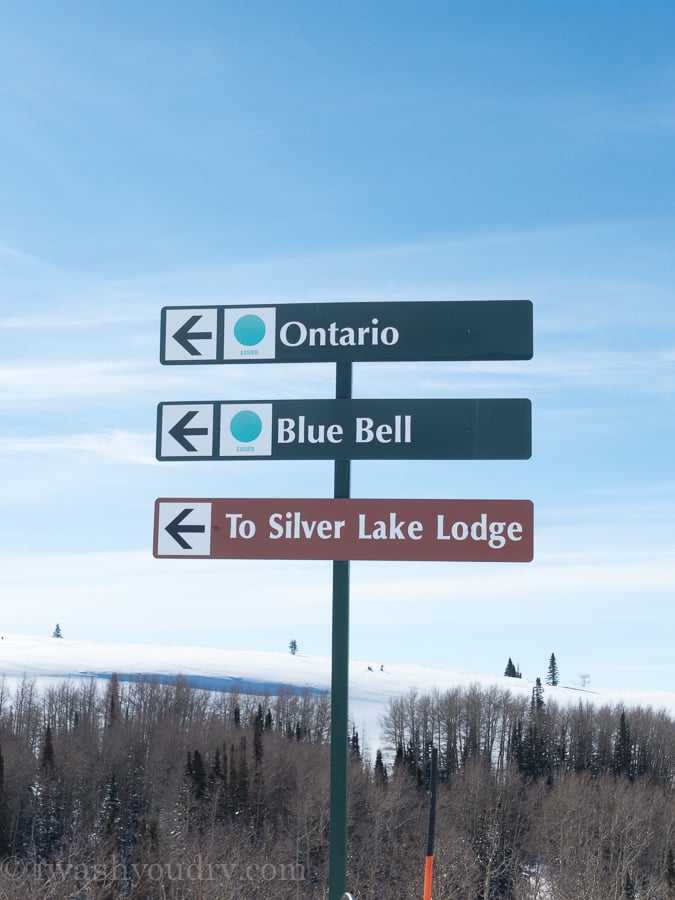 I was a little nervous, but like I said, confidence is what it takes to learn how to ski.
Also, every time I would turn side to side on my skis down the mountain I would mentally and sometimes verbally say, "commit." It helped me to commit to my turns, but I also wonder if my fellow skiers would zoom by, hear me, and think I wanted to commit suicide…
Either way I made it down the mountain, and even did a little run through some trees, a small portion of a blue run (see, I did a blue run!). I was feeling pretty good.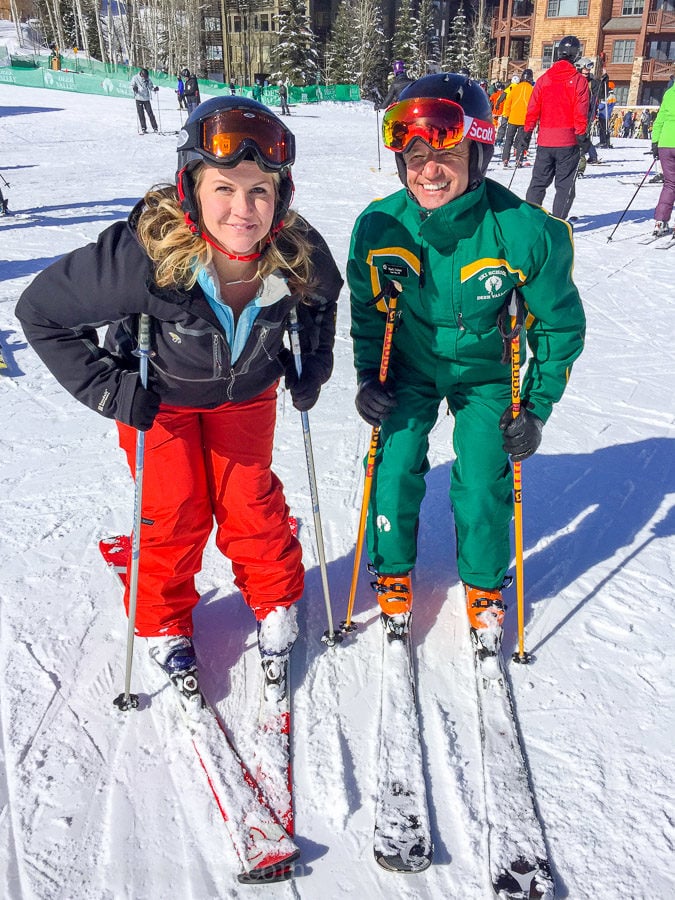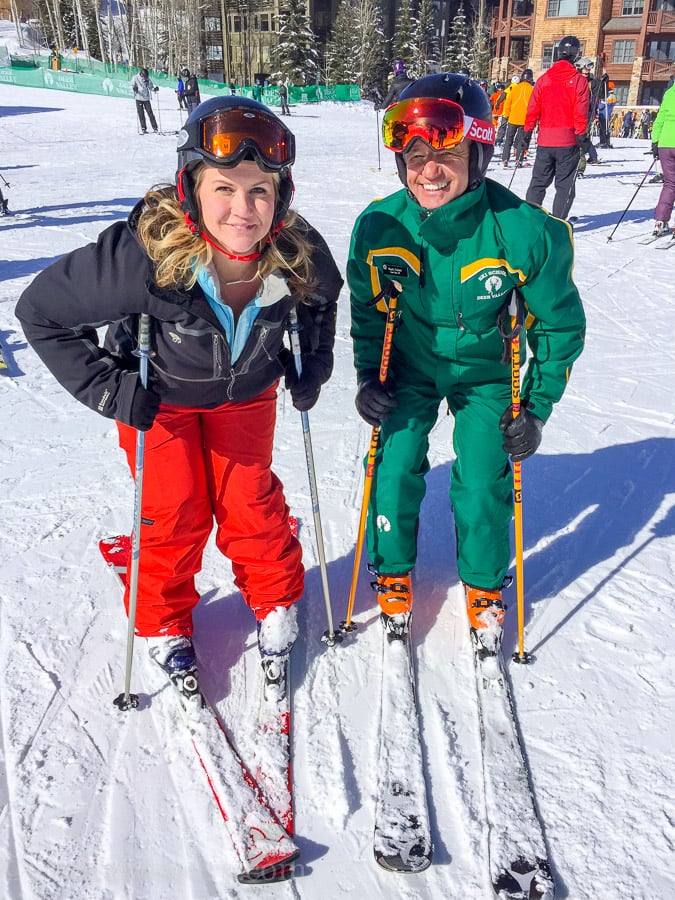 Before Mark and I parted ways I asked if we could get a picture together. He told me to put my ski poles in my armpits and bend down like this because that is how skiers take photos. I trusted him, because I was now a skier.
And I was hungry.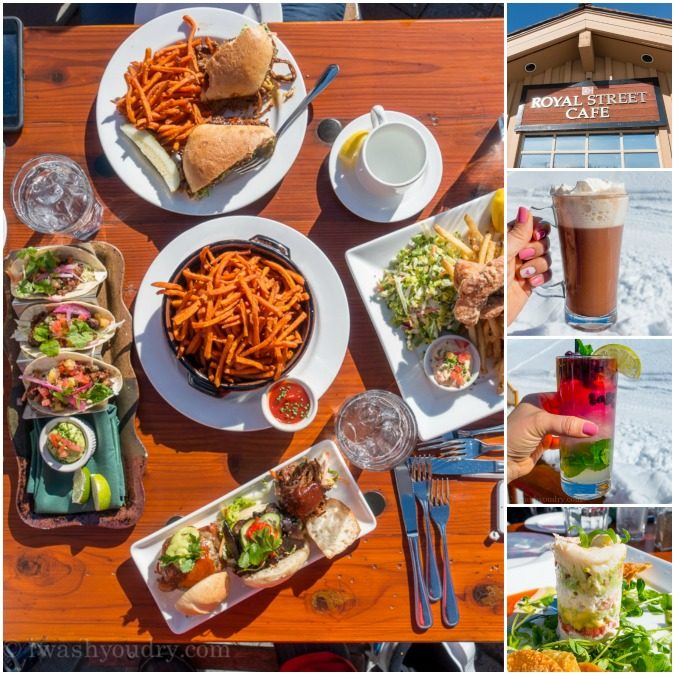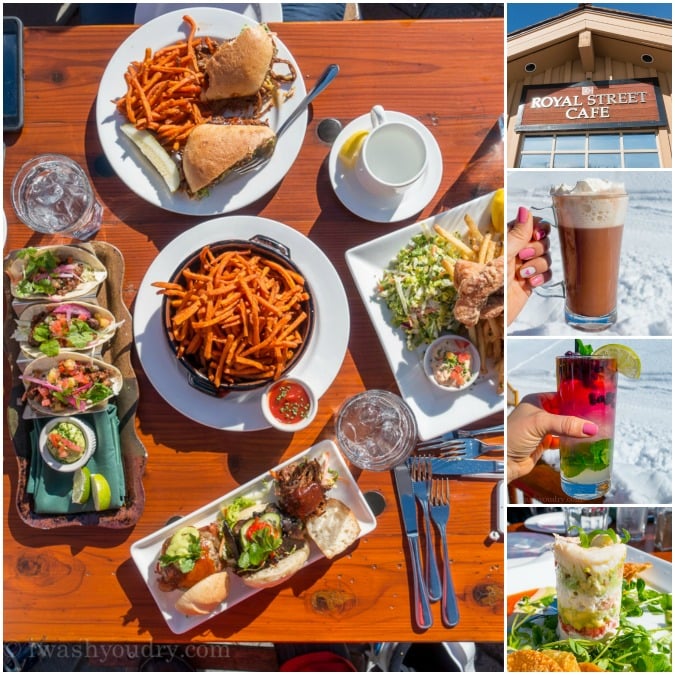 Right on the middle of the mountain was the Royal Street Cafe, and oh boy was this place amazing! I loved the Dungeness Crab Tower. Like, super puffy heart, loved it.
Everything was way delicious and perfect for filling up our bellies after a fun morning on the mountain.
Once we were done here we walked across to the Stein Eriksen Lodge to relax in their luxurious spa and unwind with their 80 minute signature Stein massage.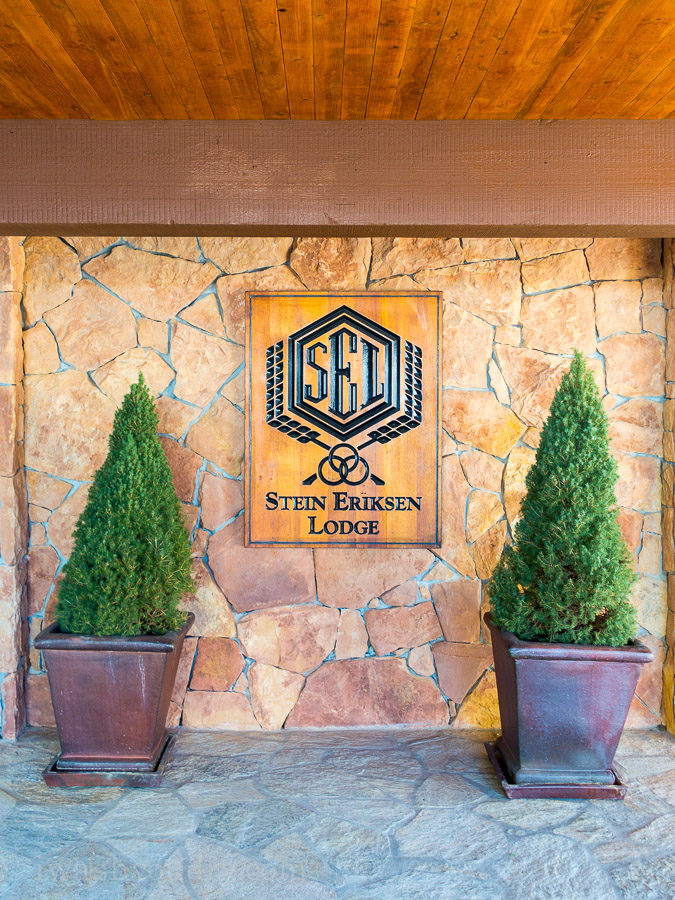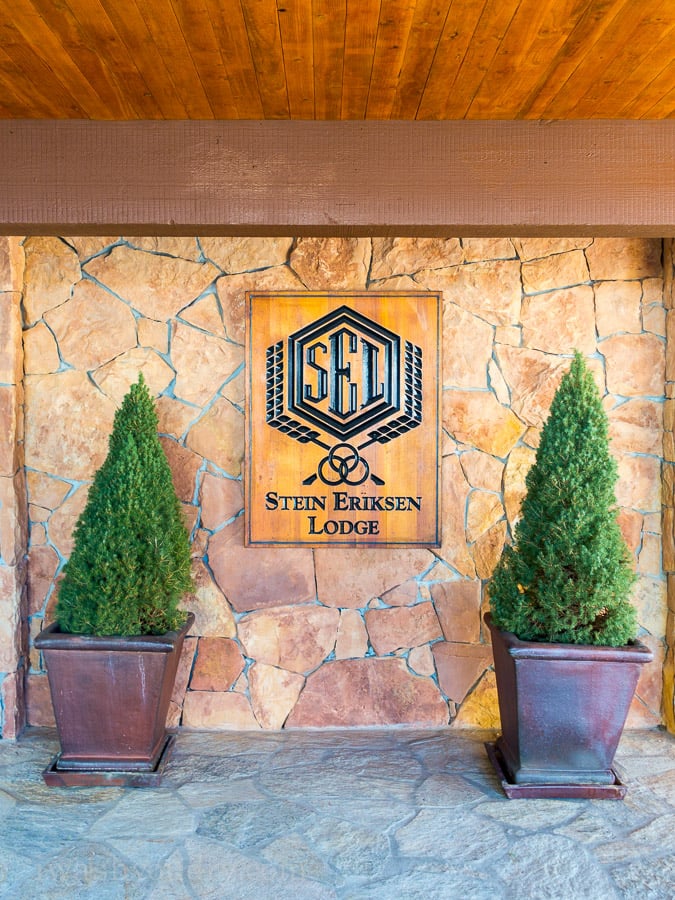 It was just what this girl needed after two intense days of learning how to ski.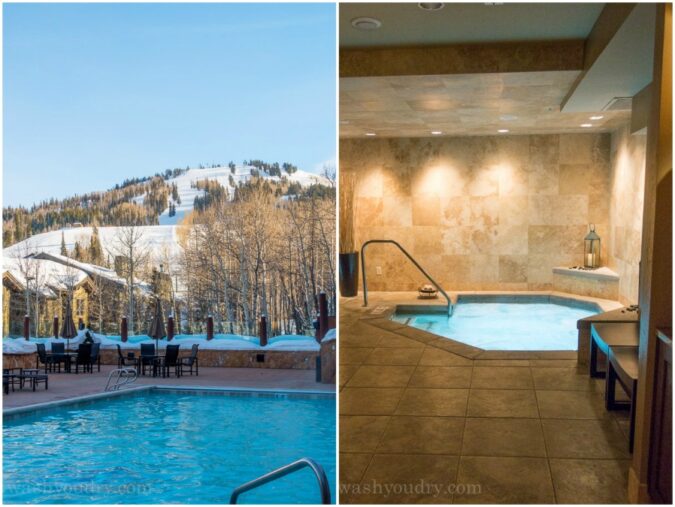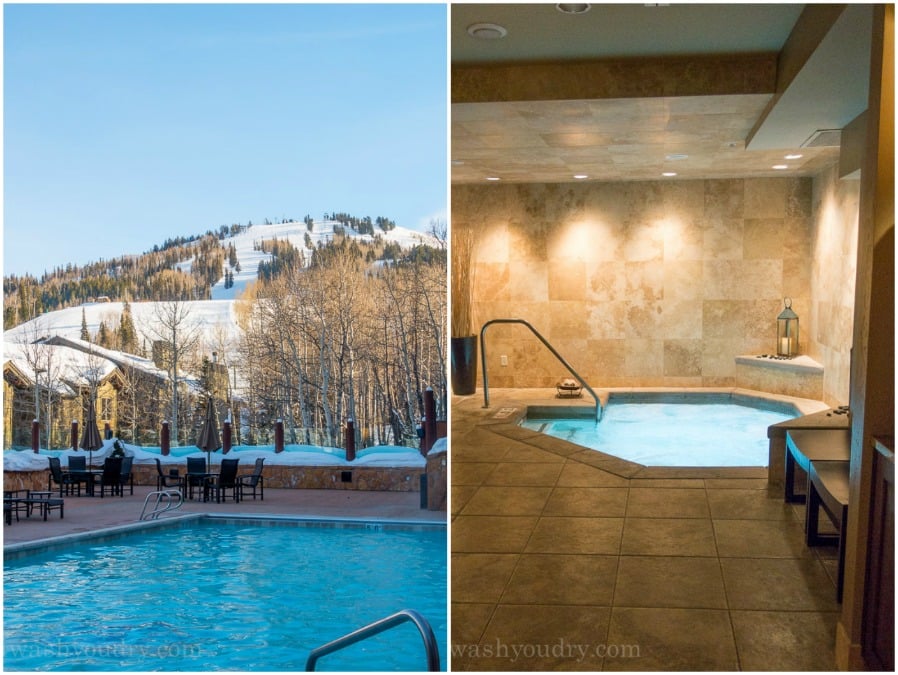 Just like everything else at Deer Valley, Stein Eriksen was gorgeous.
They have an outdoor heated pool and spa that overlooks some gorgeous slopes, but if you're not wanting to brave the cold you can sneak inside and enjoy one of their many indoor spas or saunas. We hung out by the fireplace in the relaxation room and sipped on cucumber water. Heavenly.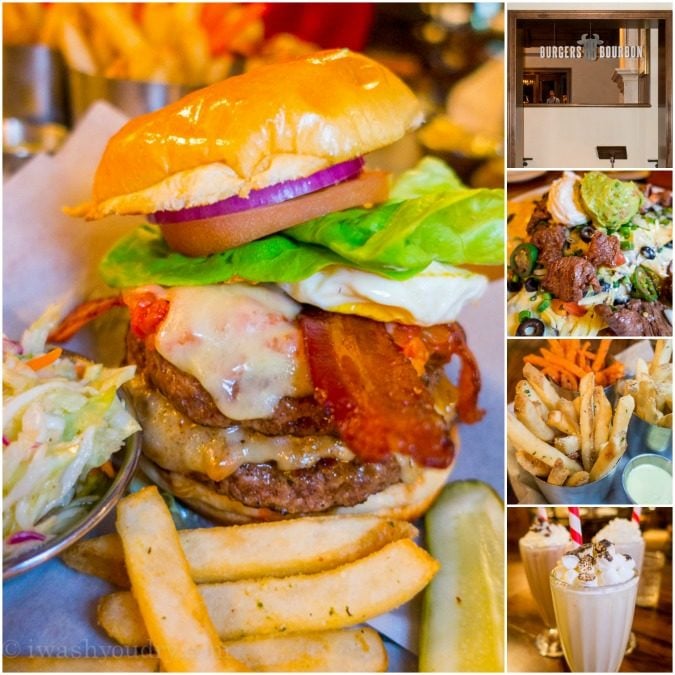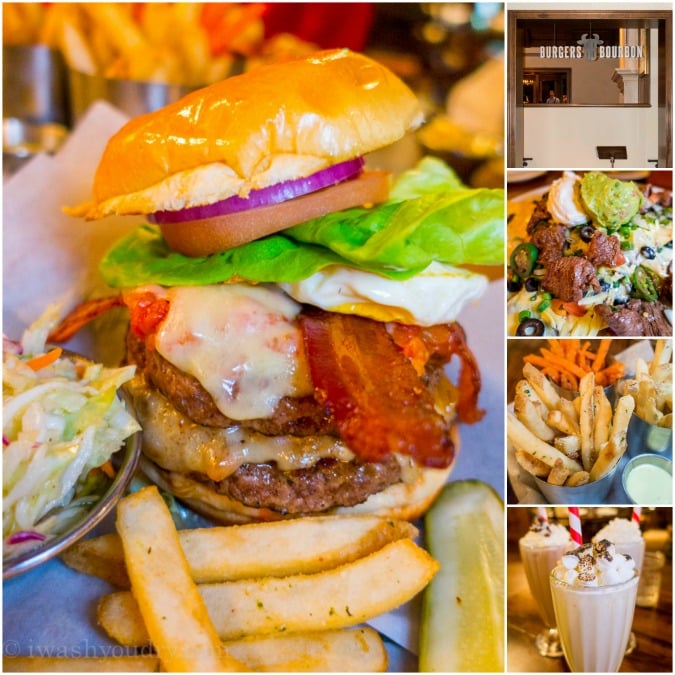 To finish off our stay in Deer Valley we headed to Burgers and Bourbon where we could watch the Super Bowl and enjoy some seriously good food. This cute little bar and restaurant is nestled in the Montage Deer Valley hotel.
Everything was outstanding here. The Parmesan Truffle Fries and Steak Nachos were some of my top picks.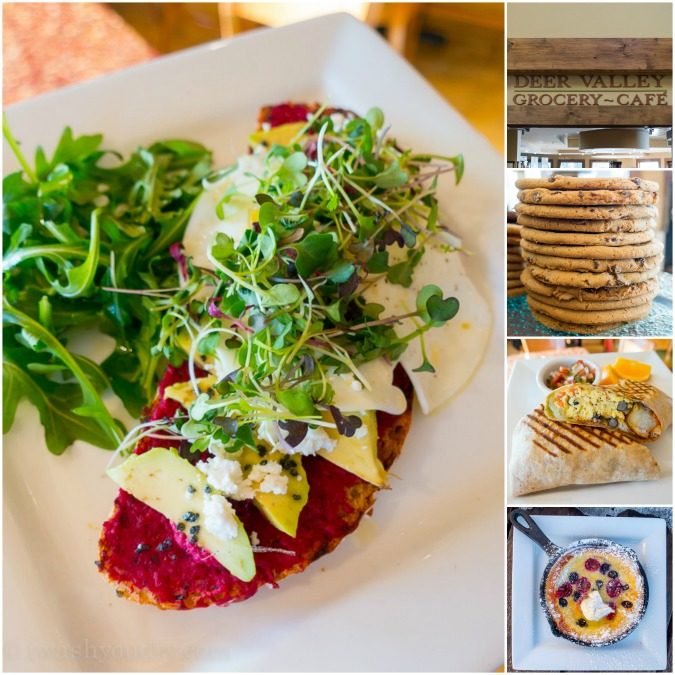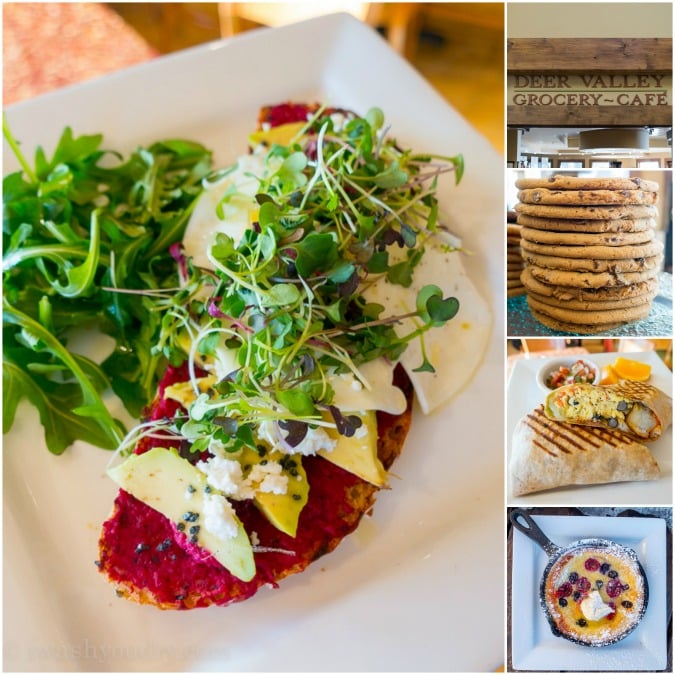 The next morning on our way out of there we stopped at Deer Valley Grocery Cafe for a quick breakfast. They've got everything you might have forgotten to bring with you here. And also if you wanted to stay in your condo and cook yourself a quick meal, you can get it all here. But their giant cookies and skillet fried Dutch Baby Pancake were some of our favorites.
Ok, so here is my take-away from my weekend trip to Deer Valley Ski Resort in Park City, Utah… it was nothing short of amazing.
The staff at every location we visited was so helpful and nice. If you're not familiar with skiing, the instructors are amazing. If you're awesome on the skies, there are so many slopes to hit, it's a virtual slopes playground for you to enjoy. The food is spectacular and the relaxation factor is at the top of the charts.
Book a trip for Spring Break, the snow is calling you! 🙂
Make sure you don't miss a thing! Follow I Wash You Dry here:
FACEBOOK | PINTEREST | GOOGLE+ | TWITTER | INSTAGRAM | BLOGLOVIN
disclaimer: Deer Valley graciously paid for my stay and Stein Lodge graciously paid for my massage. I was not compensated to write this post. All thoughts and opinions are 100% my own.