Once again, I am going to share with you my love affair with Mexican food.
If I could, I would happily eat Mexican food for breakfast, lunch and dinner.
… and that is exactly what I did with these Creamy White Chicken and Avocado Enchiladas.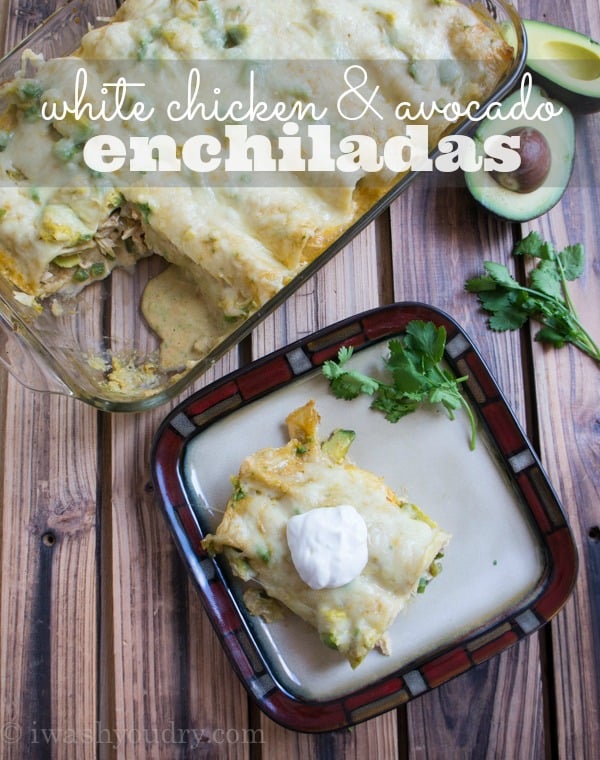 These enchiladas are so creamy, and with the California Avocados inside and outside of them, they are virtually unstoppable.
My husband is also a huge fan of Mexican food, but on a scale of 1 to 10, "enchiladas" probably rank about a 3 for him. When I made him these Creamy White Chicken and Avocado Enchiladas, he became an enchilada convert. He even took leftovers for lunch the next day.
Me? I ate some leftovers for breakfast… but that's just me…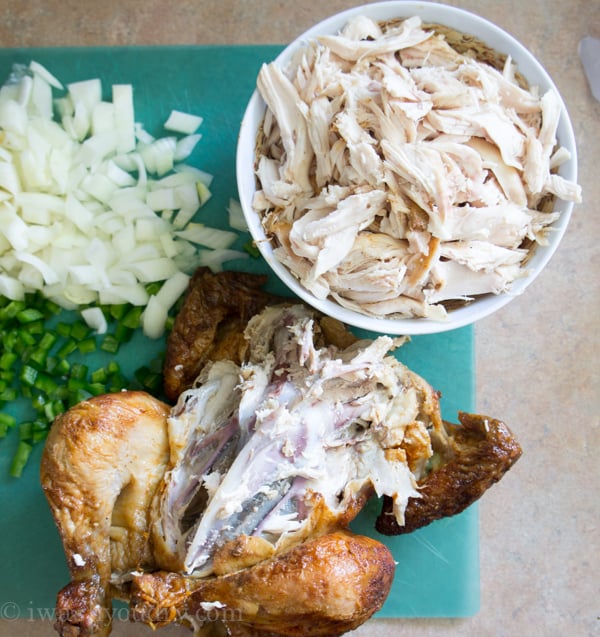 So here's the deal. This recipe will call for 2 1/2 cups of shredded chicken.
Here's a tip to make it a little easier for you – buy a rotisserie chicken from your deli, let it cool on the counter for a little, then pull the chicken off of it. BAM!
I always do this, and my husband and kids love to eat the chicken legs, thighs, and wings. Then if you want to get all fancy, you can even use the bones to make some broth or soup. But I'm not Martha, so don't ask for a recipe. 😉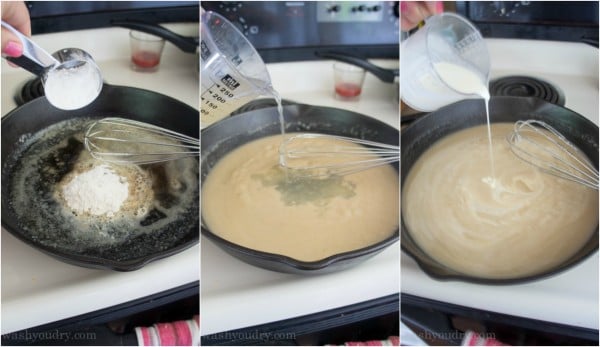 The creamy base to these enchiladas is started with a little butter and some flour. This is called a "roux" [pronounced ru]. 
Super simple, but it can be a little intimidating. Just melt down some butter over medium heat, then while you are whisking the butter, sprinkle in some flour. Keep whisking till it starts to get a little clumpy. Then, still whisking, slowly drizzle in the chicken broth until the mixture begins to smooth out and starts to thicken. You should be out of the danger zone by then. But if you don't whisk enough in the beginning, the flour might seize up and  you'll end up with a clumpy-creamy mixture. No bueno.
So just keep whisking.


After adding some heavy cream, cheese, sour cream, and finally some avocados, you'll arrive at a finger-lickin good creamy cheese sauce to smother your enchiladas with.
Come to mama.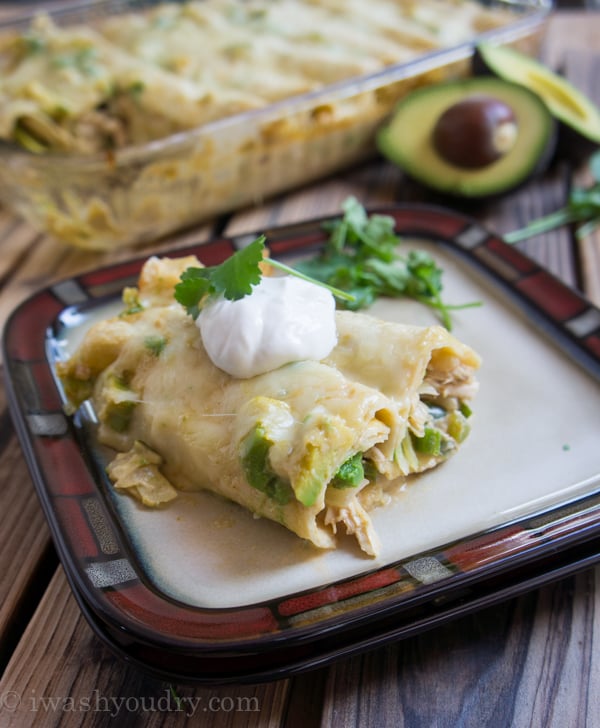 If these don't make you an enchilada lover, I don't know what else will.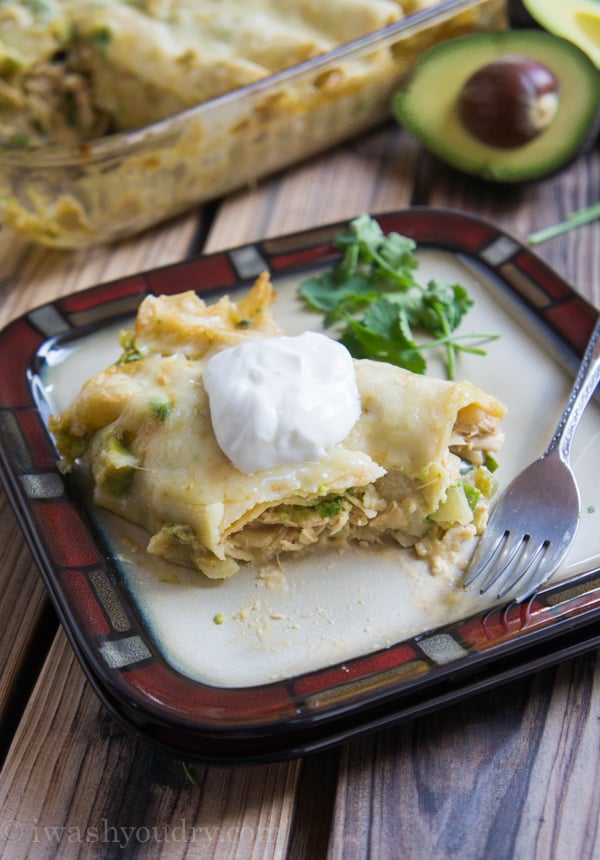 Who else is hungry now?
Creamy White Chicken and Avocado Enchiladas
These enchiladas are so creamy, and with plump avocados inside and outside of them, they are virtually unstoppable.
Ingredients
1

tbsp

olive oil

1

onion

,

diced

2

jalapeños

,

seeded and diced

2 1/2

cups

shredded cooked chicken

2

cups

chicken broth; divided

1

cup

heavy cream; divided

1

tsp

paprika; divided

1/2

tsp

salt

4

tbsp

butter

1/4

cup

all-purpose flour

1

cup

sour cream

3 1/2

cups

Monterey Jack Cheese

,

shredded and divided

3

avocados

,

divided

8

medium sized corn tortillas
Instructions
Preheat oven to 350 degrees F.

In a large skillet saute the onion and jalapeño in the oil, over medium high heat for 2 to 3 minutes, or until the onion is translucent. Add the shredded chicken and cook for 2 minutes.

Pour in 1/2 cup of chicken broth, 1/2 cup of heavy cream, 1/2 tsp of paprika, and 1/2 tsp of salt. Stir, and heat through. Remove and set aside.

In a separate large skillet melt the butter over medium heat. While whisking the butter in the pan, slowly sprinkle in the flour. Continue to whisk until it becomes clumpy, then slowly drizzle in the remaining 1 1/2 cups of chicken broth. Keep whisking until the mixture becomes smooth and starts to thicken slightly.

Pour in the remaining 1/2 cup of heavy cream and sour cream; stir.

Add 2 cups of Monterey Jack cheese, the remaining 1/2 tsp of paprika and stir until the cheese is melted. Peel and dice 2 avocados and add them to the cheese sauce; stir. Set aside.

Heat the corn tortillas in the microwave until they are soft and flexible. Place a small portion of the chicken mixture in the center, top with a couple slices of the remaining avocado, then roll up. Place seam side down in a 9x13 inch casserole dish. Repeat until tortillas and chicken mixture are used up.

Pour the cheese sauce over the enchiladas, and sprinkle with the remaining 1 1/2 cups of Monterey Jack cheese.

Bake for 20-25 minutes.

(optional: top with a little sour cream, and a side of salsa) Enjoy!
Nutrition
Calories:
652
kcal
|
Carbohydrates:
24.6
g
|
Protein:
28.2
g
|
Fat:
50.4
g
|
Cholesterol:
125.7
mg
|
Sodium:
753.1
mg
|
Sugar:
4.3
g
|
Vitamin A:
19
IU
|
Vitamin C:
17
mg
Keywords:
avocado, Cheese, Chicken, cream, sour cream, tortillas
Now Available!
The Everyday Cookbook
Top Favorite Recipes from I Wash You Dry now available in a hard-cover, spiral-bound book that's gorgeous and perfect for everyday use.
BUY IT NOW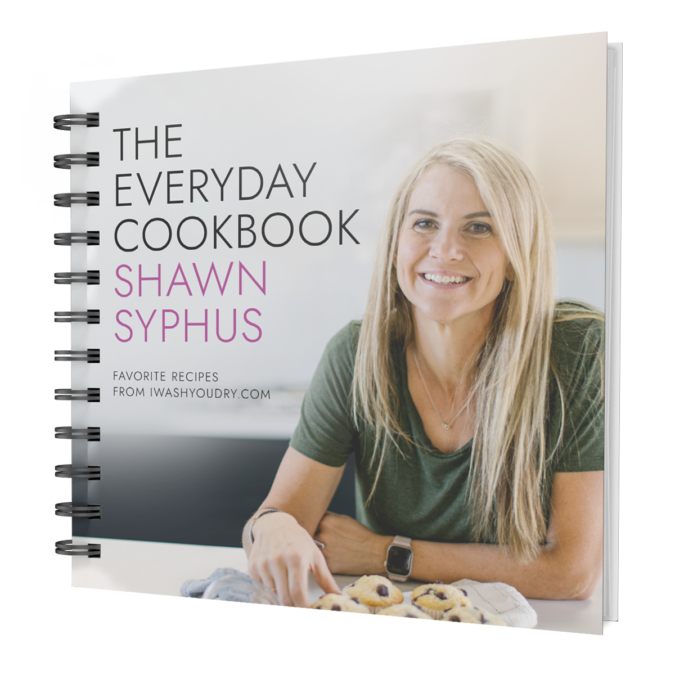 I sure hope you enjoyed those little tips I gave you today!
If you are more of a "red sauce" enchilada kind of person, then you should try out this Chicken Enchilada Casserole recipe. It's another family favorite! 🙂