Have you made any resolutions this year? Any new adventures, or mountains you want to climb?
2013 is going to be a year full of new for me and my family. New house, new town, new country. We are currently on our way to our new home in Canada, where my husband's job is transferring him to. It's been a crazy drive already. I had a total Tommy Boy experience on the highway, when my car hood flew up and covered my windshield. Let's just say, my husband wont let me check my own oil anymore. Luckily nobody was hurt, and my husband was able to tie my hood back on…
You can follow me along on my trip to Canada through Instagram on my hashtag #iwyd2Canada. In the meantime, check out these awesome cookies my dear friend Wendy from Around My Family Table made!
————————————————-
I'm so sad to be guest posting today for Shawn today! Why?
Because one of my bestest blogging friends is moving 2300 miles from here as we speak!  Shawn and I met at a food blog conference last May and quickly became good friends and it was nice to have a friend in the food bloggy world that lived close by!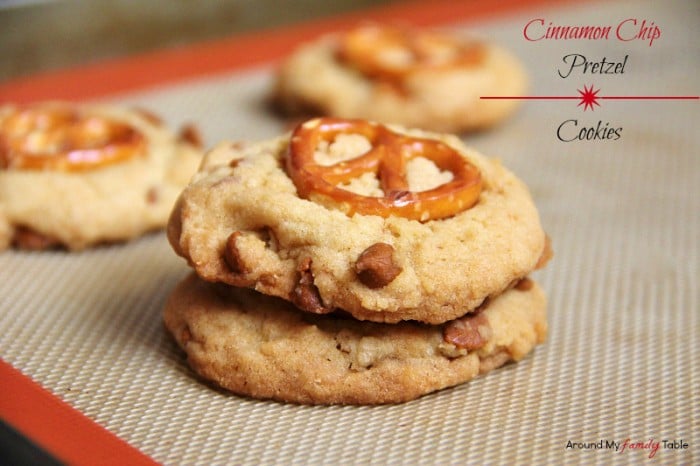 Hmmm, I wonder if a two year paper chain is overkill as I wait for her to move back.  LOL!  I might be a little sad, but these cookies put a smile on my face.  I loved the change from a traditional chocolate chip to these tasty little cinnamon chips.  Hubbyman said they reminded him of cinnamon sugar butter for biscuits.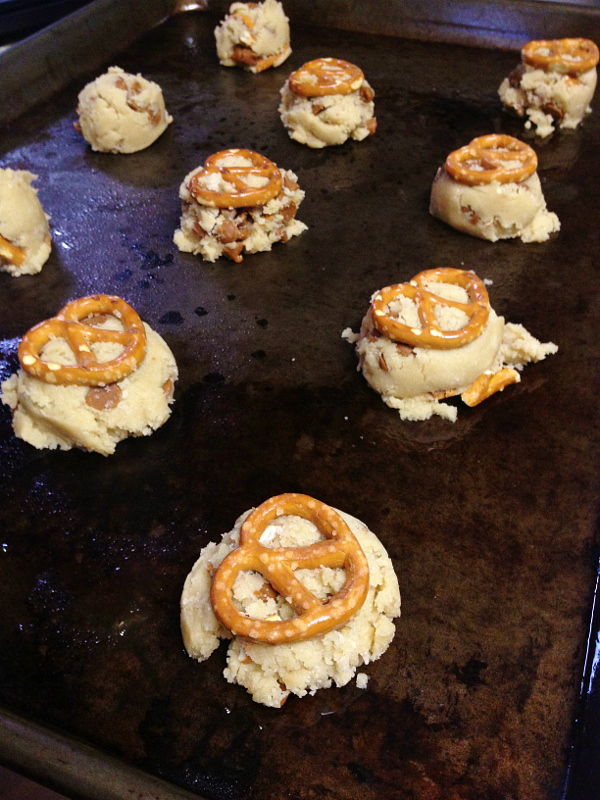 I was actually talking to Shawn when I was developing this recipe and we agreed that it would be fun to do a sweet and salty thing!  So, I added the pretzels.  The first batch, I added crushed pretzels to the cookie dough, but it was way too thick and crunchy.  I decided on just adding the pretzels to the top. They ended up being super cute!
Cinnamon Chip Pretzel Cookies
I loved the change from a traditional chocolate chip to these tasty little cinnamon chips.
Instructions
Preheat oven to 350F. In a mixer, combine butter and sugars until light and creamed well. Add remaining ingredients, expect cinnamon chips and pretzels. Mix until well combined. Dough will be thick. Add cinnamon chips and incorporate by hand.

Prepare a baking sheet with non-stick cooking spray or parchment paper. Drop by 1 1/2 tablespoonfuls (or use a #40 cookie scoop) onto prepared pan leaving 2 inch spaces between cookies. Press a whole pretzel onto the top of each cookie.

Bake for 12-15 minutes or until cookies are just starting to set.Remove from pan to cooling rack to cool.
Nutrition
Calories:
149
kcal
|
Carbohydrates:
18
g
|
Protein:
2
g
|
Fat:
8
g
|
Saturated Fat:
4
g
|
Cholesterol:
19
mg
|
Sodium:
132
mg
|
Potassium:
34
mg
|
Fiber:
1
g
|
Sugar:
13
g
|
Vitamin A:
130
IU
|
Vitamin C:
1
mg
|
Calcium:
29
mg
|
Iron:
1
mg
Keywords:
cinnamon chips, Cookie, pretzels