This super easy Chicken Pad Thai Recipe is filled with tender strips of chicken breast, silky rice noodles and loads of veggies in a quick and easy sauce.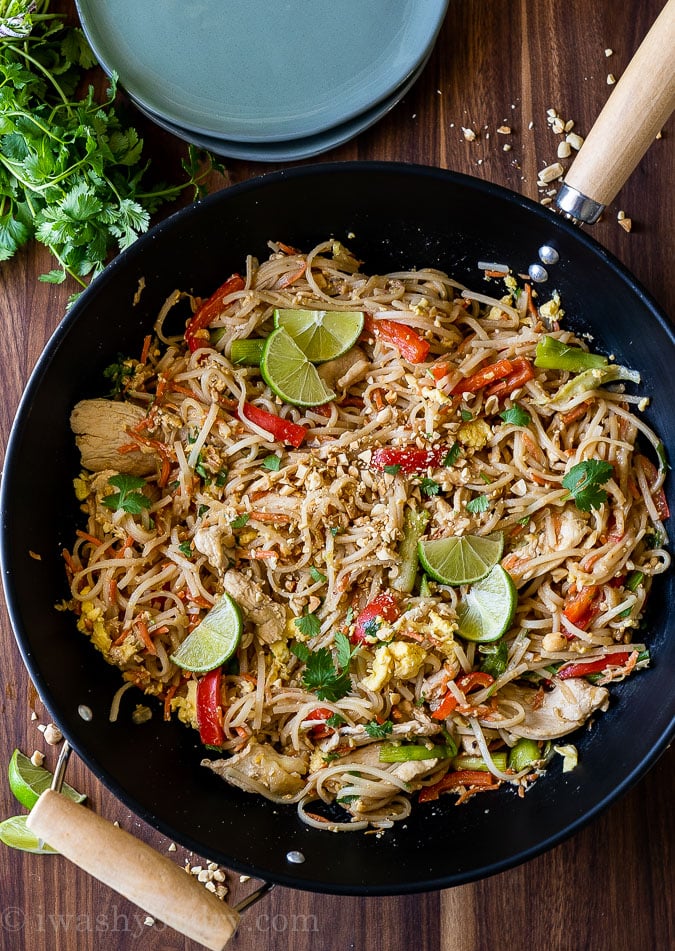 One of my go-to items to order when I visit a Thai restaurant is their classic Pad Thai dish. Whether it's filled with shrimp, tofu or chicken, it's always sure to be a hit.
Pad Thai is a traditional noodle dish from Thailand. It's filled with wide rice noodles, scrambled eggs, your choice of protein and veggies in a light sauce that's comprised of soy sauce, fish sauce, rice vinegar, brown sugar and lime juice.
How To Make Classic Pad Thai
SLICED CHICKEN BREAST     Since we're making Chicken Pad Thai, we're going to start with cutting our chicken breast into thin strips. This helps the chicken cook quickly and remains tender and juicy.
If you wanted to make this recipe with shrimp, you'll simply swap out the chicken for shrimp and cook the shrimp until they are no longer opaque.
CABBAGE OR BEAN SPROUTS?      Traditional Pad Thai would use fresh bean sprouts, but they can be difficult to find sometimes, so that's why I opt for the shredded cabbage.
Easy Pad Thai Sauce
Pad Thai sauce is comprised of soy sauce (or tamarind paste), fish sauce, rice vinegar, lime juice and lightly sweetened with brown sugar to give it the perfect balance. You can add some heat to the sauce with a little Sriracha sauce.
Some people think that Pad Thai is filled with peanut butter, but that's not the case here. The dish is finished with a sprinkle of crushed, unsalted peanuts on top, or sometimes served on the side along with a lime wedge.
PRO TIP: Add a tablespoon of water at a time to your Pad Thai if you find that the sauce is not enough to keep the noodles from sticking together.
Why Is My Pad Thai Sticky or Dry?
After exhaustive research, I've cracked the code on how to get silky smooth noodles, resulting in the BEST Pad Thai.
One of the biggest struggles when making Pad Thai at home is the noodles can become too sticky or dry.
Following these tips, should result in a silky smooth, slippery noodle that's absolutely delicious!
Cook your rice noodles according to package instructions, just until they're *almost* tender. They should still have some bite to them.
Drain them off and run a little cold water over them to

remove any excess starches

.
Immediately toss your noodles into the hot wok with the veggies and sauce, along with a about 1/3 cup of water and finish cooking them in the wok until they're perfectly tender.
If the sauce is still looking a little dry, add in an extra tablespoon or two of water until it becomes silky smooth.
What Noodles To Use For Pad Thai?
Pad Thai uses a wide, flat rice noodle, which can typically be found in the Asian aisle of the grocery store. The box I use is 14oz.
There is a variety of brands available and amounts can vary per package.
PRO TIP: If you're using less noodles, you'll need to use less water at the end of cooking. If you're using more noodles, you might need to add extra water. Just keep checking it and test as you go.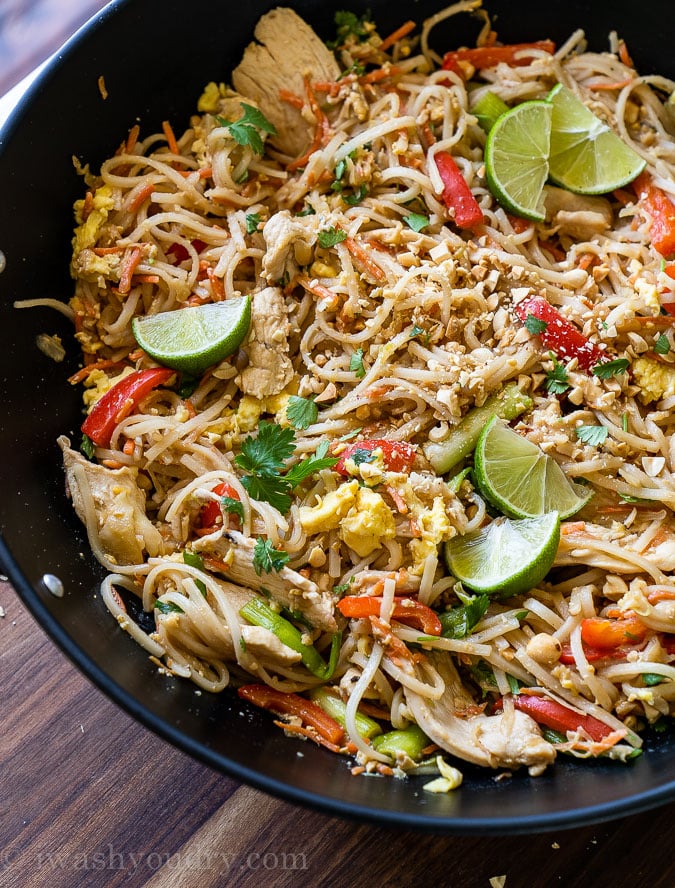 Tips & Variations
When it comes to making Pad Thai, there are lots of different ways to switch it up and make it your own. Here are some tips and variations to keep in mind…
Feel free to swap out any sort of stir fry veggies that you prefer. Just make sure they're cut into thin strips or small pieces so they're quick to cook.
I'm using two cups of finely shredded cabbage [coleslaw mix] in place of the traditional bean sprouts, but if you find bean sprouts, go for it!
Swap out the sliced chicken breast for shrimp or even tofu.
Kick up the heat with some added Sriracha to the sauce or a pinch of red pepper flakes. I like to add Sriracha to my bowl, while keeping the rest kid-friendly.
When scrambling your eggs, try to not incorporate the eggs with the rest of veggies until they're fully scrambled. Otherwise it'll give the dish a grainy texture when finished.
This recipe makes a lot, so using a large Wok is preferred to hold all the ingredients.
More Asian Take-Out Recipes To Try at Home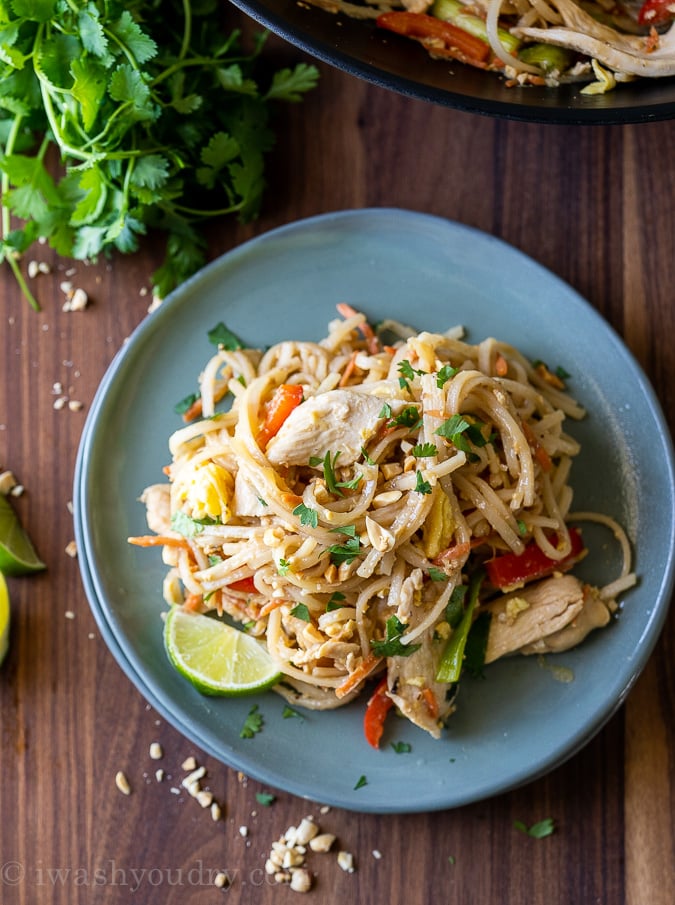 My family and I really love this super simple Pad Thai recipe. It's a quick favorite, especially because it's so filling for pretty cheap.
The silky noodles, tender chicken and crisp veggies pair perfectly with the crunchy peanuts and aromatic cilantro. Don't skip the lime wedges as they are great for adding a burst of bright flavor!
Chicken Pad Thai Recipe
This quick and easy Chicken Pad Thai is a classic Asian dish that has silky rice noodles tossed in a delicious sauce and is topped with crushed peanuts and cilantro.
Ingredients
Instructions
Combine the sauce ingredients in a small bowl or large measuring cup and set aside.

Cook rice noodles according to package instructions, but remove from water when they're *almost* tender, but still have a little bite to them. Drain and quickly rinse under cool water to stop them from cooking and sticking.

Meanwhile, heat 1 tbsp oil in a large wok and cook chicken breast strips until cooked through. You may have to do this in batches. Remove chicken from wok and set aside.

If needed, add remaining oil to wok and toss in red bell pepper and carrots and cook for about 2 minutes, until starting to soften. Add in garlic and ginger and cook until fragrant, about 30 seconds. Toss in the cabbage and green onion and cook until lightly softened.

Press the veggies to one side of the skillet and pour the lightly beaten eggs into the other side of the skillet and stir occasionally, until the eggs are fully scrambled. Once cooked, stir them into the rest of the veggies.

Add the chicken and noodles to the pan, along with the sauce ingredients and ⅓ cup of water. Stir and cook the noodles the rest of the way, until they're tender and everything is coated in the sauce. If you find that the sauce is too dry, add a tablespoon of water at a time, until the noodles are slippery and do not stick together.

Stir in the cilantro and top with chopped peanuts. Serve immediately with lime wedges on the side. Enjoy!
Notes
How To Reheat Pad Thai
You can reheat leftovers in a skillet over medium heat or in the microwave. If you find that the sauce has dried, add another tablespoon of water to loosen it up. 
Nutrition
Calories:
396
kcal
|
Carbohydrates:
54
g
|
Protein:
20
g
|
Fat:
11
g
|
Saturated Fat:
2
g
|
Cholesterol:
83
mg
|
Sodium:
1086
mg
|
Potassium:
497
mg
|
Fiber:
3
g
|
Sugar:
8
g
|
Vitamin A:
3410
IU
|
Vitamin C:
33
mg
|
Calcium:
57
mg
|
Iron:
2
mg
Keywords:
Chicken, Easy, pad thai, peanuts, Simple
PIN THIS IMAGE TO SAVE THE RECIPE: