It's finally October, and the start of my favorite time of year!
I seriously can't believe that we're just weeks away from Halloween. I feel so unprepared. Just the other day my oldest daughter had a friend over. They were talking about costumes and I asked her, "What are you going to be for Halloween this year?" She casually replied, "Dead Dorothy."
"What? Dorothy from Wizard of Oz, Dorothy?"
"Yes, but I'll be dead. Probably carrying a witch head or something."
…so this is what it's like when your children grow up… they no longer want to be fairies or princesses, just dead movie icons.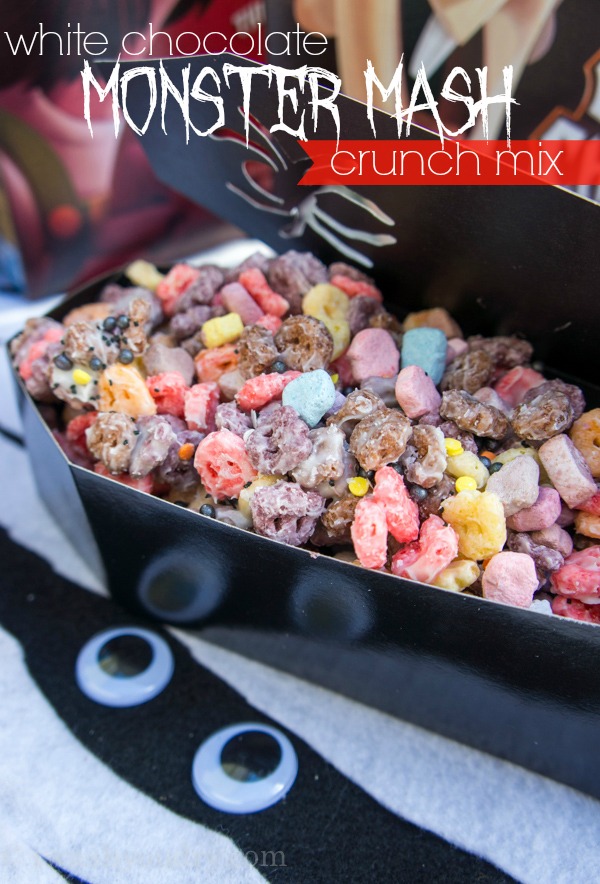 At least I can still count on their "un-dying" love for cereal.
Have you seen the Monster Cereals in stores yet? All 5 of them have reunited this year, and it's cause for celebration! I combined all 5 delightful flavors into one White Chocolate Monster Mash Crunch Mix!
This stuff is addictive y'all.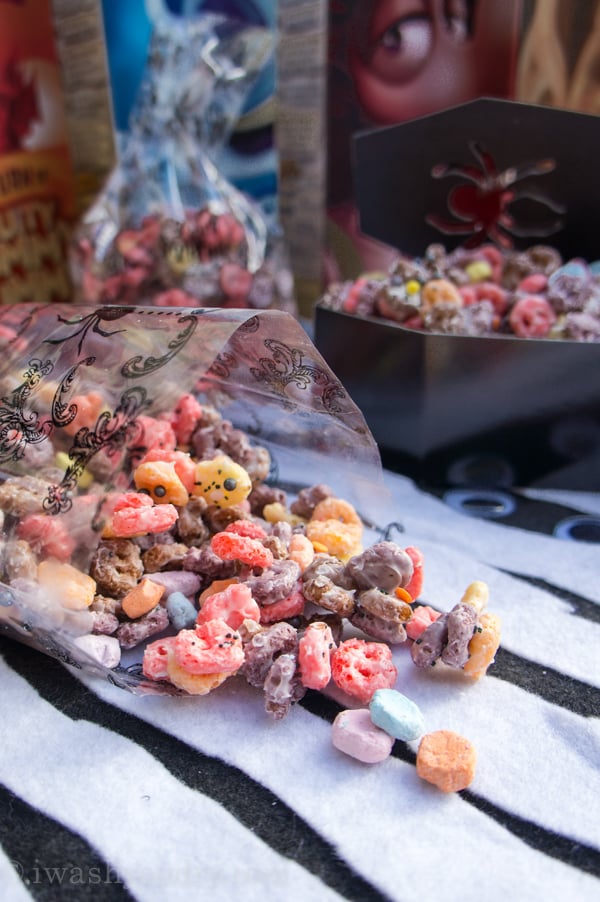 I packaged up several treat bags full of this delicious combo and handed them out like candy.
I had a big bowl of the mix sitting on my counter when some of my girl friends were over, and they couldn't keep their hand off of it.
My kid's destroyed the last of it.
As simple as this mix is, it truly is hard to stop munching on it.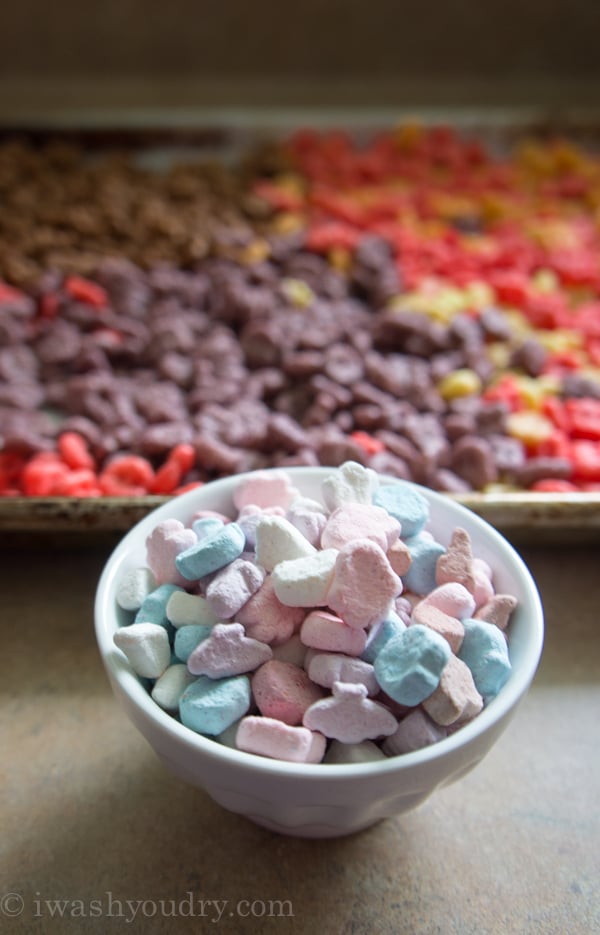 Each box of cereal comes with marshmallows in it. Win!
Just lay out the cereal on a rimmed baking sheet, pick out all the marshmallows (try not to eat them all), and then heat up your white chocolate.
Coat the cereal in white chocolate, lay out on wax paper, sprinkle with various Halloween sprinkles, and then reunite the marshmallows and cereal once again.
BAM!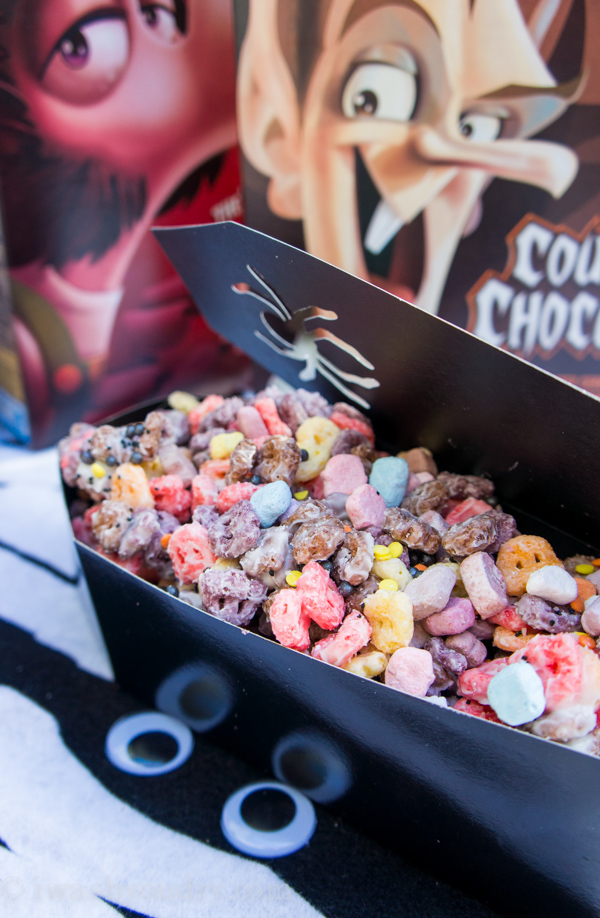 White Chocolate Monster Mash Crunch Mix.
All the fruity flavors of the cereals mix perfectly with the white chocolate.
It's simple and fun.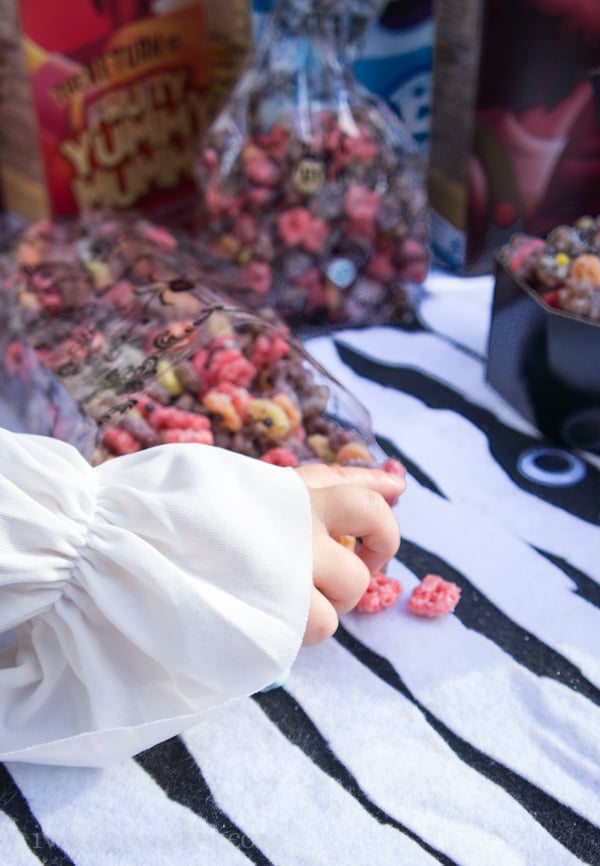 It's also extremely hard to keep little hands off of.
(my youngest daughter found a pirate costume in my Halloween box, she doesn't usually wear puffy sleeved shirts)
White Chocolate Monster Mash Crunch Mix
All the fruity flavors of the cereals mix perfectly with white chocolate.
Ingredients
2

cups

Count Chocula cereal

2

cups

Booberry cereal

1

cup

Frute Brute cereal

1

cup

Fruity Yummy Mummy cereal

1

cup

Franken Berry cereal

1 1/2

cups

white chocolate candy melts

,

or white almond bark

assorted Halloween Sprinkles of your choice
Instructions
Spread the cereal onto a large rimmed baking sheet, then pick out all the marshmallows. Set marshmallows aside, and place cereal in a large bowl.

Heat the candy melts according to package directions. Pour over cereal and stir to coat. Spread out onto a wax paper covered baking sheet. Sprinkle with Halloween sprinkles and let dry.

Once dry, sprinkle marshmallows back into the mix.

Store in an air tight container. Enjoy!
Nutrition
Calories:
232
kcal
|
Carbohydrates:
36
g
|
Protein:
2.7
g
|
Fat:
9.2
g
|
Cholesterol:
5.4
mg
|
Sodium:
145.2
mg
|
Sugar:
22.9
g
|
Vitamin A:
10
IU
|
Vitamin C:
7
mg
Keywords:
cereal mix, Halloween, white chocolate
disclaimer: General Mills provided me with all 5 cereals. All thoughts and opinions are my own.