Is your house bursting at the seams with candy?
Are you finding candy wrappers in your kid's pillows?
Then it's time to snatch the goodies out of your kiddo's hands and produce an even more sugar filled treat for them.
Cause that makes perfect sense… why not!?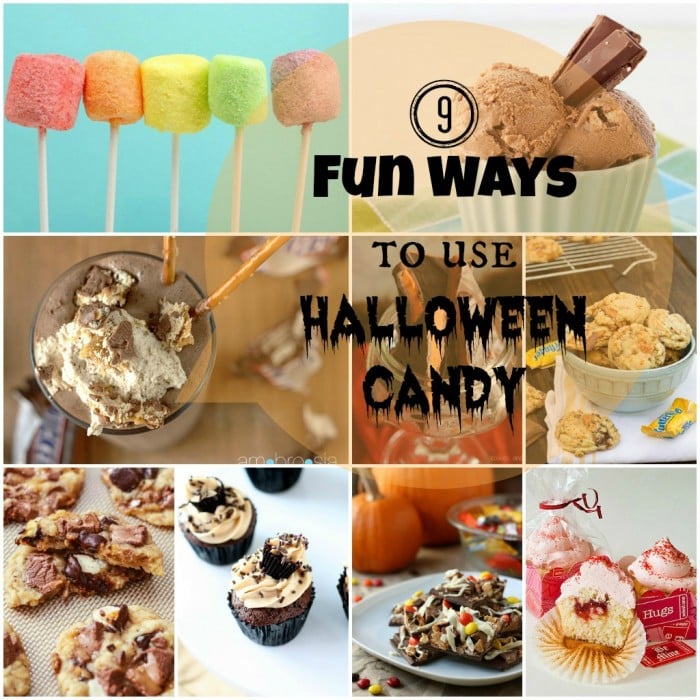 I've found several ways to take your leftover Halloween Candy and re-use it and make it into something a little more exciting. So be sure to steal ask your kid's to use their loot, and then check out all these great recipes from so many talented bloggers! (and be sure to share your candy recipes below!)
First up is this outrageous Snickers and Pretzel Milkshake from Ambrosia. Pretty much anything with a snickers in it, is right up my alley.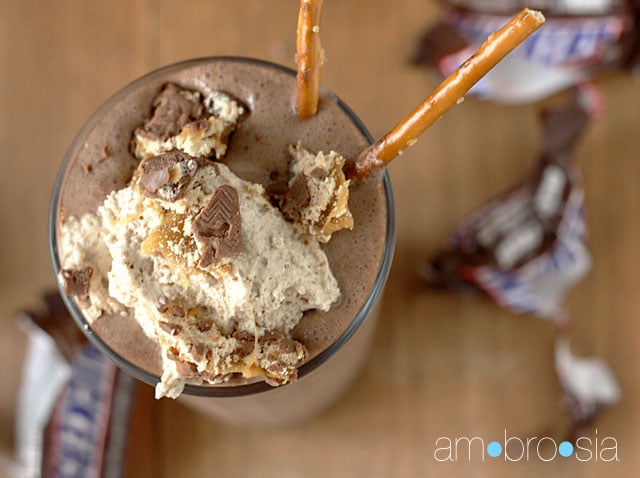 These Brown Butter Milky Way Oatmeal Cookies from Sally's Baking Addiction look absolutely fantastic. I love putting candy into cookies!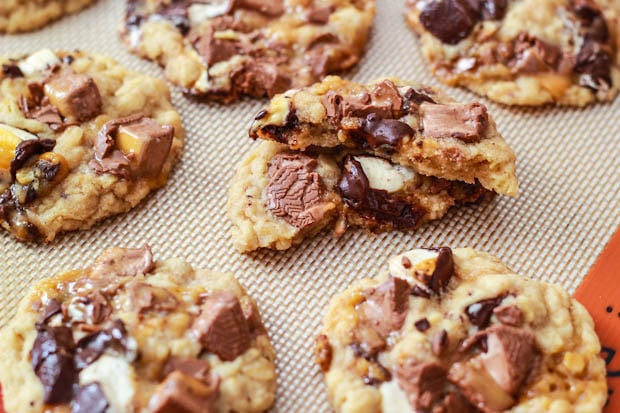 Have an assortment of candy laying around? Try making this Halloween Candy Bark from Completely Delicious!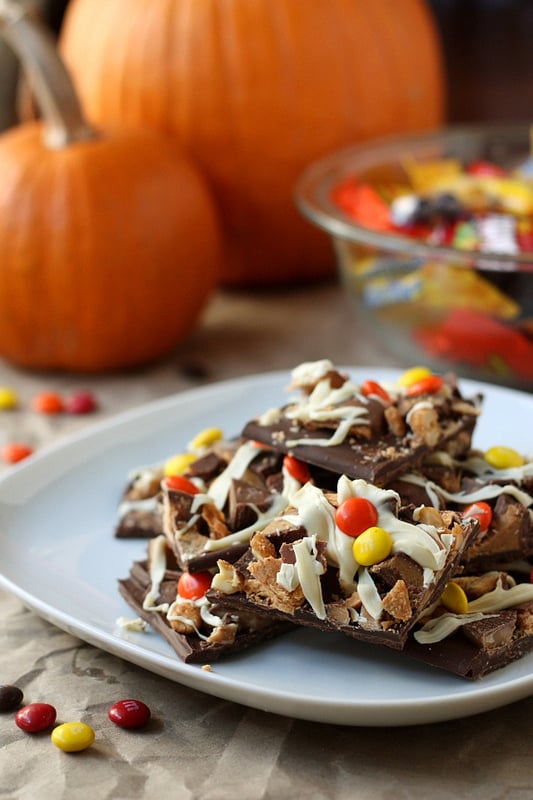 I think Butterfingers are slowly creeping their way to the top of my list of favorite candy bars. Check out these tasty Butterfinger Cookies from Fort Mill SC Living, I'll take 5 please!
Speaking of Butterfingers… did you discover that your kid's hit the only houses on the street that still handed out candy corn and not chocolate? Well have no fear, because Cookies & Cups shows you how to make your own Homemade Butterfinger Bark with just 3 simple ingredients! VICTORY! (hint: one of them is candy corn)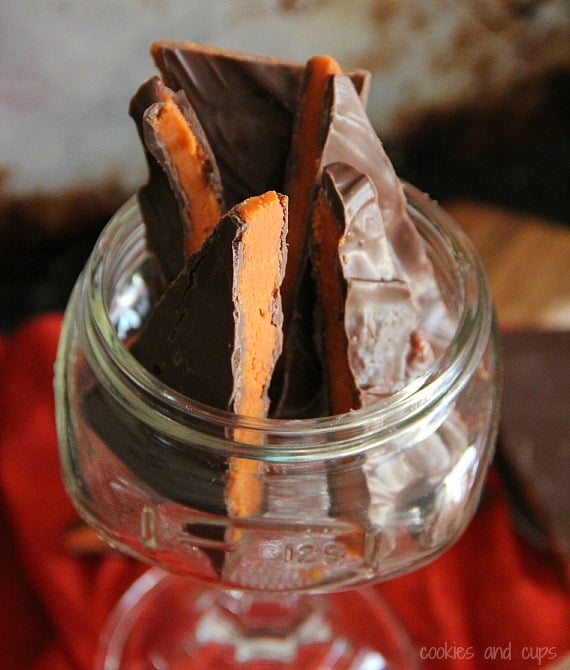 Do you need a break? How about a break of this Kit Kat Ice Cream from Baked Bree? Yeah, I'll take a break with some of that!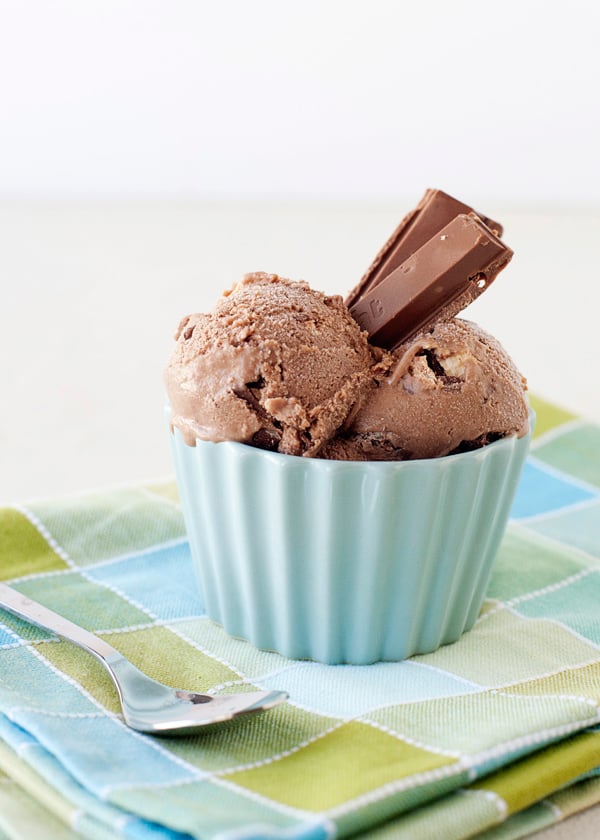 The Curvy Carrot had all you Chocolate and Peanut Butter fans in mind when she made these decadent Peanut Butter Cup Cupcakes. Yes, Sir. Mmm… pass the milk!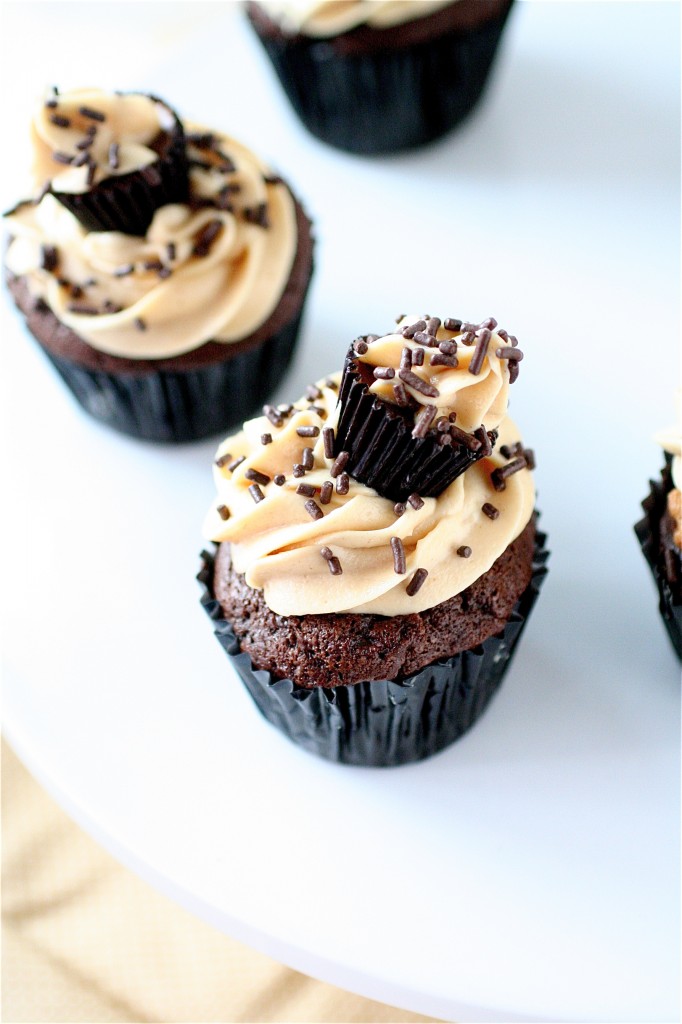 Are you ready to taste the rainbow? How awesome and easy are these Skittles Marshmallow Pops from The Decorated Cookie? LOVE IT!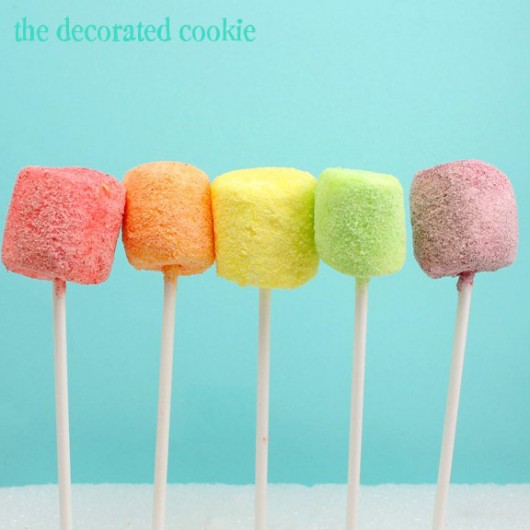 I loathe Laffy Taffy, but my husband and kids love it. I hate how it gets stuck in my teeth, and then my kids tell me the same jokes from the wrapper over and over and over and over again. {I can only fake laugh so many times…} But these Strawberry Filled Cupcakes with Laffy Taffy Frosting from Real Mom Kitchen look amazing. I could sink my teeth into one of these any day! {no joke!}