I can't think of any other dessert that is more romantic than a crème brûlée.
It oozes romance.
I could be a little bias though. The first time I had crème brûlée was on a cruise with my husband. We were dressed up like prom night and our European waiter suggested this delicate dessert in the most seductive British accent. Candles were glowing softly all around us, we both gracefully picked up our spoons and took a bight. It was a magical moment.
Then the wait staff broke out in song and dance and it got weird.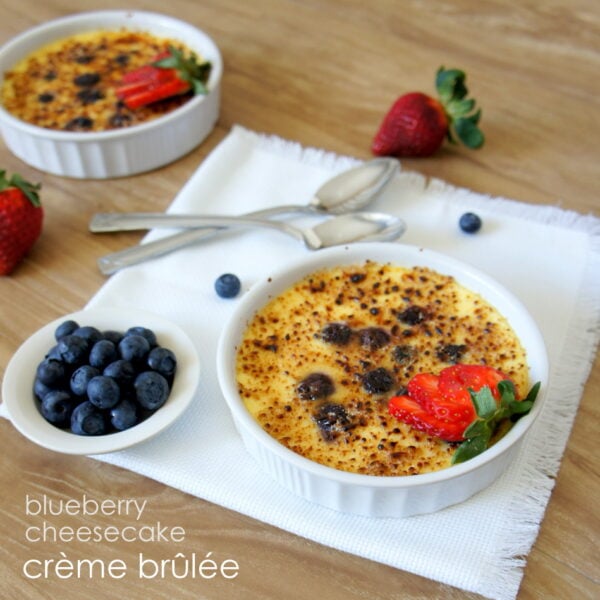 Crème brûlée is basically just a custard based dessert topped with a burnt caramel.
It may sound difficult to make, but it's actually quite easy.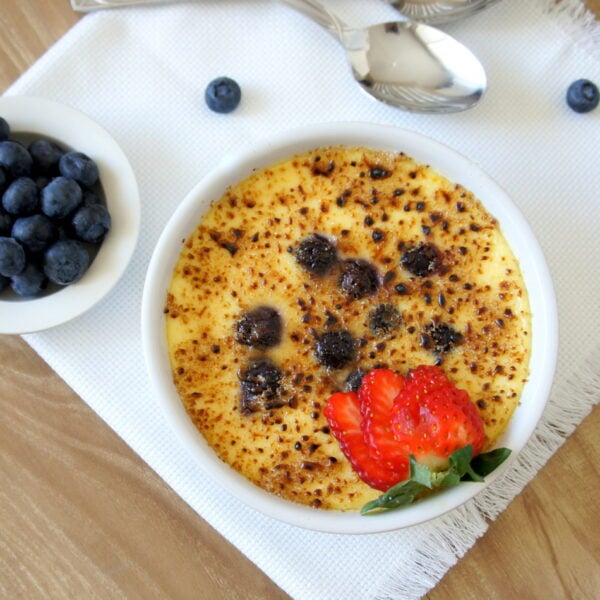 You don't really need any special tools to recreate this one of a kind dessert, but if you're feeling fancy you could use a kitchen torch to create the instant caramel topping. If you don't own one, no worries because your oven broiler will do the trick.
Classic crème brûlée consists of just egg yolks, sugar, a little vanilla and lots of heavy cream. It's an ultra decadent dessert, but I bumped it up a notch by creating this Blueberry Cheesecake Crème Brûlée to give it a little more oomph.  I added a little cream cheese to give it more body and a tiny bit of sour cream to achieve the perfect tartness of a cheesecake.
Are you ready to blow your Valentine out of the water?
Let's do this…

Start off by separating the yolks and whites of 6 eggs. Hold onto the whites and make some egg white omelets for breakfast the next morning. You'll need a little relief after this rich dessert.
Whisk the egg yolks and some sugar together until combined and add just a tiny bit of hot cream to the yolk mixture, whisking constantly. This will temper the eggs so that you don't end up with scrambled eggs. Pour the egg/cream mixture back into the hot creme and whisk briskly to combine.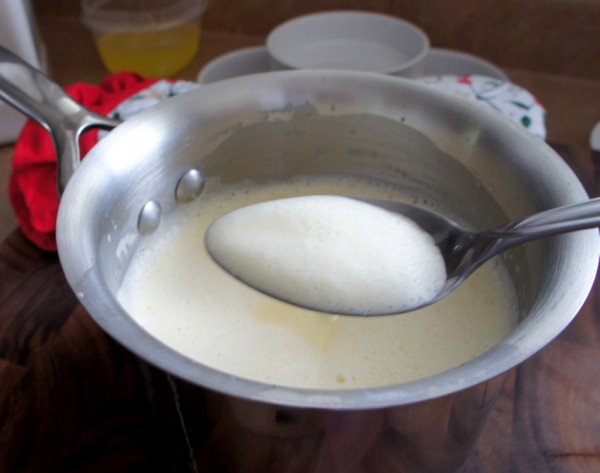 There will be a layer of foam on top of the cream mixture. Just lightly skim the foam off and discard it.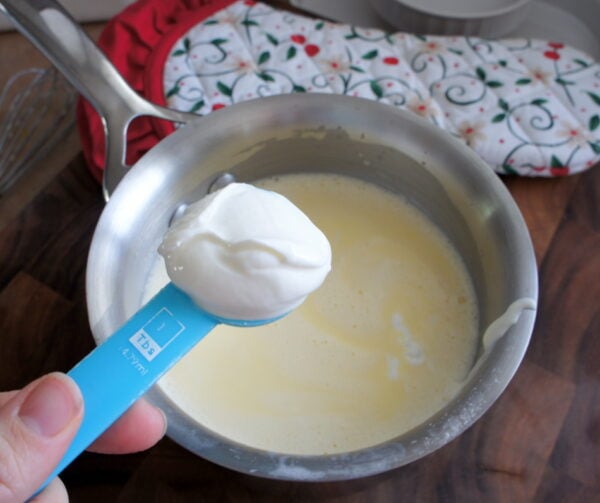 Add the vanilla, cream cheese and the sour cream and whisk until smooth and combined. If there is anymore foam, skim it off and discard.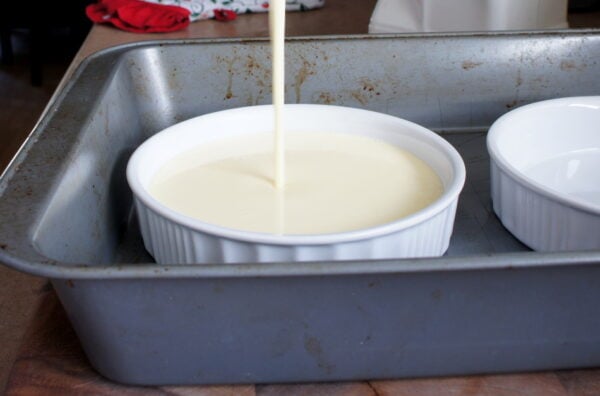 Place your ramekins in a baking dish and fill the ramekins with the crème brûlée mixture.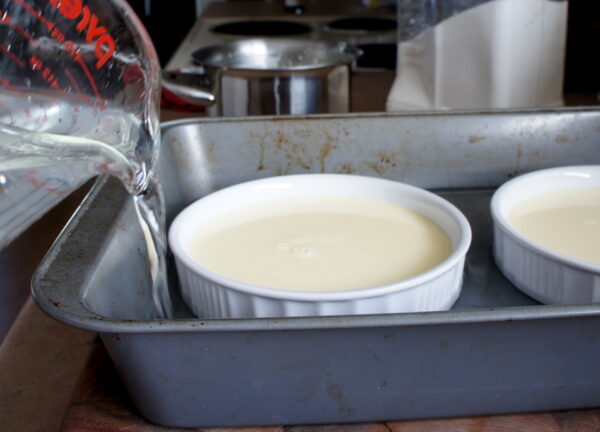 Pour hot water into the baking dish and half way up the sides of the ramekins, being careful not to get any water into the crème brûlée.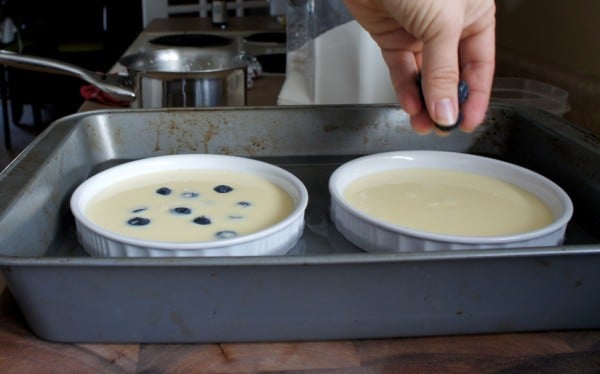 Top with a few fresh blueberries and then carefully place them in the oven to bake.
I bet your mind is being blown right now.
Once the crème brûlée is baked, let it cool in the fridge for 2 hours (or up to 3 days), then sprinkle with the sugar topping and use a kitchen torch to lightly crisp the top.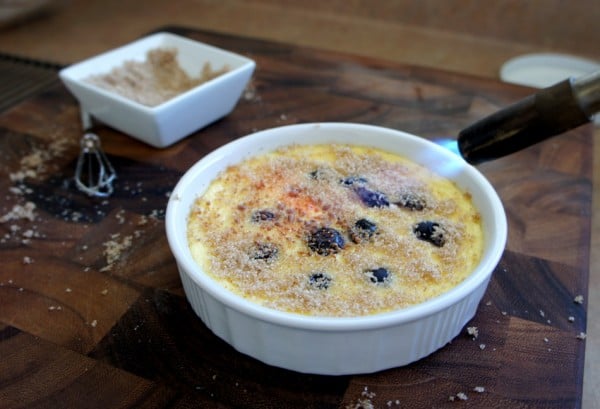 If you don't have a torch, just place the ramekins back into a baking dish and fill the baking dish with ice water. Then turn on your broiler and watch carefully while the sugar crisps.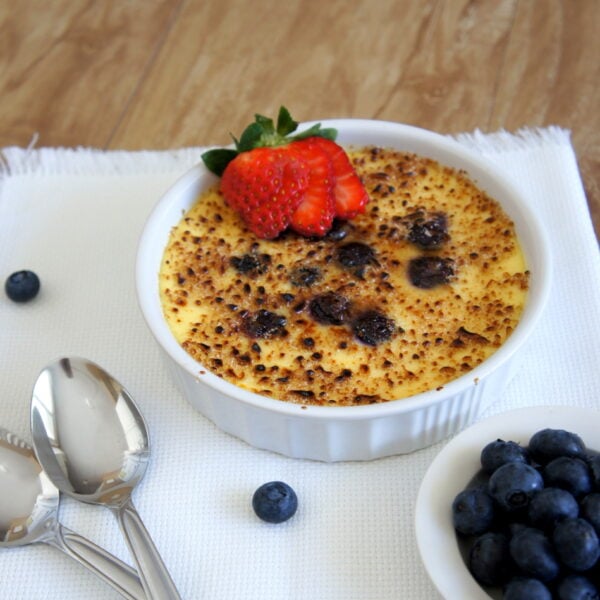 Serve it up with some fresh blueberries, and of course a few gorgeous strawberries are always a beautiful touch.
You could even start singing and dancing to your honey for this momentous occasion. It will add to the ambiance, or make it awkward.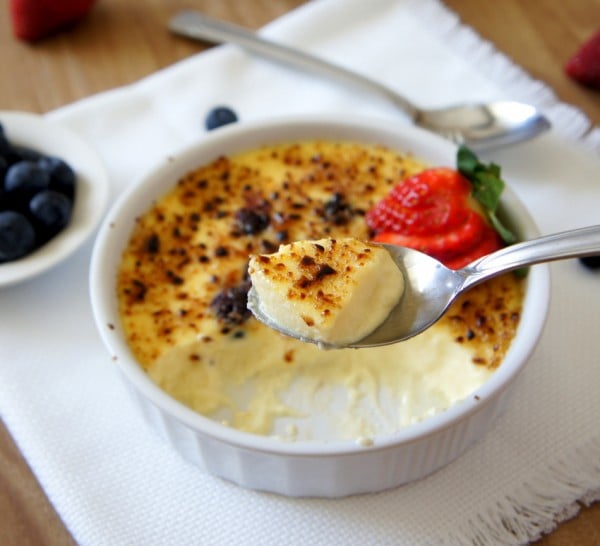 Either way, they will know you love them when they take one bite of this romantic dessert.
recipe slightly adapted from: All Recipes
Blueberry Cheesecake Crème Brûlée
Ingredients
6 egg yolks
6 tbsp sugar, divided
1/2 tsp vanilla extract
2 cups heavy cream
4 tbsp cream cheese, softened
2 tbsp sour cream
1/2 cup fresh blueberries
2 tbsp brown sugar
Instructions
Preheat oven to 375 degrees F.
Heat heavy cream in a small pot over medium high heat until almost boiling. In a separate bowl whisk together 6 egg yolks with 4 tbsp sugar until combined. Slowly pour about 1/4 cup of the hot cream into the egg yolk mixture and whisk briskly. Then slowly pour the egg/cream mixture into the hot cream and keep whisking till combined.
Skim off the foam from the cream mixture and discard. Add vanilla, cream cheese, and sour cream and whisk until smooth and combined. Skim off any excess foam and discard.
Arrange ramekins in a baking dish. Evenly divide the Crème Brûlée mixture into the ramekins and top with fresh blueberries. Fill the baking dish with hot water until it comes half way up the sides of the ramekins, being careful not to get any water into the ramekins.
Bake 15-30 minutes until set, but center is still slightly jiggly. Carefully remove from oven and let cool on wire rack for 20 minutes, then chill in fridge for 2 hours (or up to 3 days).
Combine the remaining white sugar with the brown sugar and sprinkle evenly on top of Crème Brûlée. Use a kitchen torch to caramelize the sugar so it becomes crisp. Or you can place the ramekins in a baking dish filled with ice water and place it under the broiler for a few minutes till the sugar gets crisp.
Serve immediately. Enjoy!
http://iwashyoudry.com/2013/02/08/blueberry-cheesecake-creme-brulee/
disclaimer: this post is in partnership with the Arizona Milk Producers. It's important to include dairy into your diet, so why not make it a little more fun? All thoughts and opinions are 100% my own. 
You May Also Like...: