How to Properly Freeze an Avocado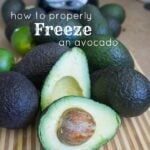 Scale
Ingredients
ripe California Avocados

1 tbsp

lime (or lemon) juice per avocado
Food Processor or Blender
Instructions
Cut and peel the ripe avocados and place them in the work bowl of your food processor.
Add 1 tbsp of lime or lemon juice per avocado being processed.
Puree until smooth to ensure the acidic agent has been evenly distributed throughout the avocados.
Scoop into a zip close bag and freeze flat. (I freeze them flat, so then I can stack them vertically, side by side, once they are hard.)
Use the frozen avocado within 4 to 5 months.